Faouzi Ghoulam: Meet the Arsenal target who could be their left-back solution
Michael Yokhin offers the lowdown on the left-back who could be on his way to the Premier League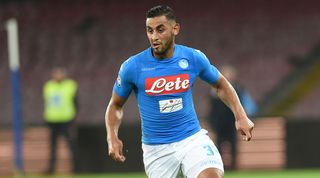 The 60-second story
Numerous top Premier League clubs are currently searching for a left-back ahead of the 2017/18 season. Manchester City clearly need a new option ahead of the ageing Aleksandar Kolarov and Gael Clichy, Arsenal would be glad to have an alternative to Nacho Monreal with Kieran Gibbs potentially on his way, while Chelsea are in the market for a back-up to Marcos Alonso – the only man able to perform on the flank in Antonio Conte's 3-4-3 formation.
All three clubs have reportedly singled out Napoli's Faouzi Ghoulam as a realistic option, so the France-born Algerian could be on his way to England in the summer. Ghoulam has proven to be one of the most exciting left-backs in Serie A, and at the age of 26 appears to be both in his prime and ready for a big move.
Why you need to know about him
FACT FILE
Date of birth: February 1, 1991
Place of birth: Saint-Priest-en-Jarez, France
Position: Left-back
Former club: Saint-Etienne 
Current club: Napoli (119 apps, 0 goals)
International: Algeria (23 apps, 5 goals)
Ghoulam is very lucky to have fulfilled three of his biggest dreams. Growing up with 11 siblings in the Saint-Priest-en-Jarez community in central France, he supported two teams: local giants Saint-Etienne and Napoli. Fittingly, he went on to play for both, and his progress has been steady and impressive. In addition, he proudly plays for Algeria, the country of his parents, and was extremely excited to take part in the 2014 World Cup.
Ghoulam joined Saint-Etienne's academy at the tender age of eight and was considered one of the top prospect throughout his youth, before joining the first team and cementing his place in the starting line-up for their highly successful 2011/12 season. Life became more difficult, however, when the club signed Jonathan Brison, and going to the Africa Cup in Nations in January 2013 proved to be damaging. Upon returning to France, Ghoulam found his place had been taken, which led to significant tensions between the player and coach Cristophe Gaultier.
That's why the defender demanded to be placed on the transfer list in the summer of 2013. After negotiations with Torino fell through, he was forced to remain at Saint-Etienne for another few months – Ghoulam even fought his way back into the team – but the decision had already been taken and his dream move was just around the corner. Napoli boss Rafa Benitez was in desperate need of a left-back in January 2014 and demanded to sign Ghoulam for a reported fee of just €4m.
Moving to a new club ahead of the World Cup might have been a gamble, but Ghoulam didn't hesitate because Napoli were his favourite team. "All my family is in love with Diego Maradona, so I had to love him," he explained. "I know by heart how Argentina won the World Cup in 1986, and my brothers kept showing me the tapes of his games. We had his posters on the wall, and dressed in his shirts."
That might have been the reason why he immediately felt at home, and Benitez trusted him. Ghoulam had a superb start to life in Serie A, assisting the crucial late goal in a 1-0 win over Roma, helping Napoli to a clean sheet in a victory over Juventus and generally becoming an instrumental figure in a defence which conceded just eight goals in his first 14 matches. The Algerian finished the season with style, winning the first trophy of his career when Napoli lifted the Coppa Italia. His position has never been under threat since then, despite the arrival of the talented Croat Ivan Strinic.
The current campaign has arguably been one of Ghoulam's very best: he's already recorded a career-high four assists, and also played in the Champions League for the first time. After more than three years in Italy, he's gained invaluable experience and is generally considered a top defender.
Strengths
Ghoulam is extremely quick and powerful. When he joined Napoli, club doctors were astonished to find that his medical tests bettered those of Edinson Cavani. The Algerian is able to run up and down the wing tirelessly, and is especially good at joining attacks.
Both Benitez and the current Napoli coach Maurizio Sarri see him as a very potent offensive weapon, and his understanding with midfield maestro Marek Hamsik and winger Lorenzo Insigne is superb. The latter likes to cut inside, leaving the flank clear for the Algerian, whose crosses are of high quality more often than not. Stamina and determination allow Ghoulam to track back quickly to close down opponents.
Weaknesses
Ghoulam might be resilient, but his defensive qualities have been questioned from time to time because he tends to lose concentration. He's made a few crucial mistakes, notably in the Serie A defeat by Juventus this season, and some consider Strinic a more solid option in his position. The Algerian likes passing forward and starting attacks, but those balls can at times be sloppy and go straight to opponents.
In addition, his goalscoring record is poor for such an attack-minded full-back. Nobody expects him to find the net frequently, but just one club goal in his entire career is definitely not enough. Worst of all, Ghoulam missed a superb chance to score for Algeria against Germany in the last 16 at the 2014 World Cup.
They said...
"If Ghoulam improves his defensive movements, he will become one of the best in the world in his position," said Maurizio Sarri in 2015.
Did you know...
Nabil, one of Faouzi's elder brothers, is a top runner himself who represented France at the World Cross Counry Championship in 2004. The younger sibling used to train alongside Nabil, who once remarked: "It's all in the head. Faouzi first became an athlete in his mind, and only then in his body."
What happens next?
Ghoulam's contract at Napoli runs out in June 2018, and he's recently made clear his intention to depart by rejecting a new deal. If the Partenopei fail to persuade him to remain at the Stadio San Paolo, they'll probably have to sell the Algerian in the summer.
Given his attacking talents, Ghoulam might be more suited to Chelsea's system, even though he's used to playing in a 4-3-3 formation at his current club.
Quizzes, features and footballing fun
Get the best features, fun and footballing frolics straight to your inbox every week.
Thank you for signing up to Four Four Two. You will receive a verification email shortly.
There was a problem. Please refresh the page and try again.