Marco Silva is fighting the tide for his reputation
The Everton boss is earning an unwanted name as a short-term fixer who can't keep up early results. Daniel Storey asks whether the Toffees are falling into a familiar pattern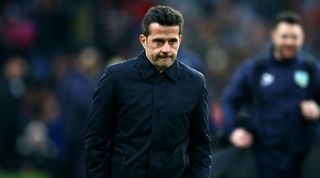 Let's start with a confession, because it would be impertinent to criticise Marco Silva without recognising my own missteps. At the end of November, I wrote a mildly glowing piece for this website on the start Everton's new manager had made at Goodison. It ended with a punchy payoff line; Everton were 'finally building something potentially special'.
At the time, the piece didn't feel unnecessarily hyperbolic. Everton were sixth after more than a third of the season played, but more important was the shift in style from one season to the next. The average age of the first team had dropped by more than four years and they ranked sixth for shots and fifth for chances created, having ranked 20th and 19th respectively under Sam Allardyce.
Sinking feeling
Ten weeks later, and that mood has sunk. Agonising defeat at Anfield, suffered in the 96th minute after Everton had matched Liverpool for clear-cut chances, has sparked a run of dismal form. Everton have taken 11 points from their last 12 league games and also suffered an FA Cup exit at Championship Millwall. In points terms, Everton are closer to the bottom three than the top six. Home defeat to Wolves, surging on under fellow Portuguese coach Nuno Espirito Santo, was a particularly bad look.
By January 9, only six weeks after Everton sat sixth, majority shareholder Farhad Moshiri was warning Silva that he expected. Moshiri's words were preceded by support for Silva as the long-term answer, but read more into what followed: "I look at the table and it is just not good enough. We need to go up the table, we need to utilise the fans' impatience to drive the club."
You can see Moshiri's point. Silva has only been at the club for part of Everton's lavish spending, but he still rules over a squad that contains 10 £20m-plus signings and two glamour loan arrivals in Kurt Zouma and Andre Gomes. The starting XI against Wolves on Sunday cost in the region of £200m. Since Moshiri's January warning, Everton have also lost to Southampton and Millwall.
Emerging pattern
What ebbs away most at the patience of Everton supporters is the nagging sense that their manager has been here before. At Hull City, Silva took 17 points from his first 11 league games before taking four from seven and being relegated. At Watford, he took 21 points from his first 13 league games before taking five from his next 11 and getting sacked.
So far at Everton, that record is 22 points from 13 league games and then 11 from Silva's next 12. The pattern is obvious: short-term bump followed by decline. There were caveats to slumps at Watford (Everton interest unsettled him and several players) and Hull (they were out of their depth at Premier League level). They do not apply at Goodison.
Ask any Everton supporter for the root cause of Everton's poor performance and sit back as they grow increasingly angry about defensive indiscipline. Wolves's second goal on Saturday was via a simple set-piece delivery that found Raul Jimenez in an embarrassing amount of space. The standard of Premier League attackers is far too high to get away with such generosity.
Again, a theme emerges. Everton have kept six clean sheets in 25 matches; a 24% rate. At Hull, Silva had a 22% clean sheet rate and 21% at Watford. The accusation at Watford and Hull was that Silva's teams were capable of aesthetically pleasing attacking football but lacked defensive resilience. So far, the same reputation haunts him on Merseyside. It's interesting to learn that no manager in the Premier League has conceded set-piece goals more regularly than him in the last three years.
Long-term options?
Let's be careful not to make the same mistake twice. Just as Silva had not guaranteed success at Goodison by November, he has not succumbed to failure by February. Everton could well still finish seventh, and even in the age of impatience, managers appointed as long-term options merit a full season to prove themselves.
Silva may also feel that attacking investment is nothing without defensive reinforcement. On Saturday, Everton's back four included Seamus Coleman (who has never looked the same since his career-threatening injury), Leighton Baines (who is 34, declining and gave away a penalty) and Michael Keane (who has never settled at Goodison). Despite the spending on attacking players, only three of the 14 players used against Wolves were actually signed under Silva, and two of those are loanees. The manager will stress that he was appointed to take Everton forward over three years.
But Silva will also know that long-term projects need quick wins. A home game against Manchester City and away trip to former club Watford might just be the worst two fixtures for Silva with Moshiri breathing down his neck. He can expect a hostile reception at Vicarage Road on Saturday. The same might be true at Goodison on Wednesday, depending upon the performance.
Until now during his brief spell in English football, Silva has not pulled himself clear of a rut but succumbed to it. That must change if he's to retain the trust of Merseyside's blue half and stop a glowing reputation falling south.
Quizzes, features and footballing fun
Get the best features, fun and footballing frolics straight to your inbox every week.
Thank you for signing up to Four Four Two. You will receive a verification email shortly.
There was a problem. Please refresh the page and try again.