Meet Joe Edwards: The 29-year-old mastermind behind Chelsea's youth team success
It's not just players who the Blues are developing, writes Garry Hayes – their Under-18 coach is also tipped for big things in his future career...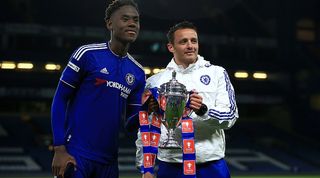 We all know the quote. "I'm not one from the bottle. I am a special one."
In the same press room where Jose Mourinho announced himself to the British media 12 years ago, a similarly distinctive Chelsea coach was holding court on Wednesday night.
Joe Edwards is the antithesis of Mourinho, though: level-headed and unassuming, even when he's just led Chelsea's youth team into the history books. Not since Manchester United's Busby Babes generation has a club won back-to-back-to-back FA Youth Cups. Now Chelsea have.
A week after defeating Paris Saint-Germain in the UEFA Youth League final, the Blues' youngsters convincingly defeated Manchester City 3-1 (4-2 on aggregate) at Stamford Bridge. It's inevitable that the focus is on the current crop of players and how far they might go in their respective careers, but their success has been influenced by a relatively unknown coach in 29-year-old Edwards, who has a unique story behind his own rise.
Product of the system
Outside of Chelsea circles, Edwards doesn't have the same reputation as many of his peers. His opposite number in the Manchester City dugout, for instance, was Jason Wilcox, a Premier League winner with Blackburn Rovers in 1995. Football fans of a certain age will remember him rampaging down the left wing before delivering crosses for the SAS – Alan Shearer and Chris Sutton.
What sets Edwards apart is that, like the players he takes charge of, he is very much a product of the club's academy. A former Chelsea schoolboy, he joined the coaching staff in 2004 and has gradually worked his way up to the role of Under-18s manager. While Chelsea have been developing players, it seems they've been breeding their own coaches in the process too.
To reference that quote again, Edwards' background – and the fact he's been in charge for two of Chelsea's three successive Youth Cup wins – earmarks him as "not one from the bottle".
"From a professional point of view, I want to achieve a lot in coaching, but anything I achieve at Chelsea is extra special for me," Edwards says when FourFourTwo asks him about the significance of making history with the club's youth team.
"It's home for me. I came here when I was eight years old and tonight is even more special for me because a large group of those players I have been working with for a number of years.
"My first group I was in charge of as a coach, I took the Under-8s. Tammy Abraham, Ruben Sammut and Fikayo Tomori were part of that group. Josh Grant, Mason Mount and Nathan Baxter followed the year after, so for some of us it's been a nine- or 10-year journey working together."
Mason Mount scores in the first leg of the FA Youth Cup final
Homegrown talents
It's a remarkable narrative we're seeing at Stamford Bridge right now. Comparisons may be made with the Busby Babes on the back of Chelsea repeating their success, but the Blues have done it with a flavour of their own.
Despite the cosmopolitan nature of the modern game, all 16 players on Wednesday are eligible to play for England. Edwards has been at the forefront of their development since before they were teens, with fans on the terraces hoping they can go much further than what they've seen already.
Perhaps we should be asking the same of the coach. After all, if his players are expected to reach the first team, why shouldn't he?
As form would have it, Edwards is embarking on a loan spell himself next season. Well, sort of.
European adventure
We've heard it all before, haven't we? Chelsea player succeeds with the academy only to be shipped out to a European outpost.
Edwards isn't joining another club, though, but hanging up the whistle for a while to work alongside Paulo Ferreira in monitoring the progress of those players on temporary moves away from Chelsea. He also hinted we could see some of this year's FA Youth Cup winners joining him on his travels.
"It's something I'm looking forward to," Edwards says. "I'll be heavily involved with the loan players, so that relationship I've spoken about with some of these players, hopefully I'll be able to maintain it on the next step of the journey with them."
It's vital Chelsea don't allow this up-and-coming coach to fall away like so many of their young stars have in recent times. Manipulating the loan system has allowed for big profits to be made in transfer fees, although it's equally become a graveyard for talented individuals like Josh McEachran, who's now at Brentford.
Future first-team boss?
The hope is that Edwards continues to develop ,as his story is another reason to champion the work being done at the Chelsea academy. They're at it with Jody Morris, too, with the former academy graduate set to take charge of this successful Under-18s side next season.
By winning again this year, has Edwards made life that bit more difficult for the man who's been his assistant in the last couple of years?
"Yes," he smiles, before exiting back down the tunnel to join in the celebrations with his players.
For Chelsea's sake, it's to be hoped this isn't the last we see of Edwards in a coaching capacity.
Quizzes, features and footballing fun
Get the best features, fun and footballing frolics straight to your inbox every week.
Thank you for signing up to Four Four Two. You will receive a verification email shortly.
There was a problem. Please refresh the page and try again.