No Juan loves me: the curious case of Mata in Manchester
After signing from Chelsea for £37.1 million just over a year ago, it's not been the easiest of rides for Juan Mata. Aanu Adeoye evaluates his peculiar fall from grace...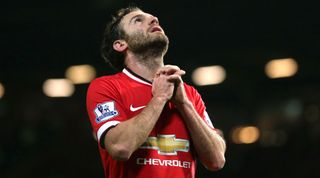 MATA IN 2014/15
Appearances 25
Starts 18
Goals 6
Assists 3
When Juan Mata arrived at Carrington via helicopter to the beaming smiles of David Moyes in January 2014, it was supposed to be a statement of Manchester United's intent.
Not only could they still attract world-class players after a shambolic summer, but they were also willing to splash the cash to stop the rot of a season that was unravelling alarmingly.
At the time United were 7th in the Premier League – where they eventually finished – and six points away from fourth. Mata's £37.1 million arrival from Chelsea was intended to serve as a reinvigorating shot in the arm for the club's stumbling chase for Champions League qualification. But it was not to be, and Moyes was sacked before Mata could establish himself in the team. The rest, as sages will say with heavily bespectacled eyes, is history.
It's been a curious season at Old Trafford in 2014/15, with United still in the hunt for Champions League football despite playing abysmally for most of the season. Louis van Gaal's 'philosophy', still seemingly misunderstood by every player except Ashley Young, has been the major talking point.
That, and the fact that two of United's most high-profile summer arrivals have performed woefully for worryingly large spells this season.
Angel Di Maria's £59.7m signing from Real Madrid looked a masterstroke at the beginning of the season, but the Argentine's recent form has put paid to the idea of him drastically improving United's fortunes.
Radamel Falcao's expensive loan move from Monaco has been a forgettable gamble that hasn't paid off and, barring a miracle of epic proportions, the Colombian will be sent back to the lush surroundings of the French principality.
This has reduced Mata's achievements, or lack of, to a mere footnote in the Red Devils' season.
Back in the cold
United's former record signing pre-Di Maria has seen himself become the outsider watching the action unfold from the sidelines. And not for the first time in his career.
Mata, for all intents and purposes, is a fine footballer. Playing with grace and brilliant invention, he is an old-fashioned No.10, who dictates play, usually off the shoulder of a striker.
Under Andres Villas-Boas, Roberto Di Matteo, and most prominently under compatriot Rafael Benitez, he had the Chelsea team set up to suit his style.
The results were devastating, with Mata scoring 12 Premier League goals and providing the same number of assists in his final full season at Chelsea. He was an integral part of the teams that won two successive European trophies too, most notably delivering the corner-kicks for Didier Drogba's equaliser in Munich and Branislav Ivanovic's winner in Amsterdam against Benfica 12 months later.
But Jose Mourinho's second coming in summer 2013 proved his undoing, with the Portuguese opting to play Oscar in Mata's preferred No.10 role. The Spaniard was shunted out wide, but didn't match Mourinho's vision that his wide players should be hyperactive chasers who worked up and down their flank to track runners in behind. "In this moment, Oscar is my No.10, and if anyone tells me Oscar has not been Chelsea's best player this season, I'd have to disagree," declared the Blues' boss in September 2013.
"I have to prove to the fans that I am good. Now [Mata] must do the same. I'm not ready to ask Oscar to track opposing full-backs. I want the other two players [Eden Hazard and Mata], from the side, to adapt to that reality and learn how to do things they were not ready to do before."
While Hazard has gone on to flourish spectacularly under Mourinho's tutelage, Mata has found himself scrapping for game time at his new club.
Waiting in line
Mata headed to Old Trafford hoping for a change in fortune, but Moyes' dismissal and Van Gaal's subsequent arrival have left him out in the cold again.
The Dutchman's 3-5-2 means there are only two spots available for United's trio of Falcao, Robin van Persie and Wayne Rooney. Van Persie and the floundering Falcao seem to be favoured up front and Rooney, by virtue of being club captain, occupies the space behind them. "He shall play – he's my captain," was Van Gaal's concise assessment of the situation.
And while Mata has shown some aptitude for playing on either flank, the left side of United's midfield is Di Maria's (by and large), while Young manfully occupies the right.
The latter has easily become United's best outfield player under Van Gaal, showing a deep understanding of his manager's methods that his more illustrious team-mates still haven't come to terms with.
But any suggestions that Mata is being kept out of the side due to Van Gaal's favouritism towards his club captain are quickly quashed by the realisation that the Spaniard's contributions, when given the chance, haven't been up to scratch.
When Rooney earned himself a three-match suspension for a needless sending-off against West Ham in September, it presented Mata an opportunity to establish himself in the side, or at the very least give Van Gaal something to worry about.
What followed was a massive disappointment, and as Mata trudged off the Old Trafford pitch in the 67th minute of a 1-1 draw against former employers Chelsea, there appeared to be no way back for him into his manager's thoughts. Rooney returned from suspension the following week for the Manchester derby and, not unsurprisingly, Mata was the man to make way.
His lack of pace and defensive awareness means more natural wingers occupy the wide positions, and his apparent inability to impose himself means Rooney is the man through whom most of United's play goes.
While Benitez was willing to build the team around him at Chelsea, perhaps thanks to the paucity of options at the Spaniard's disposal, Van Gaal cannot afford the World Cup-winner such luxury.
Those in support of Mata playing more regularly will point to his impressive goal return in United colours – 12 goals from midfield in 40 appearances is nothing to be sniffed at – but the issue with this impressive return is that most have come against English football's so-called lesser lights.
It's all very well scoring against QPR, Sunderland, Southampton, Norwich, Newcastle and Aston Villa, but it's in the biggest games that multi-million pound signings prove their worth. Mata's last United goal came against Cambridge United in the FA Cup. What's more, his travails at Old Trafford have also seen him dropped from Spain's national team in recent times.
To say it has gone horribly wrong for the two-time Chelsea Player of the Year would be harsh, but with each passing month there has been nothing to suggest that Mourinho's decision to sell him hasn't been justified. With 13 games remaining of the season, Mata is effectively playing for his United future, and Van Gaal's admission that he lacks a creative presence does him no favours. It's been quite the fall from grace.
So what next for the baby-faced playmaker? At 26 he probably still has his best years ahead of him, and failure to make his mark at United doesn't necessarily spell the end of his top level career.
There will be a manager willing to build his team around the diminutive playmaker, and with reported interest from a host of clubs, there won't be a shortage of suitors either.
Quizzes, features and footballing fun
Get the best features, fun and footballing frolics straight to your inbox every week.
Thank you for signing up to Four Four Two. You will receive a verification email shortly.
There was a problem. Please refresh the page and try again.