Get the most out of your pre-match warm up
By Ben Welch
Make sure you're ready to steal with show, with our essential warm up guide, courtesy of New York Knicks injury prevention and performance specialist, Andy Barr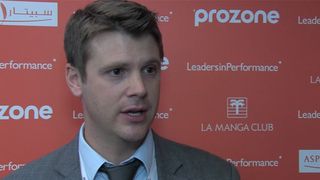 Sunday morning warm-ups usually involve a white-knuckle dash to the ground, a handful of painkillers, a fag, a cup of tea and a bacon sarnie (give yourself a slap if you like the sound of this).
Invariably, this kind of preparation leads to a stinking performance and a game ending injury.
To avoid letting your team-mates down, you've got to prime your body for the stresses of football (Upgrading to a jog around the pitch, followed by a few half-hearted static stretches won't cut it).
Dynamic stretches, replicating the physical demands of a game are the answer, says New York Knicks injury prevention and performance specialist, Andy Barr.
The former Premier League physio also argues that coming into the changing room after a warm up and sitting still for the pre-match team talk cancels out the preparation you've just thrashed out.
Watch this video and let Andy tell you how to prepare your body for a man of the match display.
Ps. Good luck telling the gaffer you need to bang out a few lunges while he delivers his tactical master plan….

Also see:
Premier League warm up
Phil Neville: Pre-match warm up
Reo-Coker: The complete warm up
The ultimate half-time warm up
Don Goodman: Warming up as a sub
Kick-off on the front foot
Quizzes, features and footballing fun
Get the best features, fun and footballing frolics straight to your inbox every week.
Thank you for signing up to Four Four Two. You will receive a verification email shortly.
There was a problem. Please refresh the page and try again.