5 ways to beat Luis Enrique's rampant Barcelona
The Catalans have looked unstoppable of late, but Kiyan Sobhani suggests a handful of methods that could lead to victory over Messi & Co...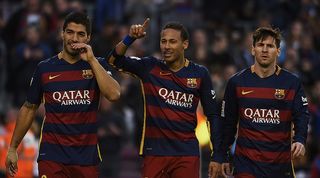 Luis Enrique's reformed Barcelona steamrollered Real Madrid last Saturday, continuing their traditional run of periodical Clasico humiliations: 5-0, 2-6, 5-0, 0-4. They thumped Rafa Benitez's discombobulated Madrid side by dominating every facet of the game – from running up the scoreline to emphasising their superiority by casually passing the ball around a conquered Bernabeu as if it were a training session late on. Discussions of how anyone can beat this Barcelona side have returned.
Luis Enrique's Barça differ to Pep Guardiola's in the sense that they are now more direct, although there remains an emphasis on possession to wear down and tire out opponents. Whereas Guardiola's outfit were defined by Xavi, Andres Iniesta and Sergio Busquets, the symbol of Enrique's incarnation is the front three of Neymar, Lionel Messi and Luis Suarez, who will go down as one of the best attacking trios ever.
Enrique's charges are as difficult to beat as Guardiola's, which is quite a compliment for the former given that the latter's team were considered one of the best to have ever played football. "The reality is that Barça of the six titles, Barça 2009, was infinitely superior to Real Madrid," former losBlancos manager Juande Ramos admitted. "We had to make a tremendous effort to compete with them, but the truth is that their level was much higher than Real Madrid's." Six years on and with a new manager at the helm, it is still not clear what the best way to defeat Barcelona is. But here's how to hit them where it hurts...
1. Press high
If there's one thing that Barcelona aren't comfortable with, it's being pressured when they have the ball near their backline. Happy to dance and tiki-taka their way around you when possession is in the opponent's half of the field, they're prone to giving the ball away when the closed down high up the pitch.
This is something that Madrid failed to do at the Bernabeu last month. Forwards Gareth Bale, Karim Benzema, Cristiano Ronaldo and James Rodriguez didn't contribute much off the ball, allowing Barça to play out from the back with ease.
Celta Vigo showed how to make Barcelona feel uncomfortable; led by Nolito and Iago Aspas, Celta trounced the Blaugrana 4-1, with their second goal a result of the heavy pressure that Madrid failed to apply.
2. Play compact defensively, explode on counter
The Ancelotti way of beating Barcelona. In last year's Clasico at the Bernabeu – won 3-1 by Madrid – the Italian used Luka Modric, Toni Kroos and Rodriguez in midfield, instructing them to play close to one another and ensuring the man in possession always had an easy passing option. The ball was then moved quickly to the front three of Isco, Benzema and Ronaldo, with Madrid doing plenty of damage on the break.
3. Pack the midfield
In that aforementioned victory over Barça last term, Ancelotti ensured that Isco dropped back to become a fourth midfielder at times, helping knit Madrid's play together. With Bale – a completely different player to the Spaniard – in the XI this time around, losBlancos were incredibly disjointed, with no one from the forward line dropping back into central zones. This meant that Benitez's side were forced to hit long balls forward, usually ceding possession and allowing Barcelona to build up yet another attack.
So many things wrong with Real Madrid in this picture it is beyond belief. pic.twitter.com/FWOaKxbG9f
— David Cartlidge (@davidjaca) November 21, 2015
4. Be patient
Barcelona will always look to play their own game and keep possession no matter how an opponent sets up against them. Patience, therefore, is key; when facing the Catalans, it is essential to be prepared to give up control of the ball.
Back in February, Malaga left Camp Nou with 27% possession and a 1-0 victory under their belts. It was the classic way to beat Barcelona, as demonstrated by Jose Mourinho in Inter Milan's Champions League semi-final triumph in 2010.
Enrique discussed how difficult it is for Barça to play against such a defensive-minded side like Malaga. "I'd like it to be an accident but it is becoming habit. The opposition close up and we can't find a way through," he admitted. Such an approach requires a huge amount of patience, determination and luck to succeed.
5. Man-mark Busquets 
Almost everything goes through Busquets at Barcelona. Even if he doesn't score or directly assist a goal, he is bound to have played a part in the move. When Barcelona tore apart Roma in the Champions League last week, Busquets completed 66 of 70 passes – more than any other midfielder on the pitch. Disrupting his flow is essential, and instructing a player to follow Busquets around the pitch would at least ensure he cannot have as much influence on the game in possession.
There is still a long way to go, and Barcelona may still fall away as they did in 2012/13 despite winning the first Clasico at the Bernabeu. While that looks improbable, enacting some of the above methods could help Barça's upcoming opponents to pull off a shock victory against Enrique's irresistible outfit.
More features every day on FFT.com
RECOMMENDED
Quizzes, features and footballing fun
Get the best features, fun and footballing frolics straight to your inbox every week.
Thank you for signing up to Four Four Two. You will receive a verification email shortly.
There was a problem. Please refresh the page and try again.