9 ridiculous boasts that made their subjects look stupid
Following Daniel Sturridge's statement that he's the best striker at Liverpool, Tim Ellis went scurrying to the archives for big claims that went much further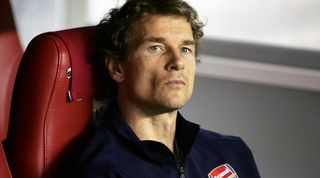 10. Houllier's great 10 games
Gerard Houllier returned to the Liverpool bench in March 2002, five months after undergoing emergency heart surgery. On a glorious night at Anfield, Liverpool advanced to the last eight of the Champions League after beating Fabio Capello's Roma, and were also challenging in the league.
Houllier duly announced that his team were "10 games away from greatness" – but he's still waiting for it. The Reds collapsed against Bayer Leverkusen in the quarter-finals and were seven points shy of the top-flight title. Then the Frenchman bought El-Hadji Diouf.
9. Bookies beat Fergie
In 2011, Manchester United chief Alex Ferguson was in a bullish mood ahead of a second Champions League final against Barcelona in three years, suggesting that his team had devised a plan to cope with their mesmeric opponents.
"Beating Barcelona would end all arguments about this team," said the Scot. "I know we are playing a terrific team but would you back against us in a big way? I don't think you would."
Most bookies did, and with good reason. United were somehow level at half-time, but in reality were soundly beaten 3-1 by a Lionel Messi-inspired display from the Catalans. "Nobody's given us a hiding like that but they deserve it," Fergie admitted.
8. U.S. ladies get shirty
The U.S. women's national team caused a storm after celebrating their Olympics gold medal against Japan in 2012 with a rather in-your-face wardrobe change.
After winning 2-1, the United States' contingent returned to the field donning the American flag and pre-made t-shirts featuring the slogan: 'Greatness Has Been Found'. They were even available to buy on the official U.S. Soccer store.
As one Canadian commentator opined: "That is why nobody outside the U.S. likes them."
7. Eagles of Brazil
What a difference one Christmas makes. In December 2015, Alan Pardew was aiming for Europe after Crystal Palace had beaten Stoke 2-1 to keep the Eagles sixth in the Premier League, level on points with Manchester United.
"We're getting the quality of 11 players on the pitch that's not too far away from some of the top teams," purred Pards, who six months earlier had said a 4-1 win over Sunderland (yes, Sunderland) was "like watching Brazil".
Things unravelled horribly in 2016, though, as the Eagles mustered the worst points total of any team in England's top four leagues and Pardew was sacked two days before Christmas. At least it gave him a bit more time to work on those snake hips he showed off at Wembley in May's FA Cup final.
6. Maths with Cristiano
In 2008, before he started piling up the individual awards, Cristiano Ronaldo joshed that he was "the first, second and third best player in the world".
Fast-forward eight years to February 2016, and Real Madrid's Portuguese preener was berating his team-mates for not being as good as him after they lost to Atletico Madrid. "If we were all at my level, maybe we would be leaders," Ronaldo huffed.
Even CR7 could see that he'd gone too far, and quickly retracted his comment. "I was referring to the physical level, not level of play. I am not better than any of my team-mates."
This, from the same player who recently said: "In my head, I am the best player in the world." In fairness, the football world agreed with him.
5. Sepp endears himself again
In June 2011, FIFA was rocked by new corruption claims that alleged bundles of cash were used as a bung for Caribbean football officials. Not that it stopped president Sepp Blatter from being re-elected as president unopposed, and the Swiss wasted no time rubbing turned-up noses in the proverbial brown stuff.
"What does one wish for when one has everything?" sniggered the now-departed octogenarian, who was banned from football for eight years (later reduced to six) in December 2015. "I have no material wishes. I don't need another Porsche or holiday home, a yacht or a villa."
4. Irreplaceable Jens replaced
Never backwards in coming forward, especially when talking about his rival Manuel Almunia having never won a single important game, German stopper Jens Lehmann once boasted that mentally he was the strongest player at Arsenal.
"I know that I have an advantage at Arsenal and that I can keep it. I don't see any young supermen keeping me out," Lehmann said in 2007, while sitting on the bench.
Eight months later, the 37-year-old was being handed a token farewell appearance against Everton, having started only four Premier League games since his outburst. The man he was replaced by? That'd be the 23-year-old Lukas Fabianski. So much for that, then.
3. Let's not repeat the parade
Before the 1978 World Cup, Scotland manager Ally MacLeod bragged that his team would come back "with at least a medal". When asked what he planned to do after the World Cup was over, he simply replied: "Retain it."
Warming to the spirit of over-confidence, 'Noddy' persuaded the authorities to open up Hampden Park so that the national team could do a lap of honour on an open-top bus before they went.
But when they finally got to Argentina, the Scots lost to Peru and drew with debutants Iran, which left them needing to beat the Netherlands by three clear goals. When Archie Gemmill made it 3-1 with over 20 minutes to go, Ally's Tartan army went barmy. Three minutes later the deficit was cut, though, and Scotland went home sorry.
2. Brown talks one down (apparently)
Showboating Hull manager Phil Brown was ticked off by chairman Adam Pearson after boasting about "sweet-talking" a woman out of jumping off the Humber Bridge in 2009 while on a walk with his squad.
A spokesperson for the bridge board confirmed they had heard nothing of the incident. In fact, the only recorded event of note was a scrap between Nicky Barmby and Jimmy Bullard in front of members of the Women's Institute.
According to The Guardian's Louise Taylor, Brown had fallen out with so many first-teamers by this point that people joked about the need for a "naughty step" at the training ground. He hung onto his job until March 2010, at which point he was put on gardening leave, and Hull were relegated under stand-in boss Iain Dowie.
1. Bendtner brings down the house
One can never say that Nicklas Bendtner is short on self-confidence – there's just a time when the proclamations get a bit silly. In April 2010, the former Arsenal forward bragged: "If you ask me if I am the one of the best strikers in the world, I would reply yes."
He also predicted he could win the Golden Boot at the World Cup, but ended up scoring once in South Africa as Denmark failed to progress from their group.
The striker was eventually shown the door at Arsenal in 2014, and although expressing a preference for Barcelona and Real Madrid as next destinations, he rocked up at Wolfsburg instead. But the trouble followed him – Bendtner was fined for turning up in a Mercedes at the Volkswagen-owned club, and labelled "a menace" by sporting director Klaus Allofs. In the end they simply told him not to bother coming in.
Now at Nottingham Forest, the not-so-great Dane admitted recently: "I don't regret saying I want to be the best in the world… but I was young and I might have said it too early. Yeah, it's haunted me."
Thank you for reading 5 articles this month* Join now for unlimited access
Enjoy your first month for just £1 / $1 / €1
*Read 5 free articles per month without a subscription
Join now for unlimited access
Try first month for just £1 / $1 / €1
Get FourFourTwo Newsletter
The best features, fun and footballing quizzes, straight to your inbox every week.