Analysed: How Arsenal should fill the Ozil void next time they need to
The German missed out at Stoke with a foot injury, as the Gunners scrapped out a goalless draw. Robert O'Connor evaluates what Arsene Wenger could do if he's absent again...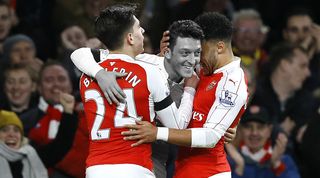 How do you fill a Mesut Ozil-shaped hole? On Sunday at the Britannia Stadium, Arsene Wenger's answer was to plant Alex Oxlade-Chamberlain in the gap behind Olivier Giroud, hopeful that the England man's industry and initiative he usually delivers when deployed closer to the channels would be replicated in the role as the team's major creative force.
The place on the right of that advanced midfield three was taken by Joel Campbell, still trying to shake off the rookie tag that footnotes his every selection, but who is answering his critics slowly game by game. Ninety minutes of bustle and toil later, after both sides had worn themselves into the ground for the cause of a stalemate to be quickly forgotten, some things were clearer about how the team best operates in the absence of their German playmaker.
Creative credentials
It wasn't the first time this season that Campbell had made a case for being given a try at No.10 in the Arsenal midfield. The Costa Rican's vision and weight of passing when Giroud set off on the kind of runs that have brought the team 18 goals this season was masterful at times against Stoke.
On 20 minutes he slipped in the Frenchman with a ball from midway inside the opposition half that cut the hosts' defence to bits, anticipating a dart inside from Giroud before Stoke's central defensive pair could react. It created more in one movement than Oxlade-Chamberlain, strangely shackled, made for the team in 90 minutes.
STATS ZONE Free on iOS • Free on Android
It was the same instinct and subtle execution which brought Giroud his second goal last month against Olympiakos in the Champions League, and gave the clearest hint that Campbell has the skill set to sit centrally behind the striker, especially when they're as mobile and willing as Giroud.
Midway through the first half he found Theo Walcott in an advanced position with a similarly intelligent ball, but the England forward couldn't control. They were two of the only moments when Arsenal looked threatening in their approach play in a game of slim opportunities for the forwards, and both came from the lively Campbell.
The Costa Rican's willingness to roam in search of the ball was also one of the more invigorating parts of Arsenal's attacking play. Roughly no more than half of his completed passes happened down the right channel, with much of Campbell's influence coming when he drifted centrally and over to the left.
It went some way towards correcting the creative deficit that came from Oxlade-Chamberlain's reluctance to seek out the ball, with the England forward looking weighed down by the responsibility of being the team's creative engine. It was an initiative that Campbell seized well, cutting inside to find space for the through balls which are slowly becoming his forte.
Wide of the mark
As a driving force out wide he was less effective. As an appointed wideman he only once took on his full-back Erik Pieters in the attacking third, losing out to the Dutchman who comfortably saw him off the ball. Indeed, much of Campbell's busy energy ebbs away when confined to the flanks, as not only his dynamism as a creator but his willingness to harry opponents and break down forward moves fails to find utility.
His strength and hold-up play are a further asset at No.10. Late in the first half he used his body brilliantly to hold off Pieters and draw a foul in dangerous position when there looked little on, an example of the kind of presence that the improving Ozil sometimes lacks.
Mark Hughes's fleet-footed Stoke have retained much of the firmness and grit that became their watchword under Tony Pulis, but Campbell was rarely bullied and was always a willing recipient with his back to goal. Together with his deft ball-playing skill it should be the perfect foil for players inclined to burst down the wing like Theo Walcott, who was quiet for spells.
Campbell completed 35 of his 41 passes against Stoke, the majority of which were infield rather than looking to release his full-back Hector Bellerin on the overlap. His inclination is usually to look centrally as well as forward, and with such a deftness of touch when it comes to picking out intelligent balls his suitability lies in playing in the hole behind Giroud.
What seems increasingly clear each week, however, is Campbell's struggles in front of goal, whether it be down to a lack of confidence or a difficulty living up to the high standards set by Giroud, Alexis Sanchez and the rich history of slick finishers at the club.
On Sunday he rarely found himself in the box or in front of goal, but consistently tried to create from deep. He attempted five through balls, all from a central or right-of-centre position between 30-40 yards from goal. The first-half ball for Giroud, brilliantly saved by Jack Butland, was the only chance created but his work with the ball was in stark contrast to Oxlade-Chamberlain, who consistently played sideways from the same position. The England man attempted only two forward balls into the box from his appointed role at No.10.
Stepping in
Arsenal will point towards the absence of Ozil as a reason for their muted attacking prowess at the Britannia, but options and alternatives will need to be found if their stop-start path towards the title is to reach its destination.
Knowing how to handle games in his absence without depriving the in-form Giroud of service will be key, and if the team can cope without having to drastically alter its playing style – something Wenger is reluctant to countenance – then all the better. In Campbell he has a willing replacement capable of spotting movement in front of him and acting with split-second precision.
The 23-year-old Costa Rican isn't Ozil, but he could pick up enough of the slack to see Arsenal over the line.
RECOMMENDED
Marcelo Brozovic: Meet Inter's Mancini-loved jack-of-all-trades at the middle of a super-club tug of war
More features every day on FFT.com • Analysis
STATS ZONE Free on iOS • Free on Android
Quizzes, features and footballing fun
Get the best features, fun and footballing frolics straight to your inbox every week.
Thank you for signing up to Four Four Two. You will receive a verification email shortly.
There was a problem. Please refresh the page and try again.