Andy Mitten column: Rage and reality two very different things when it comes to Glazers and Manchester United fans
By Andy Mitten
Reds protest on Twitter but don't turn up when there's a chance to show their faces – and sometimes much worse. So what gives?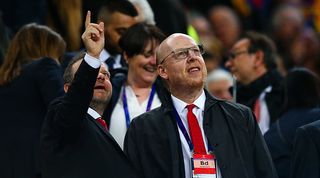 Something weird happened at the weekend. Manchester United 'fans' called a protest against the Glazers, who have owned the club since 2005. It received some national news coverage – yet only 28 people turned up to the demonstration that never was outside Old Trafford.
It wasn't a surprise, since it showed the disconnect between social media and real life. Online, a #glazersout hashtag was trending as if there was a groundswell of support. Yet on the ground, nobody knew anyone with much credibility playing any part in it.
Online fans were ostensibly upset because the Glazers take money from United – the cost of financing their hugely unpopular and controversial 2005 takeover is northwards of £1 billion. It doesn't cheer spirits to be reminded that Manchester City's owners have put a similar amount into their club either.
But why now, since this issue isn't new? It has been covered in almost every issue of United We Stand fanzine since 2004, to the point of Brexit-like Glazer fatigue.
Among fans, friends became former friends as some left to support breakaway club FC United, never to return. Many of those fans were political, militant and prepared to protest in the real world. Most have long gone.
In 2005, the vast majority of United fans did absolutely nothing. Old Trafford remained full for almost every game to its 75,000 capacity. Most football fans care little about who owns their clubs so as long as the results are positive. Football is a release and they have no interest in the politics. Many feel that protesting is perilously close to disloyalty.
There were peaks and troughs of dissent. Liverpool's previous owners made the Glazers look like saints, but a series of negative articles about United's finances, plus the notion that a group of wealthy supporters called the Red Knights could offer a plan B, triggered the green and gold scarves of 2010. Manchester's swagmen made a killing selling those scarves, latterly to tourists who saw no irony in buying a protest scarf and then heading straight to purchase merchandise from the club.
Unwilling to boycott games, fans were pretty powerless. In late 2005, I attended a meeting at Whitehall with half a dozen other United fans who were concerned about the takeover. Representatives of the British government sympathised and said they'd write a letter seeking assurances. It amounted to nothing.
Weak financial governance allowed the highly leveraged buyout in the first place. It should never have been allowed to happen, quite apart from the fact that United don't need to be owned by anyone bar their supporters. Like Barcelona and Real Madrid, they generate enough revenues to be a global power.
In fairness to the Glazers, they realised Manchester United's vast commercial appeal with a simple strategy that nobody had used before. They divided the world into geographic zones and sold premium sponsorship packages to companies within them. For years, United had struggled to monetise their vast support in markets where fans didn't contribute to the club's bottom line; where they bought counterfeit shirts and didn't pay to view games.
A decade ago, when United were the English, European and world champions, I saw a vodka advert adorned with the club's players on an Indian roadside. The club were receiving money direct from the companies rather than the fans – and every rival club tried to follow. The Glazers can't be accused of parsimony towards the team either, since United have the second-highest wage bill in world football.
Ticket price rises, a major concern to protestors in 2005, shot up until 2010 but then thankfully stalled.
The current disharmony is directly related to poor end-of-season results, and United not busying themselves in the transfer market in May and June. There were no calls for protest after United had beaten PSG away in March.
The issue is riddled with nuance. It's not right, but many of the current detractors have only ever known success and will be sated by several new signings – not that the stellar acquisitions have worked in the post-Sir Alex Ferguson era. The protestors are part of a fractured fan base, many of whom don't actually like each other. United they don't stand. And match-going fans hate being told what to do by someone who has never been to a game.
RANKED Every one of Manchester United's post-Alex Ferguson signings
An Old Trafford season ticket holder was being criticised online last week by 'protestors' because in renewing his season ticket, they felt he was part of the problem. The lad asked four of them directly if they were going to the protest. None of them replied. Of course they weren't. Most have never been to a game. It wasn't protest, it was anonymous clicktivism which would likely fade away with a few new signings.
Genuine protest movements require much much more than tweets – and even then, football fans have a patchy record. Saturday's 'protest' was derided because it was called in the middle of the close season, yet days after the Glazers took over, United played the FA Cup final in Cardiff. Feelings were high, mutiny was in the air and a protest planned – yet only a handful attended. Most simply couldn't be arsed to leave the pub.
The strength of feeling against the Glazers is demonstrated by the fact that some United supporters ask them for photos when they're spotted on European trips. Football fans can be the oddest breed.
Not that anger and concern aren't justified. The last three seasons have ended awfully in the league, recruitment has been poor and there has been a lack of obvious strategy, but genuine protest movements require vast amounts of energy to maintain momentum. They require real-life leaders who have credibility, who can be vouched for and who can stand up to scrutiny. A football club's support is a community – at the games. You get to know who is who, and who can be trusted.
Social media, especially Twitter, isn't very good for deciphering who is credible and who isn't. There are anonymous aggregator accounts for all of the big football clubs with thousands of followers – but the clubs aren't behind them. It's a blaggers' paradise.
Genuine dissent from otherwise extremely patient match-going fans wouldn't be far away if United's season started as badly as the previous one ended. As his team has returned to pre-season training, Ole Gunnar Solskjaer is working hard to make sure that doesn't happen.
While you're here, why not take advantage of our brilliant subscribers' offer? Get 5 issues of the world's greatest football magazine for £5 – the game's greatest stories and finest journalism direct to your door for less than a pint in London. Cheers!
NOW READ
BARGAINS Juventus' list of free transfers since 2009 is... enviable
LIST 10 of football's weirdest pre-season friendlies
Quizzes, features and footballing fun
Get the best features, fun and footballing frolics straight to your inbox every week.
Thank you for signing up to Four Four Two. You will receive a verification email shortly.
There was a problem. Please refresh the page and try again.