Are Manchester City fans really becoming spoilt with success?
They're derided by opposition supporters when modern failures in Europe are greeted with groans, but Stephen Tudor says the City faithful simply don't know what to do with themselves after years of mediocrity...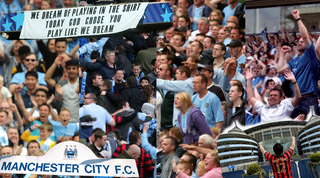 York City vs Manchester City: December 19, 1998. The official attendance at Bootham Crescent on that chilly afternoon to witness a 2-1 defeat for the visitors which left them even further adrift in the third tier of English football was 7,527. Yet if every Blue who claims to have been there can be believed, it was 50,000 plus.
That's because, among the ignominious league losses to Wycombe and Lincoln, and meek home surrender to Mansfield in the Auto Windscreens Shield, it's York that has gone down in the intervening years as Ground Zero for Manchester City. It is the sharpest contrast between there and here; an extraordinary journey that saw the club veer from catastrophe to comedy while plummeting through the divisions before eventually witnessing David Silva twinkle-toe immaculate passes for Sergio Aguero.
Where were you? 
Back then, around the time of the millennium, the notion of City lifting two league trophies boasting a side sprinkled with superstars was utterly absurd, akin to a man late with his rent filling in his Lotto ticket and imagining life on a yacht while having lotion applied by a supermodel. The club had been reduced to a national punchline – you simply haven't experienced true degradation until Chris Evans mentions your team's proud name on TFI Friday and is met with a studio of Nathan Barley types howling with derision.
Yet such was the extremity of City's decline following years of chronic mismanagement and knee-jerk desperation, the jokes now bordered on the cruel. Even Manchester United fans had recently refrained from mocking, with some patronisingly adopting their rivals as a second-favourite team. Which was nice of them. Beyond the banter and standing, meanwhile, was an altogether more serious plight with the club teetering on the precipice of bankruptcy.
Fast-forward 15 years and the days of Cityitis seem hazy in the memory like a childhood affliction. Now sides are ruthlessly dispatched at the Etihad with a brand of football that aspires to Barça brilliance. Now a second-place finish in the Premier League is considered failure. Now you're as likely to sit next to a tourist taking snaps of the stadium during the game than cower from the neighbouring fury of a Mancunian rant.
RECOMMENDED This is how it feels to be City: The 30 years of hurt and the 15 years that followed
Which is why "Were you at York away?" has become shorthand among the faithful, a litmus test to determine if the person at the bar or responding to a forum post has also experienced the full ascent of this bizarre quantum leap from despair to the realms of fantasy. Rival fans enquire ad nauseam: "Where were you when you were s***?"
Do one, Conlon
In a similar vein, City fans do likewise.
For those that were – and it's worth remembering City's average attendance in Division 2 was an impressive 28,708 – they have not only luxuriated in football's equivalent to a life-changing makeover but additionally had to realign their expectations on a quite unprecedented level. From hoping Barry Conlon somehow managed to shoot straight to legitimately viewing Sevilla as beatable fare in the Champions League is a huge escalation in self-worth, a momentous reinterpretation of one's team that has had to become the norm in a very short space of time.
Unfortunately, according to some at least, this seismic shift in outlook has tilted too far, at times straying into arrogance and a sense of entitlement. It has become a common gripe from away fans visiting the Etihad these days: that City supporters just aren't as likeable and pragmatic as they once were. In fact they might just be – whisper it sadly – slowly transforming into that lot down the road.
Is this true? Have City fans got too full of themselves and consequently become spoilt with success?
What they said...
We put the charge to five prominent Blues – who have each endured and revelled in a lifetime of following City at their most typical – and asked them to put forward a case for the defence.
Ahsan Naeem (first game 1991): "We're not spoiled, we are the opposite. We're not used to success so we have no idea how to deal with it. Every defeat is met with panic not because we feel entitled, but because deep down inside we fear it's the start of some typical City-esque spiral back into the lower divisions. It's wholly irrational but it exists."
Ric Turner (Editor of Bluemoon forum): "On the whole I think we've largely retained our self-deprecating humour and haven't yet developed the self-righteous arrogance of certain other clubs. The underlying pessimism with some older Blues still prevails: 'If anyone can f*** this opportunity up, it's us.'"
David Mooney (Blue Moon podcast executive producer): "Thousands of supporters can't quite work out what they should be thinking sometimes. It's all a mixture of delight at not having to travel to Macclesfield and Chesterfield but disappointment that the most expensive side in British history didn't beat West Ham at home like they should have done."
RECOMMENDED
Paul Edwards (season-ticket holder for over 20 years): "City fans have had their expectations risen and our desperation for success for the last few decades has manifested itself as impatience. It could all slip away tomorrow and everything must be won right here and right now..."
Simon Curtis (Manchester City's ESPN correspondent): "How can any group of fans that have been through 35 years of idiocy, banana skins, flying custard pies and the sounds of a million-and-one opposition belly laughs be spoiled by five short years in the sunlight?"
Colin Savage (contributor to King of the Kippax fanzine): "There's a heightened level of expectation certainly, but there's no sense of entitlement, certainly not among anyone who remembers our struggles before 2008. And if you do perchance forget those, there'll be someone there to remind you. But, unlike our dear neighbours, we were never City fans for the glory or the trophies. There were none, so how could we be? We were there for the laughs. We actually enjoyed the misery of mediocrity and it takes a long time to knock that out of people. Unlike Liverpool fans, who started singing 'We're going to win the league!' in March, we didn't sing it until the 87th minute of the final game of that 2013/14 season, when 2-0 up against West Ham. And even then, some thought it a bit premature."
So have we been spoilt? Hell yes. But are we spoilt? Hell no.
Quizzes, features and footballing fun
Get the best features, fun and footballing frolics straight to your inbox every week.
Thank you for signing up to Four Four Two. You will receive a verification email shortly.
There was a problem. Please refresh the page and try again.