Danny Guthrie: Talentspotter
"People always laugh when El Hadji Diouf is around. But they're laughing at him, not with him."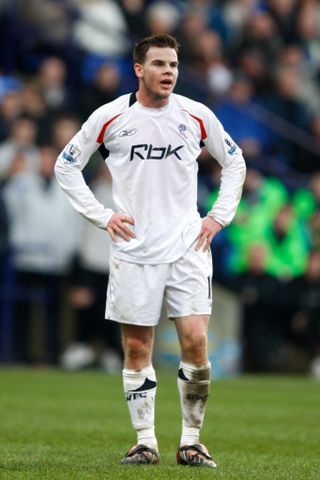 Born
18/04/87, Shrewsbury
Position
Midfielder
Nickname
It's pretty simple really, either Guth or Guthers.
Club supported as a boy
I've always supported Liverpool. Even though my family weren't that in to football, I always was. I loved watching the likes of Steven Gerrard play.
Strengths
My passing, creativity and work rate. I like to be the one that's on the ball creating chances for the team, and right now, that's going pretty well. I'm also pretty versatile. I can do a job on the wings, although my best position is in the middle.
Weaknesses
I want to score more goals. The best central midfielders in the world score loads of goals and it's something that I'm trying to improve on. Specifically, I need to improve my timing into the box, and make sure that when I get a chance, I take it.
I play a bit like...
I don't really like to compare myself to anyone. Because I'm an attacking central midfielder, others have compared me to Steven Gerrard and Frank Lampard, but not me. Those guys are on a different level to me at the moment. I'm just doing my own thing and hopefully one day, people will be compared to me.
Highlights
Making my debut for Liverpool in the Carling Cup against Reading was an obvious highlight. So was making my Champions League debut against Galatasaray. That was amazing, their fans were mad. For Bolton, scoring on my debut against Fulham and beating Manchester United are things I'm always going to remember. Playing for Liverpool, it's always that bit sweeter beating United.
Lowlights
Luckily there haven't been too many so far. Let's hope it stays that way.
Toughest opponent
Frank Lampard. When Chelsea came to Bolton earlier this season he was great. He's definitely the best central midfielder I've played against so far thisseason. Even though we played pretty well, it was so difficult to get the ball off him. Chelsea's play went through him and he was the best player on thepitch.
Best player played with
Steven Gerrard, without a doubt. He's got everything to his game – shooting, tackling, passing. But not only is he a great player, he's a great leader.
Biggest influence
My mum and dad, without a doubt. They've sacrificed so much to get me to where I am now. They've always watched my games, even when I was playing for youth teams. Whatever the conditions, they'd be there. In terms of coaches, Liverpool's U16s coach Dave Shannon also had a big impact on my career, and he's someone I'm still in touch with.
Biggest practical joker
People always laugh when El Hadji Diouf is around. But most of the time they're laughing at him, not with him. He's dead loud and dead bold and doesn't care what anyone thinks. He also dresses like a rapper, but he manages to pull it off. But in general he gets a fair bit of stick.
Latest car
A Range Rover Sport.
Flicks
I recently went to watch American Gangster which was a great film. A bit long, but being a great film made up for that.
Chicks
Well, I've just recently got engaged so I'd have to say the missus.
TV Programmes
I never miss Eastenders and if we haven't got a game on Saturday, I'll always watch Soccer AM.
Most embarrassing moment
When Liverpool lost 6-3 at home to Arsenal in the Carling Cup. I played from the start and it was pretty embarrassing because Liverpool just don't concede six goals at home. But to be fair to the fans, they were great all night, even though we conceded so many.
If you could play alongside any player
In terms of skill it'd have to be Ronaldinho – he's got everything. Not that I'd try any his tricks in a match. Maybe in training, when no-one's watching.
Describe yourself in five words
Quiet, moody, handsome, fit (as in stamina) and sensible.
If you hadn't been a footballer
I used to box when I was younger, so maybe I could have done that. But then again, I don't like being hit so maybe not.
If you could have one superpower
Invisibility.
School report
I wasn't really clever but I wasn't really naughty. I did get suspended a couple of times but I never did anything too bad.
In five years time, I'll be...
Playing in the Premiership with Liverpool and maybe even getting a chance with England.
From the February 2008 issue of FourFourTwo.