Edgar Davids: One-on-One
By Hitesh Ratna
"In England, people say 'You have to run box-to-box.' Why do I have to run box-to-box if it's not necessary?"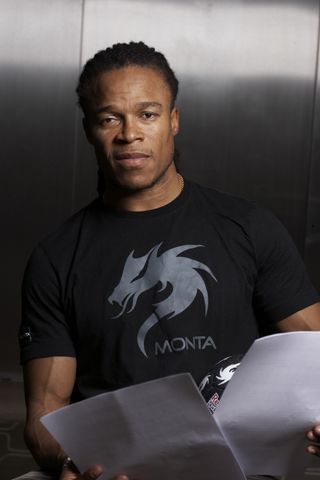 "Are you gay?" growls Edgar Davids, radiating a palpable sense of menace as Soccer AM concludes an interview for its 'Team Mates' feature with the usual final question: "Who's the longest in the shower?" Clearly not a viewer of the show, the Dutchman misses the humour, bristling at the thought of being the butt of some unexplained joke.
The drama unfolds in the atrium of a top London eatery, as FFT waits to speak to the former Juventus, Tottenham and Barcelona midfielder with a growing sense of trepidation. After all, the spiky midfield enforcer has just spent the past 15 minutes returning each question with a cold stare before barking back a sharp answer. Armed with your questions – some that touch on the more controversial moments of his career – FFT fears it could be next to be mauled by The Pitbull.
But then this seems to be his default mode. His natural aggression – combined with boundless energy and drive – was key to his success has a player, helping Ajax to three titles and a European Cup, plus three Serie A titles with Juventus, leading Marcello Lippi to call him "my one man engine-room".
And as he takes a seat, Davids still looks capable of shaping a midfield to his will. He offers a gruff acknowledgement and pauses to send a text as we explain our readers provided the questions. "What, for me?" he says, temporarily softening at the idea that the British public take an interest in his career. Not that this compels him to answer everything: he dismisses queries on Euro 96 (where he was expelled from the Dutch squad) and bust-ups with Robbie Keane and Marco van Basten.
We start on less shaky ground as we question him on his role as a judge for Red Bull's Street Style UK Final, a competition to find the country's top freestyle footballer. "Some of these guys can do amazing things – I was nowhere near as good," says the former Dutch international, eyeing up your questions as we brace ourselves for a prickly encounter.
Is it true that growing up you got the nickname 'The King of the Street' because of your prowess as a freestyle footballer?
Stuart Hardy, Bristol
I was the 'Mayor of the Street', never the king. The name was not because of freestyle football. It was because I used to play street soccer – games of three-against-three and five-against-five – with my brother. My brother was better when we were younger, but I went past him because I was with the Ajax Academy, so I was playing with the country's best players every day.
What is it about Suriname that helps to produce players like yourself, Clarence Seedorf, Ruud Gullit, Patrick Kluivert and other top Dutch players?
Matt Boyle, via e-mail
I think it was the genes, the DNA. I was born there and came over when I was two, and Clarence was born there – but Patrick was born in Holland, so it's the genes. Also the food. There is a vegetable like a bitter cucumber, which is steamed. Everyone eats that – it gives you power to keep going in games.
Why was the Ajax Academy so successful? You were schooled at the club, too; which player was the worst at getting their homework in on time?
Sarah Poole, via e-mail
The club had the best scouts, so they would go out and attract the best young players in Holland. Then they would teach us how to amplify our skill level by getting us to play two-touch football. We had a specific athletic coach, a running coach, a fitness coach. We would play a lot of games but also a lot of position play. As for school, there was no time to mess about: it was school then football, school and football.
You started at Ajax as a left-winger and struggled. How did you make the transition to midfield?
Andrew Edmonds, via e-mail
I started as a left-winger and second striker: a No.10. What is different in the Ajax system for a midfielder is that they can attack and also defend, so it is maybe that you have the holding player on the outside who is always protecting or defending. That's the system. It was Louis van Gaal's idea to move my position. Marc Overmars started playing on the left and was really good, so he had to adapt the situation to where I played in the midfield. On the left wing I felt isolated, but in the middle I was more part of the game.
Where did your nickname 'The Pitbull' come from? Is it true you're also nicknamed 'The Piranha'? Where did that come from and which do you prefer?
Kirsty Cartwright, via e-mail
Van Gaal gave me the name Pitbull at Ajax. He said that on the defensive side, I was always on the forward – at his ankles. The name Piranha came from one of the former Ajax team managers. It's a metaphor – a fish that bites ankles and does damage. In South America they call me Tubarao – The Shark. Do I have a favourite? Pitbull.
Like a lot of the team that beat AC Milan in the 1995 Champions League Final, you were in your early 20s. Were you nervous playing on such a big stage?
Stevie Jo Fowler, Gillingham
Of course, though we already beat them twice [Ajax beat AC Milan home and away in the group stages] so if you beat somebody twice you know that you only need to play well. They'd already won a couple of Champions League titles, so they were still a very good team. I was nervous myself and we weren't really confident we'd win – I was glad we scored late in the game. When we won, it was like the whole of Holland came out. Looking back, you see that it was a part of history – a great achievement.
Is it true you once approached former Dutch tennis player Richard Krajicek and said: "Hello, my name is Edgar Davids. You'll be hearing a lot about me soon"?
Chris Brown, via e-mail
I don't think I was that cocky. I knew him because we have the same physio. [FFT: So that story isn't true then?] Not entirely true, but also in that time it could be true. I was young and reckless. Has anyone done that to me? Yeah, but I'm not going to tell.
What were you thinking when England beat Holland 4-1 in Euro 1996 and you'd been sent home? Do you think that defeat highlighted your importance?
Chris Beland, Leatherhead
[Bristling] I don't know. It was a very long time ago.
You joined AC Milan in 1996 and broke your leg soon after. Was it hard being injured in a new country and at a new club?
David Standing, Grimsby
That was one of the worst times I've ever had because you don't speak the language very well; you're sitting at home with your television, but you can't really understand it. The first couple of weeks you can't move with your leg because you are afraid of thrombosis. It was bad. It helped that every couple of weeks, I was driven to Amsterdam because that's where I was recuperating.
When Juventus came in for you after your time at AC Milan, were you hesitant about joining another Italian side?
Dan Watton, Plymouth
Never. I was happy because I've followed Juventus all my life and at that moment they were second in the league and AC Milan were eighth, so it was like a gift from heaven. It was when everything fell into place. [FFT: What was the key to settling?] I was fit. At Milan I was injured. A lot of it was down to Lippi. He had confidence in me, and when he has confidence in someone he puts them in straight away.
At Juventus you were diagnosed with glaucoma. Were you worried that you might have to retire?
Ben Berry, Newcastle
Yeah, it was quite a big blow. I was worried and I did think I might have to retire. But then I found out there were options: wear goggles. It was strange the first time I had to play in them: they would steam up so it took time to adjust, but I don't think it affected my performances. [FFT: Did anyone make fun of you for wearing them?] Yeah. [FFT: Who?] I don't want to say.
At Juventus, you formed one of the best midfield partnerships ever with Zidane. What was the key to the relationship?
Chris Ward, via e-mail
Trust. It's about trust and about energy. If you have this connection with someone anyway, then you know what's going to happen. It's about feelings; about knowing football on a certain level. And we both understood football on the same level.
Is it true someone once tried to nick your car while you were still in it, so you chased them off? Does anything scare you? Heights? The dark? Clowns?
Chris Peck, Bath
No, that's not true. [FFT: Are you scared of anything?] No, not really. I guess if I'm on top of a really tall building without a parachute, I would be scared.
Thierry Henry once said that you used to walk around the house and make tea while juggling a football…
Nathan Bonney, Manchester
Yeah. In all rooms of my house I had a ball. So if I saw a ball was there, I would juggle with it. [FFT: Ever spill tea while juggling a ball in the house?]. It could be. If I did it would only have caused minor burns. [FFT: Ever do anything else while juggling a ball?] Yeah, brush my teeth.
You've said that after Juve's Champions League defeat to Manchester United in the 1999 Champions League Semi-Final, you should have won the first leg? Did Juve travel to Old Trafford with too much respect for United?
Aron Braund, via e-mail
No, I don't think so. It's difficult to win at Old Trafford. You have to be confident because Old Trafford is Old Trafford; you're playing against Manchester United. We were the better team but the better team doesn't always win. The second leg, it was some game, but frustrating. A lot of our players didn't reach their potential. But there are no regrets. They played well and you have to give credit where it's due.
With Holland you reached both the ?semi-finals of World Cup 98 and Euro 2000. Which Dutch team was better?
Dan Metherell, via e-mail
The '98 team was better because of the atmosphere, the players. The team was really balanced. But it is what it is – it's one of the best teams I've played in, but it's not a disappointment. What can you say? In Euro 2000, we missed two penalties in a semi-final defeat to Italy. I've never played in a game when there are two missed penalties. So, it is what it is.
Both times you got to the Champions League final with Juve you lost to teams that included Clarence Seedorf. Does he ever bring that up? I know I would!
Gregory Giles, via e-mail
He would? If he knew me he wouldn't. Clarence knows me – so he didn't say anything.
At 5ft 7in, you're smaller than a lot of the other hardmen midfielders of your era. Did your size mean that, from an early age, you'd fight harder on the pitch? Who's the hardest player you've faced?
Lee Smith, via e-mail
It's not all about size; it's about positioning. I think it's a harder job playing against players like Iniesta and Xavi because you have to stay in your position and read the game. It's not about hard work and getting back; it's about when you get back. Van Gaal taught me to play tactically. The hardest player? I like Keane. I also like Dennis Wise. And listen, Paul Scholes was very tough too.
Is it true that while at Barça, you and Ronaldinho had skills competitions and you'd win most of the time? Who's the most skilful player you've played with?
James Williamson, Portsmouth
It was not like that, never. It's more like you do skills in the park and try to come up with new things. For skills and tricks, Ronaldinho was the best player I've played with. The other was Peter Hoekstra; he used to play for Ajax and Stoke City.
You won over a lot of Spurs fans during a game against Middlesbrough when you clattered into former Arsenal player Ray Parlour. Do you remember that game? Did you enjoy playing in England?
Glen Bickle, via e-mail
Yeah, I knew about Ray Parlour; I knew he was a former Arsenal player. But once on the pitch I couldn't care less who the player is. Every tackle is the same. The game in England was more physical and fast. Did I enjoy this? Yes and no, because sometimes when you play in the middle of the park, you just put the team into place and play the ball. In England, people are like "you have to run box-to-box". Why do you have to run box-to-box if it's not necessary?
Martin Jol said he wanted you to bring a 'winning mentality' to Tottenham. Did you find that hard?
Liam Sandercock, via e-mail
Yeah. If you are a top side it's normal that you try to win every game. It's not only that you have to change the mentality of the team, but also you have to change the club because if you want to play with the big boys, you have to play like the big boys. They don't. Some players, if you draw, used to act in a certain way that wasn't in line with a top team. If you draw you can say: "Yeah, it's OK" but no... you have to win.
The papers said you and Robbie Keane were involved in a bust-up. What was he thinking going up against you!?
Colin Mere, London
That was nothing...
How close were you to joining Leicester City this summer? Why didn't the move happen? Were there any other English clubs trying to sign you?
John Marsh, via e-mail
I heard they enquired and spoke to certain people but I never talked to them. There was a chance of joining an English team at the start of the season, but I never spoke to anyone. I wanted to train with a team – I haven't officially retired yet – but a lot of clubs saw it as a threat because of the media attention my signing brings. It puts pressure on the team and the players.
Interview: Hitesh Ratna. Portrait: Richie Hopson. From the New Year 2010 issue of FourFourTwo. Subscribe!
Quizzes, features and footballing fun
Get the best features, fun and footballing frolics straight to your inbox every week.
Thank you for signing up to Four Four Two. You will receive a verification email shortly.
There was a problem. Please refresh the page and try again.