The 8 best strikers in FIFA 19 Ultimate Team (FUT) you can get for under 8,000 coins
We all want more bang for our bucks – and these budget hitmen certainly come with plenty of the former without hurting your balance sheet, writes Phillip Ekuwem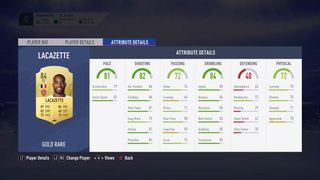 To win games in FIFA 19 (opens in new tab) Ultimate Team, you have to score goals – and lots of them if you have a defence as shoddy as FFT's – but don't necessarily have to splash your hard-earned coins on Leo Messi or Cristiano Ronaldo to find the back of the net with regularity.
Instead, we're taking a look at some cheaper alternatives: in our opinion, these are the best FIFA 19 FUT strikers who cost under 8,000 coins – some of whom are incredibly cheap, but efficient in front of goal.
SEE ALSO The 10 best FIFA 19 kits that will make your Ultimate Team stand out (opens in new tab)
FIFA 19 review: Champions League brings improvements both on and off the pitch (opens in new tab)
Alex Teixeira (Jiangsu Suning)
Potential cost: 700 coins
When EA announced that the Chinese Super League would be fully licenced in FIFA 19, gamers were excited that they'd still get to use the likes of Anderson Talisca and Paulinho – two of the best midfielders in FIFA 18 Ultimate Team.
Another star we were keen to utilise in EA's flagship game mode was Alex Teixeira, who switched from Shakhtar Donetsk to Jiangsu Suning in 2016 and, as a result, has been absent from the past few editions of the game.
Boasting 91 pace and 82 dribbling off the bat, the Brazilian is certainly a useful card to have up front – and with a Marksman chemistry style he soars from being average to borderline elite, getting a +10 boost to his finishing and jumping among other stats.
Alexandre Lacazette (Arsenal)
Potential cost: 7,000 coins
Lacazette has been a key player for Unai Emery's Arsenal this season, scoring five goals and registering two assists in just eight Premier League starts – so it's no surprise that his Ultimate Team card is great. What's a tad surprising is how cheap it is, at 7k.
The Frenchman boasts a four-star weak foot which essentially makes him capable of scoring with both feet in-game, while he's also capable of performing most of the skill moves in FIFA 19 (opens in new tab) thanks to his four-star rating.
All he really needs is a Hunter chemistry style to boost his pace, and he'll be able to wreak havoc in the Weekend League and Division Rivals.
Rodrigo (Valencia)
Potential cost: 5,400 coins
Despite the dearth of usable strikers in La Liga, you don't have to splash your coins on costly players such as IF Wissam Ben Yedder or IF Iago Aspas in a bid to find the net – you could just spend around 5k coins on Rodrigo and get a similar output of goals.
Unfortunately the 24-year-old has a three-star weak foot, so make sure you always get the ball on Rodrigo's left peg before attempting a shot (unless, of course, you're in one of those tight situations where you have to tap the shoot button repeatedly – then by all means, attempt to score with his right).
Rodrigo's finishing goes up to 97 with a Sniper chemistry style, while his dribbling also gets a significant boost, making him feel incredibly quick and agile on the ball coupled with his 90-rated pace.
Timo Werner (RB Leipzig)
Potential cost: 3,600 coins
It's easy to write Werner's base card off as a mere starter one due to its lack of good passing and physical stats, but lest we forget, deficiencies in certain areas can be fixed through the use of chemistry styles.
With 93 pace and 81 agility, Werner is able to run past players and make sharp turns with ease, both of which are important for getting into good attacking positions.
The Germany international's card has 87 finishing, which is pretty high without a chemistry style boost, but going forward his lack of physicality might be a problem – hence you should consider using a Hawk or Architect chem style in a bid to improve his strength and jumping.
Cedric Bakambu (Beijing Guoan)
Potential cost: 850 coins
Like the aforementioned Alex Teixeira, Bakambu plies his trade in the Chinese Super League. While your options for chemistry links are somewhat limited with his league and nationality combo, he's still one of the best cheap strikers you can get your hands on.
Despite boasting 88 pace, Bakambu actually feels a bit slow in-game for some reason. If you acquire him, then, you'd do well to use him as a targetman with a Deadeye chemistry style to boost his passing and facilitate some excellent build-up play.
Memphis Depay (Lyon)
Potential cost: 2,000 coins
Depay is currently playing so well for Lyon that some Manchester United fans want him back at Old Trafford as soon as possible. He'll be in a similar vein of form for your FUT squad if you play him up front thanks to how well-rounded his card is.
He's got the pace, dribbling ability, five-star skill moves, superb physicality and decent passing. And yet he currently costs only 2,000 coins and can be linked to a lot of good players from the Netherlands and Ligue 1, including Quincy Promes, Arjen Robben and Angel Di Maria.
Inaki Williams (Athletic Bilbao)
Potential cost: 800 coins
Athletic Bilbao's Williams is one of the very few La Liga strikers who fall into the 'cheap but usable' category thanks to his pace and frightening physicality.
Williams possesses 85 strength – more than Cristiano Ronaldo (79) – making him one of the strongest strikers in the game, and surely the strongest striker with 90+ pace.
His base finishing stat isn't good enough to play with, so you're going to have to use a chemistry style to boost it – we recommend Marksman, as it increases his dribbling and physicality in addition to his shooting.
Marko Arnautovic (West Ham)
Potential cost: 850 coins
Last but most definitely not least on our list is West Ham forward Arnautovic, who has illuminated the Hammers' underwhelming campaign on a number of occasions this season.
Standing at 6ft 4in, the Austria international is best used as a targetman on FIFA due to his relatively low dribbling stats which make him feel clunky in-game. His height allows him to win headers and flick the ball to open team-mates, making him more useful in such a role.
A Deadeye chemistry style would suit Arnautovic quite nicely, and make him one of the most efficient targetmen in the game.
More like this...
The 5 best formations in FIFA 19: our favourite systems explained (opens in new tab)
The 11 best cheap Premier League players for your FIFA 19 Ultimate Team
Revealed! EVERY five-star skill player in FIFA 19
12 FIFA 19 hidden gems you NEED to sign in Career Mode (opens in new tab)
The 11 best FIFA 19 free agents you can't afford to miss
The 7 most effective skill moves in FIFA 19 (opens in new tab)
The 10 most overpowered players on FIFA 19 (opens in new tab)
More FIFA 19 hints and tips • New features you'd love every day
Thank you for reading 5 articles this month* Join now for unlimited access
Enjoy your first month for just £1 / $1 / €1
*Read 5 free articles per month without a subscription
Join now for unlimited access
Try first month for just £1 / $1 / €1
Get FourFourTwo Newsletter
The best features, fun and footballing quizzes, straight to your inbox every week.
Phillip is a football writer from Nigeria. He's been a football writer since he was 13 and after getting his work featured on various news outlets including the Daily Mirror, Red Bull, Planet Football and Football.London over the years, he has now turned his focus from solely writing about the beautiful game, to covering the not-so-beautiful virtual game of FIFA as a brilliant excuse to spend hours on his Playstation.