Rated! The 10 most overpowered players on FIFA 19
Everybody wants more for less – not least in Ultimate Team, where your money counts and marginal gains for overpowered players could be the difference between success and failure. Alex Keble provides a helping hand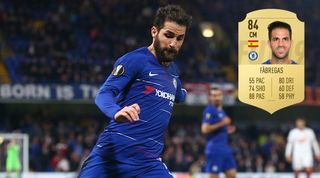 There's no getting around it: every single year there are stars in-game who are far more effective than their overall ratings suggest, and FIFA 19 is no different for its overpowered players.
That means there are plenty of gems to be discovered who fall off many players' radars, and who can therefore be picked up much cheaper for your Ultimate Team. Here we're looking for overpowered players whose position-specfic stats are high (but their others aren't necessarily, bringing their overall rating down).
Here's who we found...
SEE ALSO The 11 best FIFA 19 free agents you can't afford to miss
Quincy Promes (Sevilla)
Sevilla's left midfielder is a FIFA legend. Promes's lopsided stats are once again extremely well suited to the game, with his sprint speed (91) and acceleration (89) ensuring he'll win pretty much any foot race. Powered-up through balls are big on FIFA 19, so it's very easy to get the 26-year-old in behind.
The Dutchman's finishing (86), agility (87) and dribbling (86) are also mich higher than in real life - Promes is yet to start a La Liga game for Pablo Machin's side this season - and unlike most of the game's overpowered wingers, he's got the stamina (83) to match his pace.
Ricardo Pereira (Leicester)
Pereira's overall rating (81) is only one below Antonio Valencia and Kieran Trippier, which is strange enough on its own, but even more surprising is the Portuguese's sprint speed (87) and dribbling (83). Pereira's defensive stats could be better – his standing tackle (80) and interceptions (79) are OK – but a deficit in this department is more than made up for by his attacking ability.
Pereira's crossing (81), agility (82) and short passing (80) make him superb on the overlap, a tactical move which is particularly prominent on FIFA 19. What's more, the Leicester man has the stamina (84) to get up and down the pitch without any problems.
Moussa Marega (Porto)
Porto's powerful striker is an absolute beast on FIFA 19, although Marega is unlikely to serve you too well once your FUT squad is more established: his average passing (61), dribbling (62), ball control (65) and vision (65) limit his overall effectiveness.
However, for pure power in the penalty area, Marega is worth buying. He boasts high sprint speed (88), positioning (84) and shot power (86), as well as good strength (88) and heading (81). Those last two stats mean he's an excellent target for long balls, which makes him a useful option off the bench when you're chasing a game.
Aymeric Laporte (Man City)
Across the board, players' dribbling speed is considerably slower on FIFA 19 than in previous editions, which means sluggish defenders are more adept at recovering when opponents are through on goal. That makes stoppers such as Laporte, whose pace is rated at just 65, more valuable this year compared to 12 months ago.
The Frenchman's defending stats are outstanding, including interceptions (85), standing tackle (86), sliding tackle (85) and marking (84). He's a reliable centre-back for the start of your FUT journey, although further down the line his stamina (65) could cause you problems.
Geoffrey Kondogbia (Inter)
Valencia's Kondogbia is one of the best defensive midfielders in FIFA 19. Despite his 82 overall rating, the Frenchman's strength (91), interceptions (84) and standing tackle (85) make him an ideal foil for a more creative partner in the engine room.
Then again, Kondogbia is surprisingly handy going forward too: his short passing (83), ball control (82) and shot power (86) mean the ex-Inter man can steamroll through the centre of the park, carrying the ball upfield and setting your side on the attack.
Xherdan Shaqiri (Liverpool)
For the first time in years, wingers without raw speed are useful in FIFA 19. Liverpool's Shaqiri is a classic example of a wide attacker who's benefited from the drastic reduction in the value of pace, with his five-star skill moves and high technical ability more than making up for a relative lack of mobility.
The Switzerland international has excellent balance (91), curve (88) and dribbling (86), which means he's best utilised as an inverted winger who can cut inside onto his stronger left foot. He also boasts high shot power (87), dribbling (86) and agility (84).
Felipe Anderson (West Ham)
West Ham's new winger has enjoyed a strong start to life in the Premier League, which has been reflected in his stats on FIFA 19. Anderson is one of the best runners in the game, combining sprint speed (90), shot power (84), agility (89), balance (88) and dribbling (90) to devastasting effect.
It's extremely difficult to run past opponents on FIFA 19 without the aid of skill moves, though, which is why the Brazilian's four-star skills and high ball control (89) are equally important. An early favourite among players – and therefore fairly expensive – it might be worth holding off on buying Anderson until his real-life form has dropped off.
Hulk (Shanghai SIPG)
The addition of the Chinese Super League on FIFA 19 brings the return of a man whose highly unusual mix of strength and dribbling has long made him a fans' favourite. Hulk, who now plies his trade with Shanghai SIPG, has lost some of his pace – his sprint speed (80) and acceleration (81) are both down – but he still boasts exceptional shot power (94), strength (92) and long shots (90).
With power in the 50-50s now so important, the Brazilian's upper-body strength can open up space in the final third even without particularly good running stats - although he's another player who's best utilised as a substitute when opposition legs have begun to tire.
Allan (Napoli)
It's hard to find midfielders on FIFA who are defensively sound without slowing slow down your counter-attacks via poor passing and sluggish turns. Napoli's Allan is an exception, combining terrific defensive and attacking stats - which is precisely why he's one of the most overpowered players on the game despite an overall rating of just 82.
Allan's interceptions (86), reactions (86), marking (85), standing tackle (85) and aggression (85) are as good as almost any other Serie A midfielder, and yet the 27-year-old is also able to carry the ball forward after winning it, initiating breakaways thanks to his dribbling (82) and short passing (82) skills. It's also useful that the box-to-box Brazilian never stops: his stamina (95) is the joint sixth-highest in the game.
Cesc Fabregas (Chelsea)
Without a single minute of league football under Maurizio Sarri this season, Chelsea's Fabregas has gone under the radar on FIFA 19, making the Spaniard a bargain buy right now. Ordinarily his lack of strength (61) or stamina (60) would make him too lightweight, but with clever distribution now a key feature of the game, the ex-Arsenal man is worth snapping up.
The 31-year-old has great vision (91), short passing (90), composure (92) and long passing (89), rivalling David Silva in most of these areas – and at a fraction of the cost. Fabregas is particularly effective if converted into a CAM, where his poor physical stats are less of an issue.
More like this...
12 FIFA 19 hidden gems you NEED to sign in Career Mode
The 11 best FIFA 19 free agents you can't afford to miss
The 5 best formations in FIFA 19: our favourite systems explained
The 11 best cheap Premier League players for your FIFA 19 Ultimate Team
Revealed! EVERY five-star skill player in FIFA 19
More FIFA 19 hints and tips • New features you'd love every day
Thank you for reading 5 articles this month* Join now for unlimited access
Enjoy your first month for just £1 / $1 / €1
*Read 5 free articles per month without a subscription
Join now for unlimited access
Try first month for just £1 / $1 / €1