The 11 best FIFA 19 free agents you can't afford to miss
Make sure you're on the pulse with these bargain freebies in FIFA 19 Career Mode, brought to you by Bradley Russell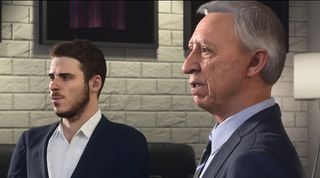 Everyone loves a bargain, none more so than wheeler-dealer football managers. You'll likely be wanting to seek out the best FIFA 19 free agents during the first season of Career Mode, then.
Come January 1, you can snap up some of the best and brightest stars on the planet for peanuts. Below, we'll guide you through what is a pretty impressive world XI of players to pick up on freebies, from the best goalkeeper in the game to a certain firework-loving centre-forward…
SEE ALSO FIFA 19's 10 best young players by their Career Mode potential
The 5 best formations in FIFA 19: our favourite systems explained
David de Gea (GK)
Potential wage: £210,000
Need to know: Blimey. Poor virtual Ed Woodward. While he's probably fretting away over whether to axe Jose Mourinho, he's only gone and forgotten to agree terms with David bleedin' De Gea.
You already know what a great talent the Spaniard is, but let's illustrate it with numbers: a 91 rating (which can go even higher); 94 diving; 90 reflexes; 88 positioning. Sure, 210k per week is steep, but if you can afford him, you've got yourself the best No.1 on the planet.
Filipe Luis (LB)
Potential wage: £80,000
Need to know: Providing he doesn't get sold by Atletico Madrid in the first transfer window, you'll be able to get the perfect full-back stopgap in the Brazilian.
His all-round stats are still impressive at the age of 33 and, with his 86 stamina and 85 reactions, he's showing no signs of slowing down either.
Vincent Kompany (CB)
Potential wage: £110,000
Need to know: If you're willing to part with circa £3m in add-ons and bonuses, the Belgian who's been so unfortunately dogged by injuries in recent years can be yours for just £110k a week.
While he carries the Injury Prone trait in-game, you'll be able to get the most out of him (providing he can stay fit) as Kompany's key defensive stats hover in the mid-to-high 80s even at the age of 32.
Diego Godin (CB)
Potential wage: £210,000
Need to know: What are Atletico playing at? You can take one half of Diego Simeone's staunch back four out from under his nose (imagine the sneering!) – that is, if you can stomach Godin's eye-watering wage demands.
In fairness, £210k per week will you net you the second-best centre-back in the game. He's a force at both ends of the pitch, too, with his heading accuracy listed as an impressive 92.
Antonio Valencia (RB)
Potential wage: £92,000
Need to know: Perhaps not the best value for money, but Valencia can still be a worthy asset for Premier League teams (and beyond) looking to reach the next level.
While the Ecuadorian's stats are likely to decline – a short-term deal is paramount – his none-too-shabby pace, crossing and dribbling ability still push him towards the upper echelons of full-backs who can be found in the game; free or otherwise.
Cesc Fabregas (CM)
Potential wage: £105,000
Need to know: While he's a little on the slow side, Fabregas's technical stats should mean he'll be right at the top of your shopping list should you require a technical midfielder. Deadly from a set-piece with a Short Pass stat of 90, the Spaniard is perfect for tiki-taka teams on a (relative) budget.
Aaron Ramsey (CM)
Potential wage: £140,000
Need to know: A saga that's going to run and run in real life – but getting down to brass tacks in FIFA 19's career mode is far easier.
Offering circa £140k a week with a couple of measly bonuses chucked in gets you a player who can transform your play in the centre of the park with an Attacking Position stat of 85, plus Dribbling, Passing and Shot Power stats all in the 80s. Crucially, he has time on his side, too – unlike some of this list.
Angel Di Maria (RW)
Potential wage: £165,000
Need to know: While he may have struggled to perform under Louis van Gaal at Manchester United, Di Maria should have no such troubles if you get him to sign on the dotted line. Sure, his agent in-game is a pushy so-and-so but £165k/week means you'll have one of the game's best wingers on your books.
Anthony Martial (LW)
Potential wage: £150,000
Need to know: Now EA is being a little cheaty when it comes to Anthony Martial. At only 23, FIFA normally requires a fair chunk of compensation if you want to sign a player under 24 on a free transfer in England.
But we can't let a tiny thing like international employment law get in the way of an absolute steal of a signing now, can we? And what a player he is: Martial's Dribbling and Finishing will already be nearing 90 by the time you can get your hands on him, and get this: his potential is set at a whopping 89. Probably the biggest bargain in FIFA 19 by quite some distance.
Mario Balotelli (ST)
Potential wage: £150,000
Need to know: Remarkably, Balotelli is only 28. Unlike some of the players edging towards retirement in this list, that means you – ideally – have another half-decade or more of the Italian's mercurial talents should you want to meet his wage demands.
If you do, you get one of the best, most versatile strikers in the game: 4-star skills and 4-star weak foot; 85 Finishing, 89 Shot Power, 82 Sprint Speed, 86 Strength, 81 Dribbling and even 92 Penalties. Eesh.
Olivier Giroud (ST)
Potential wage: £115,000
Need to know: Want one of the best targetmen in the game? Look no further than Giroud. With FIFA 19's newfound emphasis on physicality and strength, you'll do well to find anything better than Giroud's all-round combination of 83 Ball Control, 88 Heading Accuracy, 85 Strength and 84 Jumping.
Sure, he's more of a short-term fix to paper over cracks but, at £115k a week, he's going to be one of the cheapest when you factor in the fact you won't be paying a transfer fee for him.
More like this...
FIFA 19's 10 best young players by their Career Mode potential
12 FIFA 19 hidden gems you NEED to sign in Career Mode
The 5 best formations in FIFA 19: our favourite systems explained
The 11 best cheap Premier League players for your FIFA 19 Ultimate Team
Revealed! EVERY five-star skill player in FIFA 19
More FIFA 19 hints and tips • New features you'd love every day
Thank you for reading 5 articles this month* Join now for unlimited access
Enjoy your first month for just £1 / $1 / €1
*Read 5 free articles per month without a subscription
Join now for unlimited access
Try first month for just £1 / $1 / €1
Get FourFourTwo Newsletter
The best features, fun and footballing quizzes, straight to your inbox every week.