12 FIFA 19 hidden gems you NEED to sign in Career Mode
Fewer things are more satisfying than unearthing some cheap and cheerful gems for your FUT team – particularly if you profit handsomely in the end. Phil Ekuwem on FIFA 19's young stars with potential to blossom...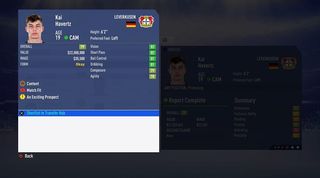 Ezequiel Barco (Atlanta United)
Potential Rating: 89
Blessed with blistering pace and sublime dribbling skills, the 19-year-old Barco has a higher potential rating than any other MLS player in FIFA 19.
Currently rated at 74, the Atlanta United midfielder can rise up to 89 if nurtured correctly. He's got a great weak foot/skill move combination which makes him effective on the left flank, so he's able to finish with both feet and utilise four-star skill moves.
Joao Felix (Benfica)
Potential Rating: 87
Plying his trade in the Portuguese top tier, the 70-rated Felix isn't among the best known players in career mode. Nevertheless, he's got fabulous ability and could become a world beater for your team, with an overall rating which could potentially rise to 87.
The 18-year-old only has a three-star weak foot, though, so scoring goals on his weaker side is one thing which may continue to prove difficult.
Kai Havertz (Bayer Leverkusen)
Potential Rating: 88
Bayer Leverkusen youngster Havertz doesn't have many eye-catching in-game stats, save for his short passing and vision. But with a five-star weak foot and four-star skill moves, the German midfielder could develop into a player who can score and create goals with both feet.
Tanguy Ndombele (Lyon)
Potential Rating: 87
If you're looking for the next Radja Nainggolan, Ndombele is your man. The Lyon midfielder's high work rate allows him to contribute to both the defensive and attacking phases of play, making him a fine all-rounder in the engine room.
Ndombele is a great dribbler, a decent passer and an above average defender. Already an excellent player rated at 76, he could become one of the best in the world in the future.
Rodrigo Bentancur (Juventus)
Potential Rating: 88
One of the more well-known names on this list: Bentancur's exploits for Uruguay at the World Cup in Russia raised his stock in the real world and on FIFA.
The 76-rated Juventus man possesses four-star skill moves and medium/medium work rates, which means he tends to hold his position in midfield and set the tempo of his team's play in a deep-lying role.
Patrick Cutrone (Milan)
Potential Rating: 89
The 79-rated striker boasts high stats for finishing (80) and positioning (83), as well as a four-star skill rating. He's probably not ready to be your main centre-forward just yet, but the Italian has the potential to score plenty of goals in the future and could have a similar ranking to that of Sergio Aguero or Robert Lewandowski today.
Viktor Tsygankov (Dynamo Kiev)
Potential Rating: 86
With his pace rated at 83, the 20-year-old Ukrainian is fast enough to beat most defenders in a foot-race. Adept at crossing, passing and dribbling, Tsygankov is a right-midfielder by trade but is actually best deployed in a No.10 role.
Houssem Aouar (Lyon)
Potential Rating: 88
Aouar was one of the most talked-about young players in Ligue 1 last season due to his superb performances for Lyon. Capable of chipping in with goals and also helping out at the back, the 20-year-old is an excellent all-round midfielder whose overall rating could climb as high as 88.
He's often been overshadowed by team-mate Nabil Fekir both in real life and on FIFA, but Aouar is a tremendous talent who could become a world-class player.
Federico Chiesa (Fiorentina)
Potential Rating: 87
Son of 22-time Italy international Enrico, the younger Chiesa could outdo his father if he maintains his current level of performance for Fiorentina.
Packing a rating of 78 at the start of FIFA 19, the 20-year-old is quick, nimble and a dangerous dribbler, with his four-star weak foot/skill move combo making him a difficult opponent for any full-back to face.
Youri Tielemans (Monaco)
Potential Rating: 88
Tielemans isn't blessed with great pace - as evidenced by a modest 53 rating - but his brilliant ball control means he often seems faster when in possession. A terrific distributor with an eye for goal, the Monaco midfielder could develop into one of Europe's leading playmakers.
Amath Ndiaye Diedhiou (Getafe)
Potential Rating: 87
Diedhiou looks like a great player in the making – he's got the pace, finishing and dribbling skills required to trouble any defence in the game.
The 22-year-old will get even better in the future, with a potential rating as high as 87. Best deployed as a left winger, Diedhiou excels at cutting infield onto his stronger right foot and taking shots at goal.
Ante Coric (Roma)
Potential Rating: 88
The young Croatian isn't ready to start for your side just yet - dribbling is the only useable stat in the Roma man's locker at the moment - but he's definitely one for the future.
Coric has a potential rating of 88, meaning he could one day rival the likes of Kevin De Bruyne and Philippe Coutinho. That'll do for us.
More FIFA 19 hints and tips • New features you'd love on FourFourTwo.com
Thank you for reading 5 articles this month* Join now for unlimited access
Enjoy your first month for just £1 / $1 / €1
*Read 5 free articles per month without a subscription
Join now for unlimited access
Try first month for just £1 / $1 / €1