FIFA 19 Team of the Season: the 6 types of players you NEED to invest in beforehand
Full-back with good links, In Forms and the highest profit margins – how to make the most of your player purchases before FIFA 19 TOTS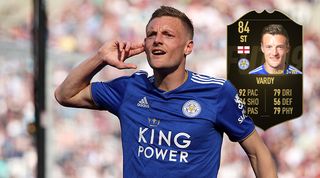 Team of the Season is one of the more exciting promotions on FIFA Ultimate Team, as it marks the beginning of the period where FUT managers are able to build hybrid squads – as opposed to the 'META'-based competitive teams that have been utilised since FIFA 19's release in September.
Tons of players across different leagues will receive upgrades based on their performances in real life over the course of 2018/19, giving you the opportunity to build unique squads stacked with incredible players.
While the TOTS might be a fun promo, it's quite expensive at the start, so you need to have a decent amount of coins to make the most of it. That's why we've put together a list of the six types of players to invest in for the highly-anticipated promo...
83-rated players
You can't go wrong with 83-rated gold cards for any promo on FIFA Ultimate Team. They're a common requirement for Squad Building Challenges, and judging by FIFA 18's Team of the Season event, you're going to need them during TOTS for league-based SBCs.
The reward for completing these SBCs will most likely be a guaranteed TOTS player pack, just like in FIFA 18.
Random 83-rated players won't cut it, though – you'll need to invest in those with good chemistry links. They're the 83-rated cards with the highest profit margins, due to the league-based nature of the SBCs.
For instance, a player like Atletico Madrid's Stefan Savic (currently 1,300 coins) will likely rise quite a bit during the La Liga TOTS SBC. He has a strong link with 84-rated Jose Gimenez, while the 83-rated Adan is a La Liga player, thus making it easier to get a good chemistry score while maintaining a relatively high squad rating.
In FIFA 18, the Dortmund trio of Lukasz Piszczek, Omer Toprak and Roman Burki were gold during TOTS because of their ratings (83, 83 and 84 respectively) and links. Any player who makes it easier to complete an SBC during the TOTS will go up in price – it's that simple.
84-rated players
You're going to need to get in on these, since last year's rating requirement for the TOTS SBCs had a squad rating requirement of 84.
You'll usually be able to complete an 84-rated SBC with a few 83-rated players here and there to make the SBC cheaper, since the former tend to be quite costly during promos – especially those with good league and nation combinations.
At the moment, the cheapest outfield 84-rated player is Mario Mandzukic (who currently goes for 3,900 coins), whilst most 84-rated goalkeepers currently cost around 3,000 coins. The average price for 84s is 4,300.
You'd do well to acquire the 84-rated players who have great chemistry links – just like the aforementioned Gimenez, or Bernardo Silva (who'd get a strong link with Ilkay Gundogan and Gabriel Jesus).
Team of the Season players
Team of the Season players from any league were required for the TOTS SBCs back in FIFA 18, so EA are likely to include them as part of the requirements once again.
In a bid to truly make coins from investing in TOTS players, you have to do it as early as possible. Judging by FIFA 18, the first set of TOTS players EA will release will be the EFL TOTS; the cheapest ones among them will probably cost 25-30,000, with the potential to rise to 70-80,000 once the SBCs roll out.
Last year, for instance, Cardiff's Sol Bamba cost 24,000 at the beginning of the TOTS promo, but rose to 70,000 when the first SBC got released.
Cheap TOTS players have high profit margins – so don't miss out.
84 rated In Forms
In Forms were only required for the Rest of The World TOTS SBC, but there's a chance they will be required for FIFA 19 league-based TOTS SBCs, due to the current state of the market compared to last year's iteration.
EA will probably make the SBCs more expensive this year, especially if they ditch the guaranteed TOTS pack reward for a TOTS player pick. Making IFs a requirement would be a good way to do that, so investing in 84-rated In Forms that have good chemistry links could yield good results.
Full-backs with good links
This investment is geared more towards the side SBCs with pack rewards, as opposed to the main league-based TOTS SBCs.
Full-backs with good league and nation combinations tend to go up during promos thanks to how easy it is to get them on their max chemistry score, making it easier to complete SBCs.
Invest in full-backs who play in their domestic leagues like Danny Rose, Ashley Young, Juanfran, Mitchell Weiser and many more – they're the ones who tend to rise the most.
UCL cards
EA might throw a curveball for the TOTS SBCs, and the most obvious curveball are UCL cards. They're somewhat under the radar as far as TOTS is concerned, and their demand has died down as well.
There's also a chance that they may be required for a side SBC if not the main one, so there's no harm in buying some rare UCL cards for the TOTS period. If they're required at any point, you'll be able to sell for a great profit.
You can pick some rare UCL cards up for around 2,000 coins at the moment.
While you're here, why not take advantage of our brilliant new subscribers' offer? Get 5 copies of the world's greatest football magazine for just £5 (opens in new tab) – the game's greatest stories and finest journalism direct to your door for less than the cost of a London pint. Cheers!
See also...
The 5 best formations in FIFA 19: our favourite systems explained (opens in new tab)
The 11 best cheap Premier League players
12 FIFA 19 hidden gems you NEED to sign (opens in new tab)
The 11 best FIFA 19 free agents you can't afford to miss
The 7 most effective skill moves in FIFA 19 (opens in new tab)
The 10 most overpowered players on FIFA 19 (opens in new tab)
Thank you for reading 5 articles this month* Join now for unlimited access
Enjoy your first month for just £1 / $1 / €1
*Read 5 free articles per month without a subscription
Join now for unlimited access
Try first month for just £1 / $1 / €1
Quizzes, features and footballing fun
Get daily World Cup 2022 news, updates and other football frolics to your inbox
Phillip is a football writer from Nigeria. He's been a football writer since he was 13 and after getting his work featured on various news outlets including the Daily Mirror, Red Bull, Planet Football and Football.London over the years, he has now turned his focus from solely writing about the beautiful game, to covering the not-so-beautiful virtual game of FIFA as a brilliant excuse to spend hours on his Playstation.
Quizzes, features and footballing fun
Get daily World Cup 2022 news, updates and other football frolics to your inbox
Thank you for signing up to Four Four Two. You will receive a verification email shortly.
There was a problem. Please refresh the page and try again.