FIFA 19 TOTS: How to get the best FUT XI under 700k coins
EA Sports' big end-of-season promo offers up numerous investment opportunities on the transfer market – and here's hope to capitalise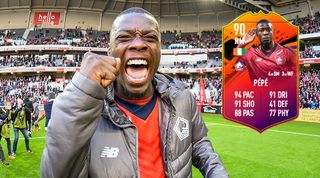 FIFA 19's TOTS promo will inevitably lead to players liquidating their coin collections in order to take advantage of the opportunities that this event offers in the transfer market.
On that note, we've put together an OP squad under 700k coins for you to triumph with while most of your virtual cash is tied up in investments.
MOTM Kepa Arrizabalaga
Price: 23k
Rated at 86, Kepa's MOTM card makes him one of the most overpowered goalkeepers on the game.
Standing at 6ft 2in and boasting the 'saves with feet' trait which allows goalkeepers to stop driven shots more consistently, Kepa is the man you want to have between the sticks if you're on a budget. The only downside to having him in your team is that he doesn't like to be substituted.
RB – SIF Joao Cancelo
Price: 59k
SIF 88-rated Cancelo is one of the best right-backs on the game. He's also got an 89-rated version but that's a bit above our budget.
At 6ft and 81 for jumping, Cancelo is effective at stopping El Tornado crosses to the back post. He's an elite defender at this stage of the game as plays like he's worth well over 59k coins.
CB – Raphael Varane
Price: 25k
Varane's base card is one of those that will be OP until FIFA 20 gets released.
Despite all of the juiced-up cards that EA have put out through their many promos on this year's iteration of FIFA, few come close to Varane's gold card on a Shadow chemistry style. With that, the Frenchman performs like a top-tier centre-back – making him a steal at this price.
CB - Samuel Umtiti
Price: 34k
Umtiti lost the ability to perform El Tornados on FIFA 19, but thankfully he received a decent upgrade to his defensive abilities – thus making him OP.
Like his countryman Varane, Umtiti remains one of the best defenders on the game, and he's capable of getting the job done in high-level Weekend League games.
LB – Marcelo
Price: 44k
Marcelo is fast, strong, agile and boasts a five-star skill rating – making him by far one of the most fun defenders to use on the game because of what he brings going forward.
His finishing (67) is quite poor, but the Brazilian makes up for that with his ability to create goalscoring opportunities.
CDM – TOTS Rodri
Price: 52k
Rodri's TOTS card is an absolute steal at 52k coins. He's tall but packs a four-star skill rating and 92 for interceptions, which allows him to win the ball back for your team with ease.
He's a hard man to beat in the air thanks to his height – so if you're on a tight budget, you definitely need to buy Rodri's TOTS card.
CDM – TOTS John McGinn
Price: 32k
McGinn was one of the best players on the EFL TOTS line-up. He's a member of the 'Gullit Gang', as all of his face stats are rated over 80.
He's pretty overlooked due to his league and nation combo, but if you give his card a try you won't regret it. He's a quality box-to-box midfielder who can introduce a new dynamic to your team.
CAM – Paulo Dybala
Price: 56k
Despite only possessing a three-star weak foot, Dybala remains one of the most overpowered NIF cards on the entire game. He's lethal in front of goal thanks to his 89-rated finishing stat with a Hunter chemistry style.
RM – Headliners Nicolas Pepe
Price: 105k
Pepe has lit up the 2018/19 Ligue 1 season with some fine performances, scoring 22 goals. With those, he's earned himself six IF cards on FIFA 19, along with a 90-rated Headliners card which is one of the most OP RM/RW cards on the entire game.
He boasts 99 agility, 91 finishing and 91 jumping, thus allowing him to get on the end of back-post crosses.
LM – TOTS Yannick Carrasco
Price: 59k
It's been a while since Carrasco had a usable card on FIFA, but his TOTS was worth the wait. With 94 pace, 94 shot power and 94 dribbling, Carrasco's TOTS card is insanely overpowered. You'd do well to add him to your team.
ST – IF Marcus Rashford
Price: 93k
Rashford might have suffered an inconsistent Premier League season in real life, but rest assured that his IF will bring nothing but consistency to your team. With 94 pace and 91 agility, few defenders will be able to stop the Englishman when he goes on a run.
The 7 best bargain strikers you need to sign on FUT
FIFA 19 Chemistry Styles explained: which ones to use, and how much they'll cost
The best cheap FIFA 19 defenders under 5,000 coins
Thank you for reading 5 articles this month* Join now for unlimited access
Enjoy your first month for just £1 / $1 / €1
*Read 5 free articles per month without a subscription
Join now for unlimited access
Try first month for just £1 / $1 / €1
Quizzes, features and footballing fun
Get daily World Cup 2022 news, updates and other football frolics to your inbox
Phillip is a football writer from Nigeria. He's been a football writer since he was 13 and after getting his work featured on various news outlets including the Daily Mirror, Red Bull, Planet Football and Football.London over the years, he has now turned his focus from solely writing about the beautiful game, to covering the not-so-beautiful virtual game of FIFA as a brilliant excuse to spend hours on his Playstation.
Quizzes, features and footballing fun
Get daily World Cup 2022 news, updates and other football frolics to your inbox
Thank you for signing up to Four Four Two. You will receive a verification email shortly.
There was a problem. Please refresh the page and try again.