FIFA 20 gameplay impressions: fortune favours attackers as one-vs-ones get a revamp
We get a playtest with FIFA 20, while EA's Sam Rivera talks us through some key changes to gameplay in this year's title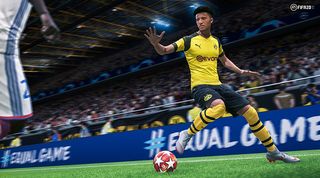 There are some big changes headed to FIFA 20 in terms of gameplay, spanning everything from improved ball physics to new attacking mechanics.
And after getting our hands on an early build at a recent preview event in Germany, we're already noticing the difference.
SEE ALSO FIFA 20 news: what we know so far about release date, demo, Volta and more
We've also learned more about Ultimate Team and gone hands-on with the brilliant new Volta mode.
Pre-order now on PS4 (opens in new tab), Xbox One (opens in new tab) (both £49.99) or PC (opens in new tab) (£54.99). Alternatively, for three days' early access and plenty more goodies, get FIFA 20 Champions Edition for PS4 (opens in new tab) or Xbox One (opens in new tab) (both £79.99).
Taking it slow
The most immediate change is the game's slower pace – a conscious decision to provide players with improved composure, allowing for more time and space on the ball. Players feel weightier in their movements, and there's greater scope to adopt a more possession-based game.
This works in tandem with new features like the ability to set up your shot. You can also occasionally see the ball bouncing off divots and ultimately appearing more realistic in its movements, forcing you to adapt your attacks accordingly.
Lethal attacking
Despite the enhanced focus on build-up play, FIFA 20 is also placing a big emphasis on attacking moves, particularly in terms of one-on-one encounters.
Forcing your way past a full-back with the likes of Raheem Sterling, perhaps via a skill move or new 'strafe dribbling' mechanics, typically sees you breaking away with explosive agility. Speedy defenders can still catch up, but the balance is tipped slightly in the attackers' favour this year.
"Every year we spend time trying to tune how fast players can move, how fast they can dribble, but this year we definitely spent more time because it's very hard to find the balance," lead gameplay producer Sam Rivera explains to FourFourTwo.
"It's not just actually pace, though, it's also the dribbling attribute. You don't want a player who's fast but doesn't have the dribbling – you need to go for the one who has a combination of attributes to properly succeed in getting away from slow defenders."
Building from the back
There are plenty of defensive improvements to speak of as well. We noticed that AI defences (particularly on Legendary difficulty) are harder to break down this year, and according to EA, have benefited from positioning and locomotion upgrades.
In regards to your own team, however, user defending is set to be more effective than AI defending. EA Sports have adjusted this following FIFA 19 feedback, and although we only sampled an early build, players already seem more consistent at regaining the ball after a successful user tackle.
Revamped set-pieces
There's added depth to set-pieces in FIFA 20, specifically in the case of free-kicks and penalties. We're still getting the hang of free-kicks, which require you to move a reticle and use the right stick to add modifiers such as top-spin and the ever-popular knuckleball shot.
Penalties are a little more straightforward. You still move a reticle, but the circle around it gets bigger depending on how much power you opt for, and there are timing elements to it as well. These mechanics also boast some nice new run-up animations.
Finding the balance
Naturally, EA are still tinkering with many features leading up to release. For example, Sam Rivera notes that attacking strength is another key focus for the team at present, "to make sure that players like Edinson Cavani, players like Harry Kane, are also useful in the game but in a different way."
To assist with this, they're continuing to solicit feedback from various FIFA players. Rivera acknowledges that the series' growing eSports culture is playing a notable role in the game's development.
"It's definitely a big part, and in the last few years [the FIFA eSports scene has] become bigger and bigger," he states. "Every time when we develop the game, we consider all groups of players – pro players, new players, casual players, [and] hardcore players that are not necessarily pro players. And obviously, when we design features, we consider all of them.
"Every year we fly pro players to Vancouver so they can play the game early enough and give us feedback. You can see there are pro players playing the game here [in Germany] as well – we're going to have a feedback session later – and will incorporate that feedback."
Looking ahead
"I can't talk about anything for the future, because I don't know much. But what I can tell you is that, at least in terms of gameplay, regardless of [whether] it's a console transition or not, there are still things that we're working on," explains Rivera. "We always have projects for the long term.
"The goal for us is to create a game where the motion of the player is 100% realistic – you can move exactly like a human. Every year we get closer, and I think this year with all the changes and the composed movement of the players, we're getting much closer.
"But specifically – the next generation [of consoles] – I can't share anything right now."
We tried.
NOW READ...
FIFA 19 Expert hits, tips and advice on FourFourTwo.com
GUIDE FUTTIES FIFA 19: EVERYTHING you need to know about EA's annual promotion
QUIZ! Can you name the 50 most expensive centre-back transfers of all time?
While you're here, why not take advantage of our brilliant subscribers' offer? Get the world's greatest football magazine for just £9.50 every quarter (opens in new tab) – the game's greatest stories and finest journalism direct to your door for less than a couple of pints. Cheers!
Thank you for reading 5 articles this month* Join now for unlimited access
Enjoy your first month for just £1 / $1 / €1
*Read 5 free articles per month without a subscription
Join now for unlimited access
Try first month for just £1 / $1 / €1