FIFA 20 Volta news: street football swagger and cracking customisation make for exciting addition to series
We go hands-on with FIFA 20's new Volta mode and discuss its street football features with EA Sports' Matt Prior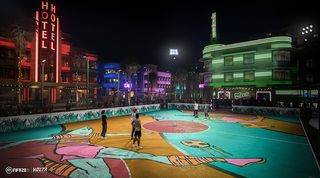 The biggest new feature coming to FIFA 20 is Volta Football – a brand-new street mode offering various ways to play, complete with heaps of customisation features.
FourFourTwo were able to get hands-on with the new mode at a FIFA 20 preview event last month, as well as talk to Creative Director Matt Prior about what to expect when Volta Football launches in September. Here's what we found out…
SEE ALSO...
Hit the streets
Volta translates 11v11 gameplay to the small-sided pitch, and does so in unique fashion. You can take advantage of simplified tricks as well as traditional skill moves to fool your opponents, and even use the walls to pull off clever passes and celebrate in style.
There are multiple match types on offer too, and they each present different challenges. 3v3 Rush, for example, requires defenders to perform double duty as a makeshift keeper, while the superb Futsal includes a bigger pitch, bespoke rules and scope to play a more traditional style of football.
In terms of a comparison, Volta's gameplay is somewhat reminiscent of the 2012 FIFA Street reboot. But EA are keen to reiterate that this is not FIFA Street – it adopts a more authentic approach to the street scene, and undoubtedly boasts key additions and refinements over the old franchise.
Customise like a boss
You'll be able to create your own male or female player for use in the mode, and the new creation suite benefits from various in-depth options – including morphing abilities.
You can then customise your player's look with various vanity items such as shirts and hairstyles. These can be unlocked with the coins you earn, and by completing specific challenges. As EA's Matt Prior tells FourFourTwo, more vanity options will be added post-launch.
"Part of the [street] culture is the fashion… you couldn't do a street game authentically without tapping into that side of it," he notes. "We'll be offering content as a live service, so what ships on the disc is not the end of it – we will have monthly seasons where we produce new content to keep things fresh."
SEE ALSOFIFA 20 Ultimate Team news: FUT gets Season Objectives and improved customisation among new additions
The wide world of Volta
There are multiple ways to play in Volta. Tour allows you to compete in events across the globe, Kick-Off is for one-off matches (including real teams), and League is the online component which, according to EA, is similar to FIFA 19's Seasons feature.
And then there's Story – a full-blown narrative centered around your created character. Prior informs us that it's "about a six-hour experience", and while we only had a chance to sample an initial cutscene, its high level of detail proved reminiscent of the franchise's recent story mode, The Journey.
"The story will teach you not only the mechanics of playing the game… it will also teach you about the culture of street football," he explains. "Just by virtue of you being able to put yourself or a character [into the story] is kind of a next evolution of The Journey."
Establishing your squad
You'll be able to upgrade your squad as you progress in modes such as Volta Tour, with the ability to clone a player from your opponents' teams along the way. This includes grabbing a copy of their created character, if you so wish.
"One of the great things about the whole world of Volta is that it's community generated, so you can create your team, I can play in an offline tournament and it could pull your team down as one of my offline opponents," Prior enthuses.
"So you're continually seeing people's vanity, people's self-expression – people's creativity. That's part of engaging with the world of Volta."
Lasting appeal
In our experience, it certainly appears as though Volta will boast enough content and gameplay depth to outlast the initial honeymoon period. Casual fans will undoubtedly gravitate to its pick-up-and-play nature, while competitive players are likely to spend much of their time in the online Volta League.
It's a welcome change from The Journey, which proved an excellent story mode but lacked replayability. In Volta, there's a potentially endless amount of enjoyment to be had.
"The Journey was always intended to be a three-year cycle," states Prior. "But it's important to note that this isn't a replacement. It's way, way bigger than that. And we've added a whole bunch of people to the team to bring it to you."
While you're here, why not take advantage of our brilliant subscribers' offer? Get 5 issues of the world's greatest football magazine for £5 (opens in new tab) – the game's greatest stories and finest journalism direct to your door for less than a pint in London. Cheers!
NOW READ...
HANDS-ON PES 2020 impressions: finesse dribbling, new Matchday mode and revamped Master League make for improved experience
NOSTALGIA Why does Championship Manager 00/01 still hold such a special place in the hearts of so many people?
ADVICE 27 essential Fantasy Premier League tips from old winners and experts
Thank you for reading 5 articles this month* Join now for unlimited access
Enjoy your first month for just £1 / $1 / €1
*Read 5 free articles per month without a subscription
Join now for unlimited access
Try first month for just £1 / $1 / €1