The best young strikers on FIFA 20 by career mode potential
These young players can develop to be among the best strikers in-game – and dominate your FIFA 20 career mode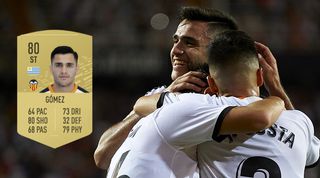 Looking to sign the best young strikers in FIFA 20? Of course you are. After all, you can't win games without scoring, and these explosive strikers have the ability to swing games your way. 
Finding them can be tricky though, and how do you know if they'll come good or not? That's where we come in. We've found 6 of the best young strikers that can develop into superstars in your FIFA 20 career mode. 
OTHER GUIDES…
FIFA 20 coins guide: how to (legally) buy and sell your assets to maximise profits
FIFA 20's 10 most overpowered players for Ultimate Team
FIFA 20 career mode free agents: 11 unmissable players with expiring contracts
FIFA 20 career mode best young players: 15 wonderkids with world-class potential
FIFA 20 best kits: 10 great shirts you need in your life
Lautaro Martinez, Inter Milan
Potential rating: 89
Inter's 21-year-old is easily one of the best strikers you can sign early on in career mode.
Martinez boasts a four-star weak foot which allows him to strike the ball accurately with his 'wrong' boot, and he's also capable of performing advanced skill moves thanks to his four-star skill rating. There's plenty of satisfaction to be had in bambloozing defenders with those...
He might only be 5ft 9in but he's able to win aerial duels and physical battles as a result of his jumping (88) and strength (84) stats. Basically, he's a pretty complete forward early on in the game, and has the capability to be one of the best in the game. 
Santi Mina, Celta Vigo
Potential rating: 85
Celta Vigo's Mina is a clinical forward who's capable of finding the back of the net on a consistent basis for your team, especially with his superb finishing (82), shot power (80), headers (77) and long shots (74) stats. 
However, where Mina truly shines is in the 18-yard-area. Get him one-on-one with a goalkeeper and he's sure to blast the ball right past them and into the back of the net. Insert your favourite Partridge quote here. 
The only downside to Mina in-game is his skill rating, which is only three stars and limits the moves he's able to perform on the pitch. You probably won't care too much about those skills moves when he slams home another 30-yard screamer. 
Maximiliano Gomez, Valencia
Potential rating: 85
Uruguayan striker Gomez is a different type of goalscorer to the ones we've mentioned so far. He's not the quickest, as he has a relatively low pace (64), but he uses his strength (85) and positioning (85) to hold the ball up, perform lay-offs, and be in the right place at the right time to score. 
Standing at 6ft 1in with a strong jumping (79) stat, there aren't many defenders who'll be capable of going toe-to-toe with him (or head-to-head in this instance). 
The 23-year-old would be an excellent acquisition for your team, but to get the most out of him, you'd need to play a two-striker formation and partner him up with a quicker striker.
BARGAINS The best FIFA 20 Premier League FUT starter team for under 100,000 coins
TRICKS FIFA 20 Volta new skill moves tips: 6 of the best – and how to do them
OFFLINEFIFA 20 Career Mode: the 8 best teams we can't wait to use
Patrick Cutrone, Wolves
Potential rating: 87
Wolves' summer signing, Cutrone, is one of the most highly-rated young strikers in Europe, both in real life and FIFA 20. His base rating of 77 is impressive enough, but he has the potential to become an 87-rated striker if you nurture his talents at your club through training sessions and plenty of game time.
Cutrone's standout stat is his finishing (80). That is likely to go up to 95+ if you give him time, while his attacking positioning (80) is likely to reach a similar number, allowing him to run into the right spaces and position himself in dangerous areas.
Jean-Philippe Mateta, Mainz
Potential rating: 85
The French striker Mateta is one tall player, with a towering 6ft 4in frame, making him perfect for winning aerial battles against most defenders and CDMs on the game. 
He's an incredibly physical striker who can win most battles thanks to his strong strength (85), jumping (77) and sprint speed (88) stats. Mateta is pretty much every defender's nightmare.
The best thing about him on career mode is that he has the potential to develop into an 85 overall rated player, which would make him an effective focal point of any team's attack.
Donyell Malen, PSV
Potential rating: 86
TALENTSPOTTER Donyell Malen: meet the PSV Eindhoven goal machine who Arsenal already want back ​
Dutch striker Malen is one for the pace merchants, as he comes with one of the highest pace (91) stats in the game, which could get maxed out once he reaches his full potential.

The former Arsenal youngster is great at finding space in behind and exploiting it thanks to his blistering pace and agility (82) and thanks to his solid finishing stat (78), he can find the back of the net consistently from most angles.
Once Malen reaches his full potential of 86, he will undoubtedly become a world-class player on your career mode save.
More FIFA 20 on FourFourTwo.com
TUNES FIFA 20 soundtrack: FULL track list announced including Major Lazer, Anderson .Paak, Disclosure
WATCH Premier League live stream 2019/20: how to watch every game from anywhere in the world
Quizzes, features and footballing fun
Get the best features, fun and footballing frolics straight to your inbox every week.