Football Manager 2020: 12 teams we can't wait to be
Decisions, decisions... Football Manager 2020 is out, and it's time to choose which club you guide to glory. Here are some teams which could make for an interesting save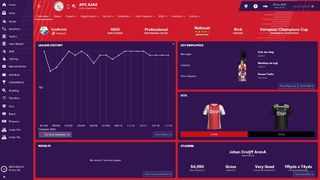 More Football Manager 2020
Football Manager 2020: the 15 best free transfers
Football Manager 2020: release date, new features, pre-order, trailer and more
Football Manager 2020: three new features we love
Buy Football Manager 2020 on Amazon
(When you're done, check out all of our FIFA 20 guides...)
If you're anything like us, you've already plotted and planned ahead of your first managerial stint in Football Manager 2020. Tactical doodles and bloated transfer shortlists come later though – first, you need a starting point.
With literally hundreds of clubs on offer, and the prospect of everything from journeyman saves to lower-league glory up for grabs, it can be difficult to pinpoint where you'll be rocking up once you've finished downloading the game. So let's narrow it down a bit.
From fallen giants to squads rich with young talent, here are the 12 teams we can't wait to be in Football Manager 2020.
Bolton
Bolton's off-field woes make for some sorry reading, but a spot of virtual wish-fulfilment can go a long way when it comes to deciding on a Football Manager team.
The cons are many: you'll be starting off on -12 points in League One and won't have much money, if any, to spend. You're stuck with your ragtag squad of free agents and youth players. Pah. If you're an FM veteran, you've probably seen worse. You've experienced the Vanarama North and lived to tell the tale. Will Buckley may as well be Cristiano Ronaldo in your hands.
While a shot at returning the Trotters to the Premier League may seem impossible in real life, it makes for one of the most challenging and compelling Football Manager saves this year by some distance.
Ajax
Ajax came oh-so-close to a Champions League final last year. Can you go one further in 2020? The football romantic within you may have visions of Cruyff and Total Football, but your first task will bring you down to earth with a thud: replacing young starlets Matthijs de Ligt and Frenkie de Jong.
Once that's out of the way, you'll be free to stop fierce rivals Feyenoord from getting their hands on the Eredivisie while also possibly giving the Dutch giants their first taste of European silverware in a quarter of a century.
Genk
Packing your passport and heading off to one of European football's less glamorous leagues is always a tough sell – but Genk might be too tempting to turn down.
With an incredible core of youth players, the reigning Belgian champions have two main objectives in 2019/20: win back-to-back league titles for the first time in their history, and establish themselves as a team to reckoned with in Europe after years of failure.
The fact that Genk have never won a Champions League group stage game (at the time of writing) is bizarre in and of itself – but with the likes of Sander Berge and the 'Kosovan Messi' Edon Zhegrova making things tick, the squad that regularly averages a starting age of only 24 has plenty of room to develop under your leadership.
Brescia
Perennial strugglers Brescia haven't finished in the top half of Serie A since 2003, frequently yo-yoing between divisions. Now, they're back – and they've brought Mario Balotelli with them. Yes, that Mario Balotelli.
The explosive forward's return to Italy inevitably grabbed the headlines, yet the squad also possesses 19-year-old midfielder Sandro Tonali, who has been likened to a certain Andrea Pirlo thanks to his midfield mastery. He's almost certainly going to be one of the most sought-after Football Manager wonderkids; keep hold of him and you could be looking at a rewarding, if tough, long-term save.
Sporting
Fancy a trip abroad this year? You could do a lot worse than Sporting. Not only have the Portuguese club failed to break the stranglehold of Porto and Benfica (and haven't won a league title since 2002), you would also have to replace talismanic striker Bas Dost, who departed in the summer. Thankfully, Sporting are blessed with high-potential players such as Bruno Fernandes, Wendel, and Jovane Cabral, making this a welcoming starting point for those who typically only focus on Premier League careers.
Maidstone United
There's nothing more fulfilling than seeing your team rise through the ranks in Football Manager. Returning Maidstone United to the Football League after the original club folded back in 1992 would be doubly sweet. After seemingly being on the up and up with three promotions in as many seasons, their recent rise through the divisions has hit a bump in the road. They finished dead last in the National League last year and a rebuilding job is required. Are you up for it?
Monaco
A lot can change in a few seasons – just ask Monaco fans. Despite taking Europe by storm with Kylian Mbappe and company, the big names were eventually sold off and the team have struggled to reinvent themselves in the interim. Now they're languishing in the lower half of Ligue 1 and have the insurmountable task of toppling PSG on the agenda, as well as once again qualifying for Europe.
Manchester United
You only have to take a peek at the back pages to know all is not well at Old Trafford. The teething problems post-Sir Alex Ferguson once felt like a blip; now it feels like a harsh reality. Perhaps it's your turn to take the wheel: develop academy starlets such as Mason Greenwood and Tahith Chong through to superstardom, bring a league title back to the club, and maybe, just maybe, knock a certain Merseyside club off their perch. Again.
Chivas (Guadalajara)
Imposing restrictions on Football Manager saves are always fun. Don't sign anyone over 24? Easy. Go full Moneyball? It's been done. Even Athletic Bilbao has its own restrictions, letting you only sign players who have Basque heritage. Chivas, though, may be even trickier. You can only use Mexican nationals.
Domestic domination isn't a given with Club America and Monterrey breathing down your necks, while loftier goals such as the CONCACAF Champions League and Club World Cup are far more difficult given the limitations of your squad.
Hamburger
Hamburger aren't quite fallen giants, but it's a save worth seeking out solely for one incredible stat: the 18/19 season was the only season the German club spent outside the top flight in its then-100-year history. They failed to bounce back and so it falls to you to reach the heights of their European Cup-winning heyday while navigating the choppy waters of the 2.Bundesliga. With a team that still touts the highly-rated duo of Josha Vagnoman and Rick van Drongelen among their ranks, Hamburger could be one of the most fun games to dive right into later this month.
Rodez
Rodez may have you scrambling to Wikipedia – and for good reason. They've been promoted to France's Ligue 2 for the first time in a quarter of a century, and have never made it further than that. It already sounds tailor-made for Football Manager aficionados who appreciate a hefty challenge. But here's more: the city of Rodez is home to 25,000 people – roughly the same size as Chichester – and their ground can pack only 6,000 in. Just how far can you go with one of the smallest teams in Europe's Big Five?
Cardiff Metropolitan University
Cardiff Met hit the headlines earlier this year with a fairytale Europa League run that saw them reach the second preliminary round despite having a squad consisting entirely of university students.
Picking up at the beginning of that journey (new Football Manager games typically begin in July) and attempting to go one better is tempting enough, yet you've also got to deal with the game hardcoding Cardiff Met so they will always remain an amateur outfit.
If you can sort through the complete lack of budget and the revolving door of players to put together a team that not only wins the Welsh Premier League but also makes a dent in Europe, then you can safely do a Jay from the Inbetweeners and say you've completed Football Manager.
While you're here, why not take advantage of our brilliant subscribers' offer? Get the game's greatest stories and best journalism direct to your door for only £9.50 every quarter. Cheers!
NOW READ...
INTERVIEW Andy Mitten with Sergio Romero: "Of course it's best to play all the time... but I'm always ready"
QUIZ Quiz! Can you name every player to score 10+ Premier League goals for Liverpool?
GUIDE Premier League live stream best VPN: how to watch every game from anywhere in the world
Thank you for reading 5 articles this month* Join now for unlimited access
Enjoy your first month for just £1 / $1 / €1
*Read 5 free articles per month without a subscription
Join now for unlimited access
Try first month for just £1 / $1 / €1
Get FourFourTwo Newsletter
The best features, fun and footballing quizzes, straight to your inbox every week.