Football Manager 2020: the 15 best free transfers
From backup keepers to elite defenders, we've got you covered – and it won't cost you a thing. These are the best free agents in your first summer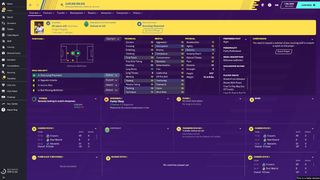 Football Manager 2020 Beta release: three new features we love
Football Manager 2020: 12 teams we can't wait to be
Football Manager 2020: release date, new features, pre-order, trailer and more
Football Manager 2020 facepack guide: how to install real names, kits, skins and badges
Order Football Manager 2020 on Amazon
(When you're done, check out all of our FIFA 20 guides...)
Whether you're short of a few quid or in need of an able deputy and don't want to dish out an eye-watering transfer fee, our list of the best Football Manager 2020 free agents will ensure you'll always have some cheaper options on hand at the start of your (hopefully) long career.
Including one of the most-capped Uruguayans of all time and even some ex-Premier League hotshots, we've rounded up 15 of the best free agents you can sign from July 2019 on a new Football Manager 2020 save – for teams both big and small.
Adam Bogdan (GK)
Wages: £15,000/week
The former Bolton and Liverpool stopper may be out of the price range of some less prolific clubs looking to snap him up, but he's an ideal backup (or third-choice keeper) for lower-half Premier League sides. At a push, he could probably do well between the sticks for some Championship sides – but he's worth scouting before you commit to signing him.
Eduardo (ST)
Wages: £3,000/week
What the Croatian striker lacks in physical explosiveness, he more than makes up for with his technical and mental stats. Carrying an almost Berbatov-esque style of languidness (15 Finishing, 15 Flair, 16 Technique, 16 Composure) and an absurdly cheap wage demand, Eduardo could make a handy short-term striker further down the divisions.
Fabio Coentrao (DL)
Wages: £30,000/week
Easily one of the best free agents in the game, Fabio Coentrao could feasibly slide in at left back in most major European leagues and not look out of place. Blessed with exceptional wing back attributes, with 15 Crossing and Dribbling being a particular highlight, you could do a lot worse than this Portuguese stopgap to steady early-season nerves.
Hatem Ben Arfa (AMC)
Wages: £50,000/week
Mercurial talents like Hatem Ben Arfa don't come cheap. He may now be north of 30, but the Frenchman is still able to light up a game with his exceptional dead-ball attributes and ability to do the unexpected. Just keep an eye on his physical stats – they can rapidly decline after the first season.
Ivan Strinic (DL)
Wages: £70,000/week
If you want a more defensive-minded full-back, Ivan Strinic is your man. While nothing jumps out from his attributes, his 17 Determination and Resolute personality could make him a decent member of a tutoring group if you have a young defender coming up through the ranks. However, you should be wary of his wage demands and know that there are better options out there (and on this list).
Joe Ledley (DM)
Wages: £6,000/week
Need a cheap, yet combative midfielder in the Championship? Joe Ledley should be on your shortlist. His age counts against him, though getting the Welshman on a one-year contract would be among the wisest moves you can make in pre-season, especially given his mental stats, including 15 for Decisions, Composure, and Bravery. He could eventually rise to become one of your team's leaders, a role that's as important as ever with the series' relatively new Dynamics system.
Keisuke Honda (AMC)
Wages: £30,000/week
Providing you're in a league with slightly less stringent work permit regulations, Keisuke Honda could be one of the biggest steals currently out there on the transfer market. He can unlock a defence just as well as ever at the age of 33, while his relatively high Natural Fitness and Stamina means he should be able to fit in as a regular in your side. Try him on the right wing as an Inside Forward, too. Even if you don't use any attacking midfielders and he can still cause havoc.
Lucas Silva (DM)
Wages: £120,000/week
Look no further: this is the best free agent currently available in Football Manager 2020. You'll have to pay a pretty penny to get his services – as well as a hefty signing bonus – but weigh that against the ordinary transfer outlay for someone of his class and you'll soon see you've got yourself a bargain. He's 26, with attributes almost all in the 14-15 range for the Deep Lying Playmaker role. Lucas Silva can comfortably be a fixture in your team for years to come.
Martin Olsson (DL)
Wages: £20,000/week
In a free agent pool already blessed with left backs, it can be hard to make the case for Martin Olsson – but you should try him out anyway. He's the cheapest of the three on this list, plus he crucially has a high Natural Fitness attribute, meaning he can potentially play well into his 30s without regressing as rapidly as his peers.
Maximiliano Pereira (DR)
Wages: £32,000/week
A ready-made backup for top-half Premier League clubs, the Uruguayan also comes attached with the ultra-rare Perfectionist personality trait. If you have a handful of promising players in your academy, there are far worse options than bringing in Pereira to act as an insurance policy, all while making a larger impact off the field as a positive influence on the next generation.
Slobodan Rajkovic (DC)
Wages: £120,000/week
Don't be put off by the steep wages. Slobodan Rajkovic is as close to an elite centre back as you'll find on a free in the first season. Not only is the six-foot-three Croatian a handful in the air, his 'Marks Opponent Tightly' trait combined with his outstanding mental attributes means he's likely to have opposition forwards in his proverbial back pocket.
Valon Behrami (MC)
Wages: £15,000/week
Fancy being lucky number 13? The Swiss international has played for a dozen clubs in his career – and can be a valuable asset for anything for Championship clubs to big fish in smaller European leagues. His usefulness in several positions, including across the entire right flank, means he's also essentially a Swiss army knife-turned-footballer at this point. Surely worth a punt.
Wilfried Bony (SC)
Wages: £10,000/week
The ex-Manchester City man (yes, that actually happened) may not be the force he once was, though his ability to overpower defenders with his back to goal still remains. Perhaps better suited to a Plan B off the bench rather than an outright starter, there's still a fair chance the Ivorian can add to his 109 career goals in the right system.
Yoann Gourcuff (AMC)
Wages: £14,000/week
You'll have to be quick to sign Gourcuff. Clubs swarm around him from early July in most saves, and it's easy to see why. As a utility player across the front line, he's potentially unmatched in the free agent market. His high Long Shots and Technique rating also means he's going to be deadly from outside the box – a boon, especially as Football Manager 2020 favours long shots more than ever before.
Youssouf Mulumbu (DM)
Wage: £20,000/week
If you're in dire need of someone to shore up your midfield, Youssouf Mulumbu should be sought out early on. He may not be able to start every week but, as someone experienced enough to settle a game down in the final 20 minutes from off the bench, there are few better options.
While you're here, why not take advantage of our brilliant subscribers' offer? Get the game's greatest stories and best journalism direct to your door for only £9.50 every quarter. Cheers!
NOW READ...
COLUMN Could this weekend's game against Manchester City be the making of Frank Lampard's Chelsea?
QUIZ Can you name the 29 oldest players in the 2019/20 Premier League?
GUIDE Premier League live stream best VPN: how to watch every game from anywhere in the world
Thank you for reading 5 articles this month* Join now for unlimited access
Enjoy your first month for just £1 / $1 / €1
*Read 5 free articles per month without a subscription
Join now for unlimited access
Try first month for just £1 / $1 / €1
Get FourFourTwo Newsletter
The best features, fun and footballing quizzes, straight to your inbox every week.