Gazza, Becks, Robinho: 5 huge transfers that weren't... but what if they had been?
Declan Warrington thinks Lukas Podolski could have fulfilled his potential at Arsenal had Robin van Persie stayed – and the German's isn't the only 'what if?' story in football...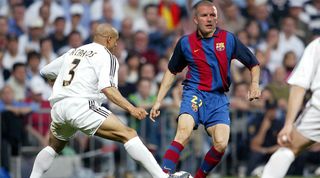 Lukas Podolski's transfer from Arsenal to Galatasaray, though expected, felt very much like a missed opportunity. The Germany forward rarely played to his potential in London – that he left for an initial bargain fee of £1.8m highlights that – but his record of 31 goals in 82 appearances is more than respectable.
The disappointment comes when reflecting that he was recruited at a time when Arsene Wenger had just lost Robin van Persie, who joined rivals Manchester United. But Podolski, rotating in an intelligent, clinical front three alongside a peak Van Persie and/or Theo Walcott, could have thrived in one of the finest Arsenal frontlines since the idyllic days of Dennis Bergkamp and Thierry Henry.
Had Van Persie not inspired United to the Premier League title, Arsenal's attack could have been good enough to help them have a crack at becoming 2013 champions. Wenger's transfer model, certainly pre-Mesut Ozil, would have been vindicated and less likely to change in the way it has since, and Sir Alex Ferguson may have been unable to retire given his desire to do so at the end of a successful campaign.
ALSO ON FFT.COM
Van Persie, however, went to United. His goals won them the title, Podolski rarely looked comfortable at Arsenal and Ferguson retired a happy man. It was a missed opportunity but not the first of its kind in football, and almost certainly not the last...
Becks joins Barça, brings them down
David Beckham's transfer from Manchester United to Real Madrid was the highest-profile signing of 2003. According to then-presidential candidate Joan Laporta, Barcelona had had a £23m offer accepted for the England captain, but it's difficult to see who in Spain – beyond Barça's commercial department – would have benefited from Beckham joining Real's great rivals.
For a start, it would have meant Ronaldinho – the catalyst for so much of Barça's success later that decade – would most likely have joined United as his replacement. Exceptional though Beckham was – he was still at his peak and arguably the world's finest right-sided midfielder – the Catalans' 4-3-3 wouldn't have suited him, and the 4-4-2 Beckham often excelled in wouldn't have fitted Barça. In Ronaldinho, they would have missed out on one of the world's very best players entering his prime. The 2003/04 season, after all, was when Barça re-established themselves as major contenders after a period of mediocrity.
Had Beckham moved to the Camp Nou – in non-commercial, football terms – Real may have been little worse off: they didn't win La Liga again until 2007 (a title he largely inspired). The England man wasn't responsible overall but, judging by results, Beckham's first three seasons at the Bernabeu were a disappointment.
Gazza meets Fergie... and gets him sacked
ALSO ON FFT.COM
One of football's most trotted-out hypotheticals suggests that, had Paul Gascoigne joined Sir Alex Ferguson at Manchester United instead of Tottenham when leaving Newcastle in 1988, two of the era's greats would have combined to such devastating effect that the midfielder's career would never have deteriorated in the way it did.
That conclusion, however, overlooks Gascoigne's troubled character and his alcoholism. Ferguson indulged certain players – Eric Cantona, Cristiano Ronaldo – when he felt it was justified, and would have attempted to do the same with Gascoigne.
Yet for all of his brilliance, Gazza would have inevitably let the Scot down. The off-field misdemeanours of Ravel Morrison and Lee Sharpe were beyond Ferguson's corrective powers, so why would the inherently flawed Geordie have been any different?
There still would have been a fixture – just not necessarily the 1991 FA Cup Final – in which his recklessness would have led to injury, and the combination of his profile and antics would have intensified the pressure Ferguson was already under.
The likely outcome is that, as with others like Dwight Yorke and Beckham, Ferguson's patience would have gradually vanished and led to Gascoigne's sale. If not, United's drinking culture would have lasted longer and long-term success would have been delayed; Ferguson might not have even lasted to 1990, when Mark Robins' goal against Nottingham Forest was widely said to have saved him.
David Villa wins Real Madrid the title
David Villa proved the perfect foil for Lionel Messi and Pedro in a delightfully intelligent and fluid front three when he joined Barcelona in 2010. He was such a success that Pep Guardiola's team reached an even greater level than it had over the previous two seasons, beating a very good Real Madrid to the La Liga title and winning another Champions League trophy so impressively that many considered theirs the greatest team in history.
A year earlier, however, Villa almost joined Real. Strangely, given the money already spent on Cristiano Ronaldo and Kaka that summer, and later on Karim Benzema, Real were reluctant to pay Valencia's asking price for the striker, who was known to want a Bernabeu move.
Barça had signed Zlatan Ibrahimovic and consequently weren't quite as fluid as they were in the previous season, 2008/09, when Samuel Eto'o was their first-choice frontman. With Villa – then surely the world's finest finisher – in Manuel Pellegrini's Real team alongside Ronaldo and Kaka, the Chilean may have gained the additional four points required to win that season's title (Real finished with 96 points to their rivals' 99). Certainly, Barcelona wouldn't have emerged as the best team in history the following season.
Robinho joins Chelsea, helps Torres
Robinho's arrival at Manchester City, on transfer deadline day in September 2008 for a then-British record fee of £32.5m, was the first of many major signings in their brave new world under owner Sheikh Mansour.
The move didn't work out as Robinho, then 24, would have hoped: among the most talented players in the Premier League, within 18 months it was already clear he had little future at a club he unexpectedly joined when a transfer to Chelsea appeared inevitable.
At that point of new manager Luiz Felipe Scolari's reign, the Blues appeared serious title contenders, and Robinho's arrival – where he could have combined with Deco and Joe Cole in a potent frontline behind Didier Drogba – looked as logical as it did exciting.
In his absence – and perhaps because of it – Scolari's early momentum gradually disappeared to the extent he was sacked in February 2009, Deco disappointed and Cole's career declined. Roman Abramovich's ruthlessness is such that Scolari would no doubt have been sacked eventually down the line, but he'd likely have lasted longer with Robinho – one of the world's great wasted talents – inspiring Chelsea to challenge Manchester United and Liverpool for the 2009 Premier League title. Fernando Torres, who later disappointed after joining Chelsea in January 2011 for £50m, may also have thrived alongside the Brazilian.
Thank you for reading 5 articles this month* Join now for unlimited access
Enjoy your first month for just £1 / $1 / €1
*Read 5 free articles per month without a subscription
Join now for unlimited access
Try first month for just £1 / $1 / €1