George Graham exclusive: former Arsenal manager reveals how he was almost rumbled after Anfield '89
Speaking to FourFourTwo, legendary Arsenal boss Graham revealed the excuses he was preparing before Michael Thomas won his side the title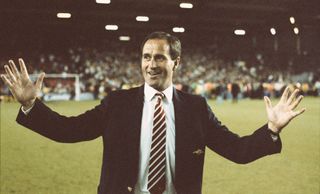 (Image credit: Getty)
George Graham has revealed how he was preparing to answer his critics, had Arsenal not have won the league in the final moments of the 1988/89 season.
The Gunners needed to win 2-0 away at Anfield to clinch the title in the last game of the season, with the league going down to the wire. Michael Thomas stepped up in stoppage time to seal Arsenal's first Championship in 18 years - but as then-manager Graham revealed in the new issue of FourFourTwo, in shops Wednesday October 20 and available to pre-order now, he started to contemplate the idea that his team had failed when the goal went in.
"I was already thinking what I'd tell the media, saying something like, 'Well, we tried our best, we won 1-0, but still it wasn't good enough'," according to the then-Arsenal gaffer. "So I was thinking about that, then suddenly Michael Thomas scored the second for us!"
While his Arsenal players celebrated wildly, Graham somehow seemed to keep his composure.
MORE FROM THE MAG Brazil legend Ronaldo reveals the two English clubs he could have bought instead of Real Valladolid
"I kept my cool, but really I didn't – I acted it," he laughs at the memory, over 32 years later.
While Arsenal's players partied in London after the game with fans, Graham has revealed that he wasn't a part of the celebrations, instead, going north of the border to his native Scotland to play golf, as to avoid the press.
"My son picked me up and we travelled to Scotland," says Graham. "We got some tea and sandwiches when the guy who served us said, 'Excuse me, I watched a game of football last night and you look like one of the guys who was on the bench'. I just laughed and said, 'You know, a lot of people say that!'"
Graham inherited a dysfunctional Arsenal team in the mid-80s, building them into a formidable force who not only won the league before the decade was out, but secured the 1990/91 title conceding just 18 goals and losing once all season. The north Londoners' tight back four became famous as one of the most solid defences that England had ever known.
"The basis of anything you do is to start at the bottom," continues Graham, in reference to his backline. "When you design a building, you just don't start at the top – you start at the bottom. In football, you build from the back; you do the foundations and then work your way up. A lot of people want to start halfway – they don't want to do the filthy, crap stuff."
"I ask people within the sporting world, 'Do you want to win, or do you want to entertain without winning?'" says Graham. "Personally, I was always taught to win. Then we can talk about the style after we do that."
You can read the full feature interview with George Graham in the November 2021 issue of FourFourTwo magazine, on sale Wednesday, October 20.
Subscribe to FourFourTwo today and get three issues delivered for just £3
Restock your kit bag with the best deals for footballers on Amazon right now
ALSO READ
GUIDE Best football gifts: Present ideas for football fans
SAVE Best Football Manager 2022 deal: Save over 30% on FM22 pre-orders with this FourFourTwo code
Quizzes, features and footballing fun
Get the best features, fun and footballing frolics straight to your inbox every week.
Thank you for signing up to Four Four Two. You will receive a verification email shortly.
There was a problem. Please refresh the page and try again.