The 10 all-time men's international top scorers
Who is the all-time international top scorer? Meet the men Cristiano Ronaldo has gradually tiptoed his way past...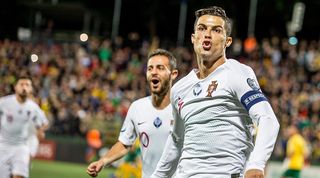 It will not have escaped your attention that Cristiano Ronaldo has now become the record goalscorer in international matches. The Portuguese had been level with Iran's Ali Daei on 109 international goals coming out of Euro 2020, but now it belongs to him. His brace against Ireland on Wednesday took him clear of the pack and out on his own as the greatest goalscorer in international history.
But how many of the other contenders can you name? Yes, he's in it; no, not him. Read on to discover the 10 most prolific goalscorers in (men's) international football history, according to the industry-bible RSSSF (Rec.Sport.Soccer Statistics Foundation).
9= Bashar Abdullah, Kuwait (75 goals in 134 caps, 1996-2007)
Well, we say 10 but it's actually 11 as there are three strikers tied on 75. Kuwaiti hitman Bashar Abdullah appeared at three AFC Asian Cups and also plundered almost 250 goals at domestic level. In the year 2000 alone he scored 21 international goals, including just the eight during Kuwait's 20-0 whupping of Bhutan in an Asian Cup qualifier.
Still, of the three players tied on a nice round 75 goals, he's the most-capped, and thus the least prolific per game. But have you scored 75 goals for your country? Hmm? (If so, well done.)
9= Kunishige Kamamoto, Japan (75 goals in 76 caps, 1964-1977)
People saying football and politics shouldn't mix might have a word with the mighty George Weah, president of Liberia, but he was far from the first goal-hoover in public office. Way before him came Kunishige Kamamoto, who went from the penalty box to the House of Councillors, Japan's higher legislative chamber (think House of Lords but elected).
Kamamoto earned public goodwill by banging in the goals for more than a decade, at home and abroad: 22 of his notches came in Malaysian capital Kuala Lumpur at the then-annual Merdeka tournament. And 15 of his goals came against the Philippines, where he might have a harder time getting elected.
9= Sandor Kocsis, Hungary (75 goals in 68 caps, 1948-1956)
Imagine scoring seven hat-tricks for your country but never playing for it again after you turned 27. Such was the fate of Sandor Kocsis, forced to flee his homeland in 1956 to escape the Soviet crushing of the Hungarian Uprising.
Two years earlier, Kocsis had won the Golden Boot for his 11 goals at the 1954 World Cup, including two in a semi-final after which he was so exhausted he couldn't dress himself. Intelligent enough to play in that Puskas-inspired Magical Magyars side, Kocsis was also a hard worker and a devastating header of the ball: after retiring from club football as a hero at FC Barcelona, he opened a restaurant called Tete d'Or.
8 Ali Mabkhout, UAE (76 goals in 92 caps, 2009 to date)
C-Ron isn't the only currently active striker tiptoeing his way up the list. Ali Ahmed Mabkhout Mohsen Al Hajer is also reeling in the leaders, and he's only just turned 30. Mabkhout has spent his entire club career at Al Jazira, the first five years learning from his strike partner, the Brazilian former AC Milan forward Ricardo Oliveira.
Mabhkout obviously took good notes because he's scored 165 in 227 for his club and, more germanely to the context of this list, 76 in 92 for the UAE. Furthermore, he seems to be accelerating, with 32 in 23 caps since the start of 2019. Five and half years younger than Ronaldo, he could continue to vault the listings if he carries on with that behaviour.
7 Pele, Brazil (77 goals in 92 caps, 1957-1971)
You know this one, right? Old fella, prone to terrible predictions and ill-advised pharmaceutical adverts. Oh, and by many people's reckoning, the best player ever. When he played his final game (and scored, of course) for the New York Cosmos, it started to rain, prompting one Brazilian newspaper to write "Even the sky started crying."
Pele's game wasn't just about goals, but he certainly didn't mind scoring them, becoming only the second player in history (after compatriot Arthur Freidenreich) to bag 1,000 goals. At international level – where he won three World Cups in four attempts – he's South America's all-time leading goalscorer, although little Leo Messi is roaring up behind him with 73 at the time of writing.
6 Hussain Saeed, Iraq (78 goals in 137 caps, 1977-1990)
And we're back in the realms of the lesser-known, although to be fair after Pele that's a large hinterland. You may not have known that Iraq had a Golden Generation, but the 1980s were that gilded age: besides winning the Asian Games in 1982, the Pan Arab Games in 1985, the Arabian Gulf Cup in 1984 and 1988 and the Arab Cup in 1985 and 1988, the Lions of Mesopotamia also qualified for Mexico 86.
Not uncoincidentally, the 1980s were also the stomping ground of Hussain Saeed, who popped home 78 goals in 137 caps. He peaked in 1984 with 13 goals in 18 caps, including 12 in tournament football. After retirement he became president of the Iraqi FA, succeeding Uday Hussein.
5 Godfrey Chitalu, Zambia (79 goals in 111 caps, 1968-1980)
Burst excitedly into a bar and ask the denizens to name the highest-scoring African in international football, and you'll quite probably get through a few pints before you get the right answer – unless the bar's in Zambia, in which case they might point to a prized photograph on the wall. In 2012, as Leo Messi threatened Gerd Muller's record for goals in a calendar year, Zambia's FA quietly pointed out that Chitalu had scored more than either – 116, to be precise – in 1972, but FIFA refused to ratify them.
What is generally agreed is that Godfrey Chitalu scored 79 goals – one better than Pele – in 111 caps; it might have been more if he hadn't spent two years not being picked by Zambia. He came back as a substitute, coming off the bench to score twice. After retiring, he was head coach of the national side who looked set for USA 94 qualification when the entire squad tragically died in a 1993 aeroplane disaster.
4 Ferenc Puskas, Hungary (84 goals in 85 caps, 1945-1956)
For 40 years, Vivian Woodward was the record international goalscorer, having amassed 73 for England before World War I. That the title was seized in the mid-50s by a Hungarian was entirely fitting, given the Magyars' home-and-away humiliation of the hubristic Three Lions, as football joined the space age.
Chief architect of the modernist revolution was Ferenc Puskas, the unprepossessing 'Galloping Major' whose girth and lack of stature led to many an unwise underestimation. Dictating the game from a deep position, he also helped himself to just less than a goal a game – and that's not counting the last-minute World Cup final equaliser disallowed by an English ref. Puskas meant goals, so much so that FIFA's annual best goal award is named after him.
3 Mokhtar Dahari, Malaysia (89 goals in 142 caps, 1972-1985)
Puskas led the list from 1955 to 1981, when the title went much further east: all the way to Malaysia. Mokhtar Dahari had threatened to quit football at an early age: combining training with a day job as a bank clerk, he was so devastated when his trusty commuting motorbike was stolen that he retired until a bike manufacturer quickly replaced it.
A brace in a friendly against Arsenal led to offers from England and Real Madrid but Dahari stayed loyal to Selangor FC, helping them to 10 Malaysian Cup wins. The beloved No.10 was muscular yet swift, which made it even more tragic when hs succumbed at the horribly early age of 37 to motor neurone disease.
2 Ali Daei, Iran (109 caps in 149 games, 1993-2006)
The who so long stood between Ronaldo and sole supremacy was Ali Daei, an Iranian who scored almost as many in internationals as he did in a somewhat spotty club career that included frustrating times at Bayern Munich and Hertha Berlin. You can read a lot more about Daei on the link below, including the fact that he thinks he scored 111...
READ MORE: Who is Ali Daei?
Daei inherited Mokhtar Dahari's globe-leading mantle in 2003, 18 years ago. The Malaysian had had it for 22 years, before him Puskas had it for 26 years. The average length of ownership is coming down, and somewhere out there – famous or not – might be the player to replace Daei and a certain Portuguese star atop the list. It'll be fun to find out who.
1. Cristiano Ronaldo, Portugal (111 goals in 180 caps, 2003 to date)
Seldom if ever can one player have so successfully combined what we might call "God-given" talent with an insatiable desire to improve, to achieve, to succeed and to make history.
Ronaldo has five Ballons d'Or, four Golden Shoes, 32 major trophies, seven domestic league titles, five Champions Leagues, a European Championship and a Nations League, but he has room in his house for more medals. He has scored the most goals in European Championships finals (14), the most in the Champions League (134) and the most in internationals – 111 after breaking Ali Daei's record of 109 following a brace against the Republic of Ireland on Wednesday evening. The man has no limits.
Thank you for reading 5 articles this month* Join now for unlimited access
Enjoy your first month for just £1 / $1 / €1
*Read 5 free articles per month without a subscription
Join now for unlimited access
Try first month for just £1 / $1 / €1