How Juventus could ruin Pep Guardiola's Bayern Munich legacy
By Blair Newman
The Catalan is leaving Munich for Manchester City this summer, but will be desperate to lift Ol' Big Ears before he packs his bags. Blair Newman evaluates why Pep might not even make it to the final eight...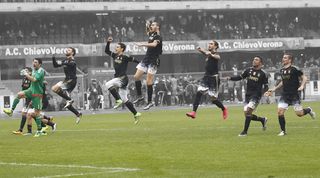 Pep Guardiola has overseen some stunning football during his time with Bayern Munich, but the Catalan is yet to deliver the Champions League trophy in Bavaria.
With the ex-Barcelona boss joining Manchester City in the summer, this season provides him with his last crack at European success with the German giants. It won't be easy, mind – not least as Juventus stand in his way in the last 16.
Here's why such an outcome is a real possibility…
1. Adaptable Allegri among Europe's most underrated tacticians
Massimiliano Allegri might not carry the romantic lustre of Pep, but the Italian is an astute tactician with a brilliant capability to adapt to various circumstances.
Allegri was the last man to lead Milan to a Scudetto before taking on the Juventus job following Antonio Conte's departure for the Italian national team. He wasn't a particularly popular choice but excelled in his first campaign in Turin, guiding the club to a league and cup double as well as the Champions League final last season.
This season has proven tougher, mainly due to being a year of transition for the club. With experienced heads like Andrea Pirlo and Carlos Tevez moving on, Allegri has been forced to integrate a number of new signings into the squad while figuring out which system to best use them in.
Eventually he settled on the 3-5-2 and results since have been outstanding. Allegri steered the Bianconeri to a club record 15 consecutive wins which turned around a terrible start and returned them to the top of Serie A. The latest of those – a 1-0 victory over Napoli, their main rivals for the title – offered a perfect illustration of Allegri's tactical flexibility.
Without Giorgio Chiellini through injury, the coach decided to dispense with the 3-5-2 and used a 4-4-2 system instead. The change worked. Napoli were unable to penetrate Juventus before Simone Zaza came on to score the brilliant winner (below) on 88 minutes.
Guardiola has a proclivity for situational formation changes but, in Allegri, he will be up against a coach with a similar knack for reading a game and modifying his tactics to suit it.
2. Juve have strong case for the defence
One of the major factors underpinning Juve's resurgence has been their exceptional defence. Their traditional back three of Andrea Barzagli, Leonardo Bonucci and Chiellini, supported by evergreen goalkeeping icon Gianluigi Buffon, is one of the finest defensive lines in world football not only in terms of individual talent but collective understanding too.
INTERACTIVE Meet the 5 goalkeepers in line to replace Gigi Buffon as Italy's No.1 in 2018
This organised backline forms a cohesive unit in which few gaps appear; every player is aware of where they fit in within the system and what their role entails. Two of their signature elements are aggressive marking and quick transitions back to defence, making them difficult to shake off and counter.
The Bianconeri are the strongest defensively in Serie A, having conceded just 15 goals in 25 fixtures. In Europe's major leagues only three teams have let in fewer this season: PSG, Atletico Madrid... and Bayern. Allegri's men have conceded just one goal in their 11 matches in 2016, keeping nine successive clean sheets.
Chiellini has been missing through injury of late and is set to miss Tuesday's match, but Bayern will still have to be on top of their game to break Juventus down.
3. Dybala a throwback to Guardiola's former star pupil
It speaks volumes about the maturity of Paulo Dybala that the 22-year-old Argentine could handle a hugely important career move with astounding ease. Having been picked out as the heir to Tevez at Juventus he was signed for an initial £22.4m from Palermo last summer, making him the club's fourth-most expensive signing of all time behind Buffon, Pavel Nedved and Lilian Thuram.
That transfer fee would have weighed down many young prospects, but not Dybala. The twinkle-toed all-rounder has continued his development apace to settle with unnerving immediacy in his new, more pressured environment – he's already hit 13 goals and grabbed eight assists. The Argentine has had a direct hand in 46% of Juve's Serie A goals tally in his debut campaign with the club.
RECOMMENDED Why ex-Bayern bomber Mandzukic is out for Pep payback
While young and still relatively inexperienced, Dybala has become integral to the way Juventus play. His role is termed a 'nine-and-a-half' thanks to his ability to drop deep and knit attacks together while also providing a clinical edge in the final third.
As such, comparisons have been drawn between Dybala and his legendary compatriot Lionel Messi. With their similarly effervescent dribbling skills, supreme balance and polished technique, the comparisons aren't devoid of stylistic merit.
Guardiola knows all about Messi's qualities having worked with him at Barcelona and been on the receiving end of his ludicrous talent with Bayern. The Catalan will be hoping Juve's own Messi-lite doesn't follow suit.
4. Win the ball back if you can
Earlier this season, Juventus looked disjointed. It was understandable, though: last summer they lost two of their key midfielders in Pirlo and Arturo Vidal, the latter of whom joined Tuesday night's opposition for around £28 million. Now, however, the ball is once again the Bianconeri's friend. They are back to their machine-like best and this is primarily down to two things.
NEWS Pogba relishing Vidal reunion
NEWS Vidal: I picked Bayern Munich over Premier League
Firstly, Sami Khedira has returned from injury. The German has missed chunks of the season so far but since regaining fitness his intelligent movement has been crucial to achieving good distance between players in midfield, creating positive conditions for retention of the ball.
The other reason is the successful re-deployment of Claudio Marchisio in Pirlo's old role.
Previously seen as a box-to-box midfielder with a penchant for getting forward, Marchisio has adjusted to his deeper role with consummate ease. His awareness, passing range and positioning have allowed him to settle in comfortably at the base of midfield, from where he also provides good defensive cover for his more attack-minded team-mates.
Juve's possession game is less glamorous than Bayern's, but it is highly effective. And, having successfully recovered from the exits of Pirlo and Vidal, their passing game is not to be underestimated.
NOW READ THIS Why ex-Bayern bomber Mandzukic is out for Pep payback
Quizzes, features and footballing fun
Get the best features, fun and footballing frolics straight to your inbox every week.
Thank you for signing up to Four Four Two. You will receive a verification email shortly.
There was a problem. Please refresh the page and try again.