How Lionel Messi edged closer to long-awaited history: FFT reports from Netherlands vs Argentina
Chris Flanagan was at the Lusail Stadium to see Lionel Messi reach the World Cup semis, on the same day that Neymar's dream died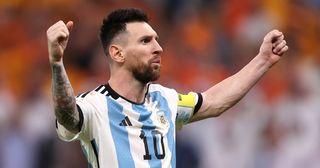 (Image credit: Julian Finney/Getty Images)
Somehow, the Panini sticker on the bus window said it all.
FFT were using public transport to make our way across Doha, sitting directly next to a sticker of the late Diego Armando Maradona, attached to the window by one of the thousands of Argentina fans who have populated Qatar over the last few weeks. The sticker was from Italia 90, four years after Maradona's greatest triumph, and featured El Pibe de Oro posing nobly, like one of those posters you used to see of his countryman Che Guevara.
For all of Lionel Messi's greatness – for all that many consider him the greatest player of all time – in his homeland, there has always only ever been one number one. And it isn't the 35-year-old.
As more and more countries have departed this tournament, the Argentina supporters have become more dominant. From the start of this World Cup, they were one of the best-represented fanbases in Qatar, behind the many, many Mexicans.
Doha feels different now to those early days of the World Cup, when 32 sets of fans all crowded into one city, singing, blowing horns, darting in all different directions to one of the four games that took place each day. This week only eight countries remained – where once the portacabin village in which FFT are staying was chaotic, struggling to cope with the sheer number of supporters, now it seems quiet, almost idyllic – as idyllic as a portacabin village can possibly be, anyway.
Some fans grab a bite to eat at the various food vans, relax in front of a giant screen, or pass the time by playing table tennis on the tables placed near reception. In the city, many Moroccans have arrived – some travelling from London, inspired by their shock victory over Spain, eager to be here, desperate to find a way into their quarter-final against Portugal, any way they can. "Have you got any Morocco tickets?" one says to pretty much anyone he sees. "It's worth asking."
At pretty much every other tournament that the Netherlands have ever been involved in, thousands and thousands of Dutch supporters have dominated the city they were playing in, turning it into a sea of orange. FFT were in Basel for a European Championship quarter-final against Russia in 2008, when 100,000 turned up, even though the stadium held less than 40,000.
It isn't like that here – a Dutch DJ bus was parked on Lusail Boulevard, pumping out EDM tunes, but almost every football shirt you could see outside the stunning Lusail Stadium was an Argentina one. It felt like for every Dutch fan, there were at least 100 supporting Argentina.
Many were travellers from South America, many others were locals, who have been turning out in force for Argentina since the start of this World Cup, many in Messi shirts, some even in customised traditional dress, complete with blue and white stripes.
Not that their Argentina love began with Messi – more than 50 per cent of the 2.8 million population in Qatar are actually migrants from India, Bangladesh and Nepal, who adopted the Albiceleste as their second team during the days of Maradona. Diego's brilliant but controversial performance against England in 1986 captured many hearts – coming just after the Falklands War, many shared Maradona's dislike of the British Empire, given South Asia's previous struggle for independence.
Two years after Maradona's death, now it's Messi who's the recipient of their love. At club level, he's already done enough for many to describe him at the best ever. At international level, despite last year's Copa America win, only a World Cup triumph could put him on a par with Maradona, let alone three-time winner Pele.
Messi came into this tournament knowing just that. At 35, this was his last chance to fill the gaping void in his CV. One month that could decide forever where he'd stand in the list of all-time greats.
In many ways, this was the World Cup of the veterans, a tournament when many of the biggest stars were reaching the twilight of their career. For some, it was a step too far. Gareth Bale, Cristiano Ronaldo, Luis Suarez, all have struggled to find anywhere near their best form. Ronaldo has even been dropped.
There's never been any danger at all of Messi losing his place. True, he's not the same mobile whippet of a player he used to be, but he's still head and shoulders Argentina's best player, scoring three times before this quarter final, providing a touch of quality whenever he got the ball.
For the second time in eight years, Louis van Gaal's Netherlands stood in Messi's way on the path to World Cup glory. Back then, the Dutch boss had used all his experience to oust Spain in the group stage, then made himself look like a genius by bringing goalkeeper Tim Krul off the bench for the shoot-out against Costa Rica. In the semi-finals against Argentina, he'd used all of his subs by the time that a scoreless fixture finally went to penalties. Jasper Cillessen couldn't save a single spot-kick – beaten by Messi and three of the Flea's team-mates – as the Albiceleste progressed to the final.
For either Messi or Van Gaal, this always looked like it could be a last ever World Cup match for the defeated – maybe a last match ever, in Van Gaal's case.
If both sides needed any boost at all before kick-off, Brazil's shock defeat to Croatia provided it. A biggest ever Argentina vs Brazil World Cup match was suddenly off the cards – the two sides had never met in a knockout game beyond the last 16 - and a golden opportunity to reach the final seemed to have opened up. Little wonder that the Argentine fans seemed so buoyant – they were literally bouncing with enthusiasm.
With the bright orange contingent of the Dutch numbering little more than 100 people in one tiny corner of the stadium, the Lusail had been turned into Buenos Aires.
Intriguingly, boss Lionel Scaloni opted to switch to five at the back for the first time in the tournament, matching up with the formation that Van Gaal has deployed for the Dutch. After a bright start, the Netherlands dominated possession, largely nullifying the Argentine threat.
Messi was involved only fleetingly, although when he did get on the ball, the crowd roared, he often beat a man with ease and looked capable of doing damage within an instant. In the 35th minute, his moment came, picking up the ball outside the box, then brilliantly disguising an inch-perfect through ball for wing-back Nahuel Molina to poke home his first-ever international goal. It was Messi at his very best.
The roof nearly lifted off the giant Lusail Stadium, so loud was the noise that greeted the goal. Soon, literally thousands of fans were chanting "Messi! Messi", while literally bowing in worship of the great man. The best part of 80,000 people had come to this arena specifically to witness such brilliance. For the fourth time in this tournament, he'd helped to break the deadlock for Argentina, at a time when they were looking for inspiration.
Hours earlier, it looked like Neymar had delivered a decisive moment, a contribution that could set his country on the way to glory, putting Brazil ahead in extra time. Ultimately, that counted for nothing. Could this Messi assist be different? The longer this tournament has gone on, the more likely even a Messi versus Ronaldo final has been starting to seem – albeit with the Portuguese forward probably on the bench.
In the second half, Messi delivered another clever pass that seemed to have opened up the Dutch defence again, only for Rodrigo de Paul to fall over at the crucial moment. If only the rest of the team was as good as Messi. A scary thought. He was man of the match by a mile - continuing to influence this tournament in a way that shouldn't be possible at his age.
Fittingly, he got the goal he deserved too, firing home effortlessly from the penalty spot to make it 2-0 – his fourth goal of the tournament, matching his best-ever World Cup tally, from 2014. As joyous fans twirled shirts above their heads in the stands, it was starting to feel like the Bombonera.
That was until the game pivoted on both manager's substitutions. While Scaloni seemed to be taking the opportunity to give some minutes to players, believing the game was over, Van Gaal threw on his Plan B, including Burnley's Wout Weghorst - currently on loan at Besiktas after the Clarets' relegation from the Premier League. A comeback looked improbable, but it happened, Weghorst scoring twice amid a maelstrom of an ending to the game that saw Messi booked for dissent and at least two incidents that nearly descended into massive brawls. Well, it wouldn't be an Argentina game without it.
Messi has history with penalty shoot-outs – he missed from the spot in Argentina's 2016 Copa America final defeat to Chile, briefly retiring from the international stage afterwards – but he calmly rolled his kick into the net this time, either side of Emi Martinez saves from Virgil van Dijk and Steven Berghuis that put the Albiceleste back in control. When Martinez made his second save, Messi leapt with joy, punching the air with both fists. Soon, a place in the semi-final was finally his.
This World Cup began with Messi scoring a penalty to put his team on course for victory at the same end of the same Lusail Stadium, in what was ultimately a seismic shock of a defeat against Saudi Arabia.
Two days later, Brazil beat Serbia at the Lusail, after which a lone South Asian Argentine fan stood among a sea of jubilant Selecao supporters outside the stadium, approaching everyone and anyone with a rudimentary homemade banner.
"We will be back," it said, next to an Argentine flag and a picture of Messi. That fan's loyalty never wavered, and he is starting to be rewarded. Now Brazil are gone, and Messi is marching on towards potential glory. Croatia will have something to say about that – they beat Argentina 3-0 in the group stage in 2018, after all. But, with the Albiceleste's South American rivals eliminated, Argentina will now go into that semi-final as favourites.
Maybe, just maybe, their star man will end his World Cup career on a high in this same stadium next Sunday, finally matching Maradona's achievements in an Argentina shirt, and putting the seal on his legacy once and for all.
If he does, at the 2026 World Cup, expect the sticker on the bus to be of Lionel Andres Messi.
Thank you for reading 5 articles this month* Join now for unlimited access
Enjoy your first month for just £1 / $1 / €1
*Read 5 free articles per month without a subscription
Join now for unlimited access
Try first month for just £1 / $1 / €1
Quizzes, features and footballing fun
Get daily World Cup 2022 news, updates and other football frolics to your inbox