How Raheem Sterling can take his game to the next level
It's been another positive year for the 20-year-old, who will now be looking to kick on further. But how? Steven Allweis assesses the youngest player in FFT's top 50...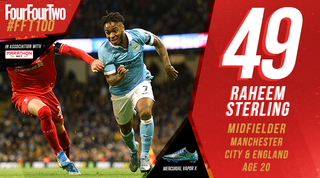 'Understated' isn't the first word that comes to mind when thinking about Raheem Sterling over the past few months. A protracted transfer saga, a meddling agent courting the limelight and an eye-catching £49 million transfer fee don't exactly lend themselves to a spell out of the spotlight, yet it doesn't seem preposterous to suggest that Sterling has slipped under the radar in Manchester.
In this sensationalised and clickbait-obsessed media world, Sterling has been neither a standout performer nor a flop at Manchester City so far, and as such has avoided becoming a story in himself. It doesn't sell papers to say he has done OK. It doesn't attract hits to websites to argue that he has settled in well without starring. That, however, is exactly what has happened.
The potential is there. It's what convinced City to part with such a substantial amount of money to acquire his services. It's what brings hope and enthusiasm to supporters of the national side. It's why he's the youngest player in the top 50 of FourFourTwo's Best 100 Players in the World 2015.
Adjustment period
How has that potential played out in Manchester so far? It's been a decent start. There have been clinical finishes and glimpses of brilliance, but also flashes of rawness that he will hope to iron out.
He has adapted well to a new style of play at Manchester City, a more possession-based outlook on the game where patience and control are valued higher than risk-taking.
While fans enjoy seeing him putting his head down and dribbling, committing defenders and creating opportunities, Manuel Pellegrini seems more content for Sterling to keep playing simple; giving the ball to David Silva and Kevin De Bruyne, and allowing them to dictate the game. Sterling has to bide his time, wait for those playmakers to see an opening and then make his move.
It's not all been an entirely smooth journey, but the disappointments have been rare. His finishing needs work and his decision-making is iffy at times, but it says it all that after four months his nadir – and these matters are always relative – was being replaced at half-time in the home fixture against Newcastle. Did that affect his confidence? Not quite: he bounced back with a hat-trick against Bournemouth. Sterling's level-headedness and composure off the pitch are known to have impressed those working at the club.
Intriguingly, his best performance in a City shirt came when he reprised his role at Liverpool as a fleet-footed leader of counter-attacks. In the crucial Champions League encounter away to Sevilla, Pellegrini ditched his usual open, naive tactics in favour of a more disciplined approach as he looked to contain the Spaniards in midfield and then hurt them on the break with the pace of Sterling and Jesus Navas.
The England international was in his element. He was intense in his pressing, direct on the ball and decisive with his end product. It was a performance that captured everything that was so irrepressible about him in Liverpool's 2013/14 title-challenging campaign, when he scored nine league goals and set up another five.
Taking centre stage
The task for him now is to take his game to the next level. Sterling needs to move from talented youngster to consistent star, from the fringes at Manchester City to a more central role, and then learn to dominate with England.
From everything we hear about him, he has the right mentality to do just that. He is willing to learn, happy to work on his weaknesses and turn them into strengths. He is mature enough to know that he has not made it in the game just yet.
He is, after all, just 20 years old. It feels as if he has been around for many years, but despite more than 150 career appearances, we must not forget just how young and fresh-faced Sterling still is.
Harry Kane, who is just starting to become an England regular, is 22. Ross Barkley is 21. Sterling is still younger than Eric Dier and Jesse Lingard, both of whom have only recently come to Roy Hodgson's attention. There are few players around the world who start every week for a title-challenging club at the age of 20. To that extent, Sterling is special and has already laid the foundations for a stellar career.
The next step
Of course, there are areas to improve upon. He will get plenty of opportunities at Manchester City to work on his finishing, for while there has been the occasional clinical moment at the Etihad Stadium – such as his goal against Bournemouth when he picked the ball up out wide before turning inside, dropping his shoulder twice and calmly stroking home with defenders left sprawling on the ground – he has a tendency to hesitate in front of goal and avoid taking opportunities with his left foot.
He needs to work on his decision-making, too, and learn when to take on a defender and when to keep play ticking more simply. And despite his eagerness to help with defensive duties, he could still do more.
For his club, due to the quantity of established world-class players, Sterling may find it difficult to stand out. But at international level, with England not blessed with such ability, he has to stamp his authority.
The 2016 European Championship in France is looming, a tournament that will provide him with the perfect opportunity to step out from the shadows and be the Three Lions' main man.
If he were to demand the ball more often and have confidence in his ability to make things happen, he could be the catalyst for an enthralling campaign. The ability is there and the desire is there. Now Sterling just needs to build on the considerable promise – and believe he can.
Joe Hart discusses Raheem Sterling and his team-mates with FFT
The list
50-41
The small print: how we chose the #FFT100 list
#FFT100 The Best 100 Football Players in the World: list and features here
Quizzes, features and footballing fun
Get the best features, fun and footballing frolics straight to your inbox every week.
Thank you for signing up to Four Four Two. You will receive a verification email shortly.
There was a problem. Please refresh the page and try again.