How Rooney could cause Skrtel & Co. nightmares in Anfield showdown
The England captain has stepped up in the absences of Robin van Persie and Radamel Falcao at the sharp end, but Alex Keble says he offers so much more than goals...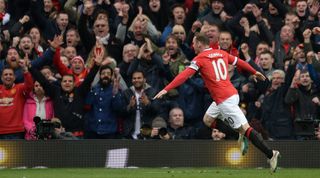 We can expect a mixture of crunching tackles and technical artistry in this north-west derby, as two in-form sides favouring high-intensity football clash in a hugely important fixture. With Louis van Gaal reluctantly evolving his tactical philosophy towards a Ferguson-esque style that includes long balls to the wings and Wayne Rooney as a striker, Liverpool's back three may – like Spurs – struggle to deal with the England skipper.
Van Gaal's recent acceptance of Rooney as a forward is symbolic of a wider trend of progression towards Fergie-like football; recent weeks have seen long passes aimed towards Marouane Fellaini, Ashley Young terrorising as a traditional winger from the left, and quick, direct distribution into the final third.
In the first 45 minutes against Spurs, United consistently played the ball down the left channel, where Young found space to fire crosses into the box.
Key to this tactical shift has been Rooney, whose positional intelligence and movement off the ball has created space for his team-mates, rejuvenating their attacks and making United look, all of a sudden, like a team who know what they're doing.
In his seven games this season as a striker, Rooney has averaged 41 passes per match, significantly more than Robin van Persie (20) and Radamel Falcao (17.5). This statistic is indicative of Rooney's superior work ethic, running into the channels and dragging defenders with him.
Rooney received numerous long passes over the top of Spurs' defence. Playing up front against Swansea, his influence was far greater than his fellow strikers are capable of.
Ahead of the opening goal last weekend, United attempted three high through balls to Rooney within the first eight minutes; partly due to a deliberate change in strategy, and partly because – unlike the other strikers at the club – Rooney was consistently making these runs.
It's for this reason that Michael Carrick was able to step into so much space in Spurs' half (the visitors' midfield had retreated to counteract these long balls) and slip a pass clean through the defence.
Having caused so much danger in the opening minutes, both of Tottenham's centre-backs stuck close to Rooney, creating a pocket of space for Fellaini to run into and Carrick to hit.
Without traditional full-backs, Liverpool may struggle with the directness and width of Manchester United's attacks, as their three centre-backs are stretched across the pitch.
It will be up to Martin Skrtel, the central-most defender and leader of the pack, to organise his team and ensure that this doesn't happen. If he can't, Rooney will thrive.
Liverpool vs Man United LIVE ANALYSIS with Stats Zone
Quizzes, features and footballing fun
Get the best features, fun and footballing frolics straight to your inbox every week.
Thank you for signing up to Four Four Two. You will receive a verification email shortly.
There was a problem. Please refresh the page and try again.