How to watch football like an analyst
Want to get clued up like G-Nev on Monday Night Football? John Robertson has you covered...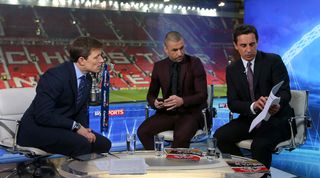 Deep down we all want to be Gary Neville; Liverpool fans included. To talk with authority on football, to have the final say and highlight the most vital insights before any conversation comes to an end on Manchester United's positioning of Daley Blind, or Newcastle's reliance on Daryl Janmaat to create width. That's the kind of expert football fans increasingly want to be.
Neville, perhaps more than any other individual on British television, represents a new breed of pundit – someone eager and happy to discuss some of the finer points of a team's performance.
No longer is describing the mechanical aspects of a goal good enough; modern football audiences expect to be educated on a more fundamental level. How, then, do you become a mini G-Nev? Years of study is the answer, but there's never a better time than the present to go about gaining a deeper awareness of what's happening on the pitch. Here are some fundamental elements of the game that you should look out for...
1) Who are the rogue players?
In broad terms, there are four phases a team can be involved in during a game: attacking phase, defensive phase, transition from attack to defence, transition from defence to attack. Almost everything that happens during open play can be categorised into one of these four phases. Being able to categorise an event quickly and accurately provides much-needed context for what is happening. For instance, a central midfielder might look wildly out of position seconds after their team has regained possession, but that unorthodox position might well be what the manager has told the player to concentrate on during the 'defence to attack' transitional phase (the idea being to catch the opponent off guard).
Keeping an eye out for which players are seemingly in an unusual position during any phase can be helpful in identifying early which players have the potential to cause problems. If you think that the midfielder is playing in an odd position (either universally or in relation to their team-mates/opponents) from your luxury view of the pitch on television or from the stands, the likelihood is that the opponent is going to be perturbed by it, too. When a player is confused, they are more likely to make mistakes.
2) Where possession is won and lost
One of the most decisive factors in the outcome of any given match are the areas of the pitch in which possession is won and lost. In other words, where are the two teams beginning and ending their attacking and defensive phases? There is no right and wrong answer to this, of course. Sitting deep and only seriously attempting to win possession back when within 30 yards of your own goal is just as acceptable as pressing high past the halfway line and trying to win the ball back earlier. It all comes down to how you want to defend and what you want to do with the ball when you get it back.
Keeping a mental note of where a team is attempting to win the ball helps enormously when it comes to deciphering a fundamental style of play and, based on where the ball is actually won, the success of it. There are any number of reasons why a team might position their defensive line closer to their own goal, but in general terms it's a safe bet to assume that their plan is to play a counter-attacking system.
SEE ALSO Why are so few Premier League teams winning at home this season?
STATS ZONE
Drawing an opponent into your own half, only challenging for the ball when your own penalty area is threatened, is a good way of creating space for your more attack-minded players during the 'defence to attack' transitional phase of play.
Chelsea, in recent years under Jose Mourinho, have provided a great example of this. Excellent at drawing teams into their own half of the field, the Blues are capable of breaking with stunning effectiveness thanks to the quality and speed of play during the 'defence to attack' phase. As play has been squeezed into one half of the field by Chelsea's deeper defence, the likes of Eden Hazard, Willian and Cesc Fabregas have plenty of opportunities to populate, and move the ball into, the space created in the opposition's half before their rivals have time to recover.
Counter-attacking teams of this ilk value players who are capable of taking advantage of those few seconds offered by the transitional phase and pop up in positions that are impossible to defend. This is made easier when you've got a talented passer like Fabregas who is able to get the ball very precisely and swiftly into the relevant areas. If you notice that a team has suddenly changed tactic and is now working to win the ball back earlier, you can be sure the entire approach to both defending and attacking has changed.
3) To feet, or not to feet?
It's the never-ending debate. Which is preferable: direct play or a slow build-up? It's a debate, though, that has become tainted by misrepresentation (ain't that right, Big Sam and Arsene?).
While many seem intent on defining the former as 'long ball' and the latter as 'tiki-taka', don't be fooled. Direct play can be satisfied by playing the long ball, but it doesn't have to be. Similarly, a system of patient build-up doesn't necessary owe much (or anything) to Pep Guardiola, Johan Cruyff or Barcelona.
Basic though it may be, the most sensible way to broadly categorise the two approaches comes down to whether forward passes are being played into a player's feet or into the space in front of and around them. If passes are coming to feet then you're looking at a team opting for a slower, more deliberate approach to building attacks. If passes are consistently being played in front of a player so that they can run onto the ball in space, then you're typically watching a direct approach to building attacks.
Identifying changes to a team's approach play is one great way to understand a team's intention, and it's one of the things that tends to change as a match goes on.
Manchester United under Louis van Gaal start matches very much dedicated to a slower, risk-averse form of build-up play – passes aimed at players' feet, with possession being the primary goal. With the ball, you're in control of the pace of play, after all, and you eliminate the risk of a counter-attack against you.
However, when the going gets tough and an emergency goal is needed, Van Gaal isn't afraid to put Marouane Fellaini up front and switch to a very direct style of play that sees more passes hit beyond United's players in order to put a defence under regular pressure.
4) Get the bigger picture
All of this is easier to read and absorb when you have access to the entire pitch. Typical television broadcast angles omit large chunks of the game at any one time, which can make it difficult to get an accurate picture of a team's approach and how certain players are positioning themselves in relation to one another.
Therefore, it pays enormously to make the effort to go and see as many live matches as possible. Whether that's sitting in the padded chairs of the Emirates Stadium or standing in the windy terraces of Dagenham and Redbridge's Victoria Road, being able to see the entire pitch will result in significant leaps forward in your understanding of basic tactical principles.
Alternatively, Sky's new 'tactical cam' option (more on which in the next feature) presents a view of the pitch that is much wider than we're used to from TV coverage and provides more information for you to digest. If you're especially dedicated then you might consider recording games and watching them back a couple of times; the first to watch as a fan and get a general idea of how the game played out, the second to study it in more depth with the luxury of being able to pause and rewind the action.
READ THIS NEXT The 4 best ways to digest football this season
More features every day on FFT.com
STATS ZONE Free on iOS (opens in new tab) • Free on Android (opens in new tab)
Thank you for reading 5 articles this month* Join now for unlimited access
Enjoy your first month for just £1 / $1 / €1
*Read 5 free articles per month without a subscription
Join now for unlimited access
Try first month for just £1 / $1 / €1