How Xherdan Shaqiri went from summer afterthought to shining star in Philippe Coutinho's place
Nabil Fekir was first-choice signing at Anfield last summer, making the Swiss something of an underwhelming alternative. Turns out not so...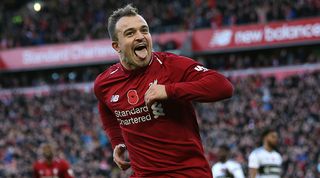 Xherdan Shaqiri's calm finish against Cardiff was a big moment in his early Liverpool career, and not just because it was the first time he'd scored in the Premier League for the Reds.
The manner in which he swivelled his hips to sell defender Sean Morrison a dummy was very Coutinho-esque. His finish past Neil Etheridge, one a seasoned marksman would have been proud of, gave those in the Kop a glimpse of a player who was a lot more refined than people like to acknowledge.
It was, perhaps, the first time that Shaqiri was seen as a genuine replacement for Philippe Coutinho.
Second choice
The Brazilian left Anfield in January and Liverpool waited until May to name his successor. Nabil Fekir was earmarked to make the Fab Four whole again; Shaqiri was something of an afterthought. The Swiss was portrayed as an opportunistic buy: a relatively low release clause of £13.5 million, coupled with his versatility, made him the perfect squad player on a budget for a team lacking genuine attacking depth.
In a matter of days, the former Stoke man went from overrated to underrated. The fact he wasn't Fekir meant he was almost overlooked. A 26-year-old with over 70 caps for his country, a two-time Bundesliga winner with a Champions League winner's medal from his time with Bayern Munich, was being written off as though he was a failed Football Manager wonderkid who'd done nothing to warrant such a reputation.
His spectacular overhead kick against Manchester United during the International Champions Cup was a reminder of what he's capable of. It was that sort of goal many expected to see from the Swiss bulldozer – one for the highlight reel, but the sort that wouldn't be considered repeatable.
It was the type of goal Coutinho scored while he was honing his craft; the moment of magic that initially makes people sit up and take notice before that excitement morphs into frustration.
Such goals are rare – there's nothing consistent about them. For every effort from outside the area that flies into the top corner, there are a dozen more which sail wide and relieve pressure on the opposition.
Upping the ante
There was a time that Liverpool relied on those moments of magic from the Brazilian to break a deadlock, but Jurgen Klopp went about piecing together a team capable of carving out high-quality chances. The former Inter Milan youngster's eagerness to pick the ball up on the left and cut inside before curling an effort goalwards made the Reds predictable. The former Dortmund manager wanted them to be anything but.
Coutinho's game began to change. He was maturing as a player. His goal tally began to swell simply because he was getting into the penalty area with greater regularity. As per the Football Whispers database, his xG90 (expected goals per 90 minutes) stat rose from 0.19 – what it was when Klopp arrived – to 0.38 when he departed for La Liga.
Like with any elite player, he was overperforming his stats too. In the six months before his move to the Camp Nou, the Brazilian averaged 0.53 goals per 90 minutes. There was nothing there to suggest that 2017/18 Coutinho's output of goals and assists wasn't there to stay.
His final goal in red was a superbly executed effort from outside the area against Swansea, but his strike against Bournemouth is where the real Shaqiri comparisons can be drawn. The former No.10 picked the ball up just outside the area and made his way into the box. With defenders in front of him he feinted to shoot, and the space he created for himself was all he needed to calmly pass the ball into the bottom corner.
Mr. Sheen
Klopp had cultivated Coutinho and harnessed his rawness. With Shaqiri, it's a little different.
The 27-year-old was already a diamond in the rough that just needed polishing. While Shaqiri is famed for his power, it's his elegance on the ball which is shining brightest right now. There's a subtleness to his game that has helped Liverpool's No.23 not just force his way into the manager's plan as a rotation option, but actually given the German tactician a bit of a selection headache when it comes to selecting his best XI.
For the most part, Klopp has been married to a 4-3-3 system since he arrived in England, but lately the Reds have been deployed in more of a 4-2-3-1 shape. The idea was that it could accommodate Fabinho in a midfield two, but it's Shaqiri who seems to be thriving in the new system.
SEE ALSO Mo problems? The pros and cons of Jurgen Klopp using Mohamed Salah as a No.9
It may be a small sample size, but so far this season the Swiss has averaged 0.58 goals per 90, while his xG90 is 0.45, up from the 0.15 he managed while turning out for Stoke last term. His successful passes per 90 have climbed from 20 to 35, while he's also averaging 0.52 more open-play key passes.
The ex-Basel attacker has settled into life on Merseyside. When he's on the pitch alongside Mo Salah, Roberto Firmino and Sadio Mané, the Reds average a goal every 23 minutes. It's exactly the same as when Klopp's original Fab Four took to the field together.
Shaqiri has replaced Coutinho, not just as the fourth member but in style, influence and output. The sometimes-raw, almost always inconsistent player who frustrated fans at Stoke is gone, and in his place is a creative dyano who can produce something out of nothing. A reliable game-changer, match-winner and difference-maker.
Thank you for reading 5 articles this month* Join now for unlimited access
Enjoy your first month for just £1 / $1 / €1
*Read 5 free articles per month without a subscription
Join now for unlimited access
Try first month for just £1 / $1 / €1