Interview: Kenedy – Chelsea's boy from Brazil is playing for more than Coca Cola now
The Chelsea starlet chats to FourFourTwo to discuss his adjustment to London life, impressing Mourinho and getting his big break in testing circumstances...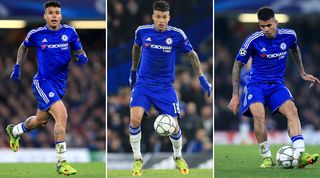 It might not be the kind of name you expect from a Brazilian starlet, but Robert Kenedy, the versatile Chelsea youngster, is indeed a samba boy. Robert Kenedy Nunes do Nascimento was born in 1996 in the state of Minas Gerais in the south-east of Brazil.
The youngster caught Jose Mourinho's eye during their North America pre-season tour in July, before going on trial and impressing the former Blues boss. Kenedy made the most of his 45 minutes in a friendly against Barcelona, giving the impression that he too might be a 'special one'.
Chelsea paid an undisclosed fee to secure him in August and there's no sense of regret around Stamford Bridge.
''I'll never forget my first day at Chelsea," Kenedy tells FourFourTwo. "Jose Mourinho looked at me and said: 'Let's see if you really are good, boy.'"
Straight in
Apparently, the Portuguese manager was convinced of his new player's capabilities to feature in the first team without being sent out on loan.
''I knew beforehand that Chelsea's youngsters normally go out on loan for a couple of seasons," Kenedy admits. "It might be good for some players, but I really wanted to stay here straight away. Luckily I could show my football ability and convince them I was worth a place in the squad."
In his first season in England, the South American has made a good impression so far. He may not have a regular spot into the team yet, but Kenedy has certainly demonstrated his potential and versatility since making his debut in August last year.
The left-footed attacker claims to be comfortable on either flank, in a central role up front or even as a left-back, a position that he's played in recently under Guus Hiddink.
''I'm happy with my own performances so far in England. I mean, it's my first season in the Premier League and it's not easy to adapt to the best football in the world. But I'm aware that I have plenty of room to improve and I'll be better next season for sure," he explains.
''I want to play. I don't really care if I'm playing as a full-back or a forward. As long as I'm on the pitch wearing a Chelsea shirt I'm proud and happy for having another opportunity."
Street education
Still only 20 years old, Kenedy became a professional player aged 17 at Fluminense. He was part of the Xerem youth system, where the likes of PSG's Thiago Silva, Real Madrid's Marcelo and the Da Silva twins Fabio and Rafael first emerged.
However, that wasn't the first step of his career. The dream of making a living out of football made him leave his place of birth, Santa Rita do Sapucai, in the countryside of Minas Gerais state, at just eight years old.
Kenedy then went to Rio de Janeiro, where he played for Friburguense and Vasco before joining Fluminense in 2013 in Brazil's 'marvellous city'. But when it comes to the fondest memories of his homeland, the first thing that pops into Kenedy's mind is the street football he used to play as a young boy.
This was where he developed his quick pace and ability for terrorising defenders. At least, that's what the man himself says.
''I played loads of street football in my childhood back in Brazil," he recalls. "You wouldn't believe it if I told you what my feet were like after a proper game in the streets of Santa Rita!
"If I'm a fast and skillful footballer nowadays, that's because of everything I have learnt in the street'.'
During those sunny days in Brazil, there weren't trophies to dream of. The pride of winning and, above all, avoiding getting thirsty after matches was all he could ask for.
"We played for a Coca Cola in those days; I mean, the winners were entitled to a bottle of coke," Kenedy tells FFT. "If you lose, you pay for your opponents' prize. A bottle of Coke was something we could afford back then and a way to make things serious.
"When I say serious, I mean really serious, you know? It was our own World Cup, nothing could be more important than winning those games against my friends. However, I've drunk much more Coke than I paid it for others,'' he grins.
Even though Kenedy is enjoying himself on and off the pitch in England, he's also looking forward to having some days off with his old friends in Brazil.
''I'm very happy in London. The weather is quite different to what I was used to, of course, but that's not a problem for me," he says. "The most difficult thing so far is the language. I'm trying to improve my English, so I can integrate easier with everyone here in England.
''But, yes, I'm counting the days to go back to Brazil on my holidays and buy some Cokes for my old friends."
Chelsea standards
The Blues are paying for their slow start of the season with a melancholic end to it. PSG and Everton recently ended Guus Hiddink's hopes of avoiding a trophyless campaign.
But although things have been difficult for Chelsea fans, the situation could turn out to be a positive thing for Kenedy. It's hard to imagine that the 20-year-old would've enjoyed the same number of opportunities last season, when things were running much more smoothly at Stamford Bridge.
Kenedy nets at Norwich
Kenedy is now focused on securing a regular spot in the first team.
"It's my dream to become a Chelsea regular," the youngster declares. "I'm very hungry and proud to be at one of the giant clubs of the world. It depends only on me to make a big impact here and I'm working hard to achieve it sooner rather than later."
Kenedy is confident that the Blues are back on track after a woeful season by their standards. Despite the team's poor run of results and performances this term, the Brazilian youngster has suggested that Chelsea won't need a huge squad overhaul.
The No.16 also denied any speculation that players have been unsettled at Stamford Bridge, and foresees a brighter future for his side.
''Our squad has always been united to fight for Chelsea," Kenedy says. "We are together and that's why we're finishing the season in a better way in comparison to our slow start.
''But obviously we know that we have to get better for next season. We had a difficult lesson in this current campaign – nobody was expecting these negative results from us.
"But if you look to our second half of the season you'll see that we've improved a lot. The players are together to try to make things better for the club. I'm confident Chelsea can win trophies next year."
Thank you for reading 5 articles this month* Join now for unlimited access
Enjoy your first month for just £1 / $1 / €1
*Read 5 free articles per month without a subscription
Join now for unlimited access
Try first month for just £1 / $1 / €1
Get FourFourTwo Newsletter
The best features, fun and footballing quizzes, straight to your inbox every week.