Leighton Baines is playing in the wrong position to transform Everton's fortunes
The Toffees star has been one of Roberto Martinez's only creative sparks this season, but John Robertson says the England man is better employed elsewhere...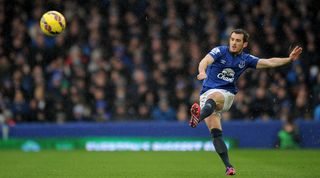 What a difference a year makes. In his first season with Everton, Roberto Martinez hauled the Merseyside outfit into fifth place in the Premier League, three points above Spurs and eight clear of Manchester United.
As it stands today, Martinez is some 19 points adrift of the former and 25 off the latter. It doesn't take a NASA-grade mathematician to conclude that something has gone badly wrong.
The obvious failing is that the team is both scoring fewer and conceding more than they were last year, with a number of high-profile 'stars' seemingly intent on demonstrating that class, as well as form, is temporary after all. Such lousy goal figures are only the symptoms of a deeper problem, though, one with its roots in tactics and the roles of individuals.
For all his swagger and flair, Martinez has shown himself to be largely inflexible when it comes to adapting his style of play. He's stubborn. He has an idealised vision of how the game should be played and he sticks to it. While there's some respect due for that level of focused dedication, the effect is a team flirting with the relegation zone rather than the European places.
After their humbling defeat at the hands of Dynamo Kiev, Everton's European travels are over for this season and next. To turn things around Martinez needs to show humbleness and malleability, the kind that will allow him to make the changes required for the short- and medium-term progression of the club.
Last year Martinez took Leighton Baines to watch Pep Guardiola's Bayern Munich with the specific goal of having him study the performance of Philipp Lahm.
Lahm successfully expanded his game following his transition from left-back to holding midfield, a change that Martinez has stated he has in mind for Baines in the future.
While it might seem perilous to interfere with the one player in your team who does tend to perform at a high level on a consistent basis, it's the kind of risk required to solve both Everton's defensive and offensive problems. The only issue with Martinez's plan is the 'future' element – the change needs to happen now.
An elite distributor
Everton have won just two of their 10 Premier League matches this calendar year, scoring a mere seven goals in the process. In six of those games they've not scored at all.
To say that Everton rely on a single provider of goals is an understatement. Baines has recorded 12 assists across league and Europe this season, double that of second-placed Romelu Lukaku on six. Following is Aiden McGeady on three and then, dismally, no one else has more than two.
Baines' assist totals are so high due to the nature of his passing. The generally accepted view of him as a stereotypically 'modern' full-back obsessed with getting forward and crossing early towards the box is false. In reality, Baines is a master passer with elite-level vision for spotting gaps and team-mates in central areas.
Simply looking at his last two league starts demonstrates how frequently he looks to distribute inside, using the entire length of the touchline to do so. Everton scored five goals in these two matches; in the two sandwiched between them, in which Baines didn't appear, they didn't score at all.
Attacking vision
The most common passing combination in the 2-2 draw against Leicester was that of Phil Jagielka to Baines, highlighting the Everton defence's understanding that more good is likely to come from getting the ball to their left-back than it is to a midfield failing to consistently create chances.
In that same game, however, Baines's preferred target was Lukaku, the Englishman passing to the Belgian more often any other player.
Already, then, Baines demonstrates the leadership skills required to link play from front to back – an essential talent for a genuinely-modern holding midfielder in the image of a Lahm or Xabi Alonso.
Clearly, getting the ball forward helps Everton's ability to create chances whether Baines continues to be involved in the play or not. His attacking awareness gives players in front of him the chance to make things happen. Chances created in previous two league games in which Baines started...
And compare that to the two most recent games in which he didn't...
Solid at the back
The ability to see an attack before it happens and perform the relevant pass is, of course, just one element of a holding midfielder's role. Circa-2015 such players must also be adept defenders; blocking off passing lanes, challenging for the ball aerially and being willing to make timely tackles where necessary.
Despite playing fewer games than Gareth Barry this season, Muhamed Besic has been Everton's top performer in holding midfield. Even he, however, cannot match Baines's ability to halt an opposition attack before it starts.
The difference in their approach is most obviously demonstrated by again looking at the most recent league games in which Everton scored. Where Besic relies on his tackling ability, often in dangerous areas, Baines defends higher and relies more on getting to the ball first through inceptions and clearances.
It's that ball-winning higher upfield that assists Baines's forward passing, allowing him to get ahead of play more often. Besic, by comparison, lacks the passing vision – a problem made worse by the fact that he tends to win the ball back deeper and, therefore, is met with greater resistance when he looks forwards.
However, it's the combination of Baines and Besic in central midfield that is perhaps the most exciting prospect. If Baines fails to break up the play then Besic is on hand to perform the last-gasp tackle, after which he can play a simple pass to his team-mate. From there you can start thinking about an attack.
For that to happen, new ways of thinking need to be implemented at Everton. A player of Baines's intelligence and ability is capable of influencing the game in ways that he can't by playing on the left side of defence. To fulfil his personal potential, and that of the team, he needs to be brought into the middle.
QPR vs Everton LIVE ANALYSIS with Stats Zone
Quizzes, features and footballing fun
Get the best features, fun and footballing frolics straight to your inbox every week.
Thank you for signing up to Four Four Two. You will receive a verification email shortly.
There was a problem. Please refresh the page and try again.