Lionel Messi: Losing to Saudi Arabia helped us
Argentina talisman Lionel Messi has seen the silver lining of losing his opening World Cup game, having now reached the competition's final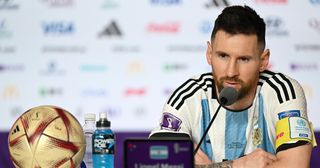 (Image credit: Shaun Botterill - FIFA/FIFA via Getty Images)
Lionel Messi believes that defeat to Saudi Arabia in Argentina's opening group game may have helped the Albiceleste reach the World Cup final.
Argentina suffered a shock 2-1 loss in their first game of the tournament, but responded by beating Mexico and Poland to win Group C, then overcoming Australia and the Netherlands in the knockout stage.
Last night, they defeated Croatia 3-0 to reach Sunday's showpiece – Messi put them ahead from the penalty spot, then had a hand in both Julian Alvarez goals, to earn yet another man of the match award, and move level with Kylian Mbappe in the race for the golden boot.
"What I can say is I'm enjoying this a lot – I'm feeling really good," the 35-year-old told the post-match press conference. "The first match of the World Cup was a hard blow for all of us, because we'd been unbeaten in 36 matches. We didn't think we'd lose against Saudi Arabia, so to start like that was an acid test.
"But this squad proved how strong we are. Every match was a final after that, and that had a mental load for us – if we didn't win, things would be complicated for us. We've played five finals, and luckily we were able to win all five, I hope it will be the same for the last game.
"We knew what we were capable of – we lost the first match, but from then on it really helped us to be stronger and grow internally."
Messi reserved praise for boss Lionel Scaloni and the backroom staff after cruising to victory in the semi final, despite only having 39 per cent possession.
"We prepared this match in a very good way," he said. "We knew that Croatia would have the ball, that we'd need to run in this match, then take our chances.
"This is a very intelligent and wise squad – we know how to read the game, we know how to suffer, and when it's needed to press. We have an excellent technical staff who know what they're doing. Every detail counts in every match, we are not lost, we know what to do in every moment of the game, how to win.
"We knew we would play this way in this match, and that's why we were not desperate when we had to run. We knew their strength was possession, but we knew our strength could be to recover the ball, because sometimes they are not that tidy and they left spaces. I feel very happy in this World Cup."
Scaloni returned the compliment, praising Messi for his performance. "Sometimes people could think of course we will say it as Argentines, but I don't have any doubt, he's the greatest of all time, I've been saying this for a long time and I'm honoured to be able to train him and see him play," the manager said. "Every time you see him play, it's a huge source of motivation for his team-mates, for the Argentinian people, for the whole world. It's a privilege to have him in this squad.
"It's thrilling to advance to the final, a historic moment and we need to enjoy it, but we still have one step ahead. It's very difficult to put this into words, this is what I'd always dreamed as an Argentine. You're representing your country – it's emotional.
"In tough moments when we lost to Saudi Arabia, our people were supporting us, we could feel their support, they were backing us, and that's something unforgettable."
Zlatko Dalic confirmed that he will be staying on as Croatia boss after this tournament. The Adriatic side now go into the third place play-off on Saturday.
"Yes, I will continue, my contract is until 2024," he said. "In six months we have the Nations League finals, and my objective is to take Croatia to Euro 2024.
"The players are sad now, it's really hard for them, they feel they could have done more, but they haven't and we need to be ready for the match on Saturday.
"The first goal took the match in a different direction, but I told the players that they have to keep their heads up, they have to be proud of what they've achieved so far, and we need to be ready to fight for the third place."
Thank you for reading 5 articles this month* Join now for unlimited access
Enjoy your first month for just £1 / $1 / €1
*Read 5 free articles per month without a subscription
Join now for unlimited access
Try first month for just £1 / $1 / €1
Get the best features, fun and footballing quizzes, straight to your inbox every week.
Chris joined FourFourTwo in 2015 and has reported from 20 countries, in places as varied as Jerusalem and the Arctic Circle. He's interviewed Pele, Zlatan and Santa Claus (it's a long story), as well as covering Euro 2020 and the Clasico. He previously spent 10 years as a newspaper journalist, and completed the 92 in 2017.
Get the best features, fun and footballing quizzes, straight to your inbox every week.
Thank you for signing up to Four Four Two. You will receive a verification email shortly.
There was a problem. Please refresh the page and try again.