Liverpool fail in Jude Bellingham pursuit: Why Jurgen Klopp and FSG must share responsibility
Liverpool looked set to land Jude Bellingham this summer before reports came out that the Reds were abandoning that pursuit. Now, Matt Ladson of This is Anfield explains why manager Jurgen Klopp and ownership FSG must share the burden of that failure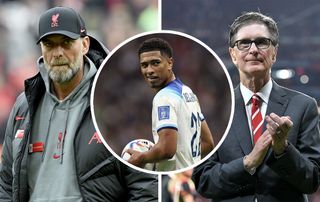 (Image credit: Future)
Last summer, Liverpool manager Jurgen Klopp claimed to be baffled by repeated questions over the need to sign a midfielder. "I don't understand it," he told journalists ahead of the Reds' pre-season.
The manager went on to name nine midfielders in his Premier League squad. Six weeks later he signed another, Arthur on loan. Six months later and Liverpool's best midfielder was none of those 10 but academy player Stefan Bajcetic.
Meanwhile, Klopp had changed tune, admitting that they did actually try to sign another midfielder last summer but that the player, Aurelien Tchouameni, went elsewhere, to Real Madrid.
This whole episode shows how a manager's words in public are never actually the case behind closed doors. Klopp's defence of his nine midfielders was a way of backing them ahead of the season; he was hardly going to say, 'oh yeah we wanted to replace our midfield but missed out, now we're going to wait to replace them next summer instead'.
The general consensus since then remained that Liverpool were waiting for a high-level midfield addition, not settling for a second or third choice option - a tactic they employed when waiting to get Virgil van Dijk, for instance.
That target, of course, was Jude Bellingham.
And reports increasingly indicated that the 19-year-old was interested a move to Anfield, that Liverpool were favourites to sign him from Borussia Dortmund. German reporters even claimed the Reds had made a bid this week.
But it appears that Dortmund's response to that bid has seen Liverpool withdraw from the 'race' to sign the prodigious England international.
It all leaves Klopp and Liverpool looking pretty daft. Why did they refrain from making other midfield signings, seemingly willing to wait for Bellingham, when everybody knew that the price involved would be north of £100 million a long time ago?
Liverpool manager Klopp and ownership FSG are both responsible for the Bellingham bungle
How have Liverpool ended up here? There's plenty of factors but both Klopp and the owners must take their share of the responsibility.
Firstly, owners Fenway Sports Group are too risk-averse. Something even Klopp has even admitted, saying last August that "from time to time I would be ready to risk a bit more."
Whether it was Klopp's decision to wait for Bellingham or not, FSG implemented a sporting director model at Anfield for a reason and somewhere along the lines they've strayed from that, giving more power to the manager. It's why they've ended up with a lack of midfield signings and now a midfield dominated by players past their prime years, backed up by talented youngsters who are far from ready for the first team at an elite club.
According to a report at the time, Klopp personally intervened to ensure Jordan Henderson got a longer contract renewal in 2021. Now, the club are tied to a contract that takes him to age 35. Klopp has insisted he isn't 'too loyal' but the evidence suggests otherwise.
Between them, Klopp and FSG have allowed the club's squad to become too unbalanced in terms of its age profile, with the manager now admitting that big changes are required - and is even the reasoning given by journalists for moving away from Bellingham, that the financial resources are needed in order to overhaul the squad.
Had Liverpool invested better, or more, in recent years, they would be more capable of putting their resources into Bellingham this summer.
The other reported reason for no longer pursuing Bellingham is the lack of Champions League football now next season - something that is made all the more ironic given that the reason for such poor performance this season and thus not qualifying is due to having not invested in the midfield previously.
By opting to wait for Bellingham, Liverpool put themselves in a position where they cannot attain Bellingham. It's an ironic and arguably calamitous strategy.
One thing that has always been a worry under FSG is the feeling that 'tomorrow never comes' - it's always next summer will be the big investment, the big transfer, the big splurge. It never happens.
The squad is often left short and the season has often ended in narrow misses - the two seem to be linked. There's always the nagging question of 'what if'. What if they'd signed a centre-back rather than be left short and have to write off the season two years ago? What if they'd signed a midfielder last summer, reached their goals of Champions League qualification this season, and then been able to sign Bellingham?
On the occasion when they did risk recently, signing Luis Diaz last January only because Tottenham had bid for the winger and thus forced Liverpool into action earlier than they'd planned, it paid dividends. But still they remain risk-averse, despite this glaring example of a risk paying off.
Now, they need multiple midfielders because the squad has been exposed as being far from the required level, particularly in midfield. Even though the club knew all along that there was a need to sign midfielders.
Liverpool had the opportunity to sign a generational talent, a player who would have been Liverpool and England captain, an icon sporting the No.8 shirt.
If indeed their pursuit really is over, FSG and Klopp need to produce an impressive performance in the summer transfer window. The time for excuses is over, it's time to deliver what is required to ensure that next season isn't a third out of four that is written off.
Can they do it? They've done it before in Klopp's early years. But as the manger has said since, they need to be perfect, there is no room for expensive mistakes.
Thank you for reading 5 articles this month* Join now for unlimited access
Enjoy your first month for just £1 / $1 / €1
*Read 5 free articles per month without a subscription
Join now for unlimited access
Try first month for just £1 / $1 / €1
Get FourFourTwo Newsletter
The best features, fun and footballing quizzes, straight to your inbox every week.
Matt Ladson is the co-founder and editor of This Is Anfield, the independent Liverpool news and comment website, and covers all areas of the Reds for FourFourTwo – including transfer analysis, interviews, title wins and European trophies. As well as writing about Liverpool for FourFourTwo he also contributes to other titles including Yahoo and Bleacher Report. He is a lifelong fan of the Reds.