Manchester United have already stopped their rivals winning a treble by winning an FA Cup – will history repeat itself?
Manchester United have been here before, foiling Liverpool for a treble on a day at Wembley: now, they can do the same to Manchester City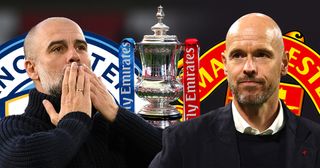 (Image credit: Future)
Manchester United need no incentive to beat Manchester City to an FA Cup trophy and a second domestic title of the season. But just in case, there's a pretty big one at stake.
The Red Devils are the only English club to have ever clinched a treble of Premier League, Champions League and FA Cup. That was back in 1999 – and now noisy neighbours Manchester City stand on the precipice of recreating that iconic achievement, with a maximum of 180 minutes remaining for them this season.
Manchester United have been in City's position before… but they've also been in their very own positive of attempting to stop rivals from winning all three of these trophies.
Manchester United once stopped Liverpool from doing the Treble – now they have to do it again with Manchester City
The year is 1977, the shorts are short and the hair is long. English football rules the waves at this time, with Liverpool dominant on the continent and in the midst of their dynasty.
This was a vintage squad for the Merseysiders and in '77, they swept the league title before batting Borussia Monchengladbach aside in the European Cup showpiece. Sandwiched between those two trophies, United lay in waiting, having shockingly lost the previous Cup final to underdogs Southampton. Hopes were perhaps slimmer than facing Erling Haaland in 2023.
"We were expected to be beaten that day because it was daunting to come up against that side back then," Sammy McIlroy, who was in the United side that day told FFT. "They were a fantastic side with so much quality. To win that game after the disappointment of '76 more than made up for it.
"That's right, we stopped Liverpool from winning the treble! That was great. In 1963 under Sir Matt [Busby], Manchester United beat Leicester City in the FA Cup and that was the first major honour that particular team had won – but in 1977, it was even sweeter."
Erik ten Hag will certainly hope to draw on that day to preserve his club's legacy as the only English Treble-winning club. If not, Inter Milan are up next in Istanbul – and they know a thing or two about Trebles, themselves.
Thank you for reading 5 articles this month* Join now for unlimited access
Enjoy your first month for just £1 / $1 / €1
*Read 5 free articles per month without a subscription
Join now for unlimited access
Try first month for just £1 / $1 / €1