Mark Hughes: One-on-One
"There was a comic called Sparky, it rhymed with Mark, so I picked that. It wasn't because I was a frustrated electrician or anything..."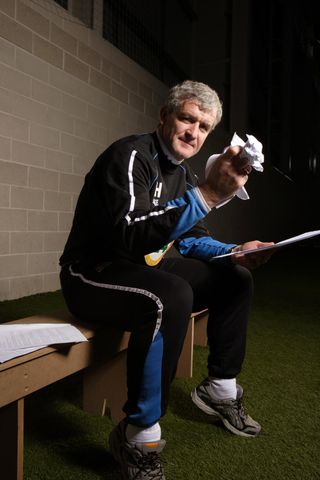 Why don't you call yourself Leslie, your actual first name?
Colm Lynch, London
Because Mark's my name, Leslie's my father's name. [Looking bemused, then smiling] No one has ever asked me that before! I was always going to be Mark Leslie Hughes, but maybe it sounded better or looked better on the birth certificate as Leslie Mark Hughes. That's the only reason, but I was always going to be Mark.
Being Welsh and as hard as nails, was rugby ever an option?
Luke Robbins, Newport
I didn't go to a rugby-playing school so I never played. When I was in South Wales having football trials, people said 'You'd be a good scrum-half' or whatever, but I never knew what they were talking about! I'd sometimes throw a ball around with my mates but I never played an organised game. There wasn't a lot of rugby played in my part of North Wales.
When did you first hear the name Sparky?
Paul Nan, Oxford
With a group of friends when I was seven or eight. For some reason, we decided we were going to be nicknamed after a comic. I had a mate called Beano, so I had to pick one. There was a comic called Sparky, it rhymed with Mark, so I picked that. It wasn't because I was a frustrated electrician or anything, although I did have visions of being one.
You were known as 'Lager Legs' as a lad in Wrexham. Was there a point when you realised that booze and football didn't mix?
Griff, via e-mail
Yes. I wrote a book and they were trying to sell the serialisation rights to a newspaper. They needed to hang it on something so we came up with this one chapter which I've regretted ever since. It's as cynical as that, I'm afraid. I enjoyed a drink; I was part of a generation that did and I was doing no more, no less than anybody else. It was never a problem for me.
You're rarely mentioned in tales of Man United's drinking culture in the 1980s. Did you come a cropper in a session?
Pete Williams, Oldham
We were just doing what everybody else was doing. If the captain said it was captain's day out on a Tuesday afternoon after training, you made sure you were there because we built team spirit around that. You can't do that now because to perform in the Premiership, you've got to be physically spot on. In those days you didn't realise what you were doing.
Did you only leave United for the money? Surely, you weren't badly off there?
Tony Barnett, Wilmslow
I was on something like £250 a week and still living in digs. I couldn't afford to move out even though I'd been playing in the first team for 18 months. In the September before I left, a new contract put me up to £1,000 a week, but the situation just snowballed. I met the Barcelona people around January of the year I left [1986]; I was talking to one of the greatest clubs in the world and I was thinking 'I really don't want to be here.' But I was led a certain way and before I knew it, I signed. Even up to getting on the plane to move out there, I was thinking maybe something will change and I won't actually go. As it was, I ended up on the plane, but it wasn't for the money.
Gary Lineker joined Barcelona at the same time. He thrived, you struggled. Why?
Matt Lipson, via e-mail
Gary was a bit older and he was there with his wife. I was on my own. I'd just met the girl that turned out to be my wife, so it was difficult being separated from her. Barcelona signed you, paid you decent money, but that seemed to be their obligation finished with. It's not like now where you've got people to organise your house, the kids' schools, cars, everything. I didn't speak the language. I didn't have a car so I ended up hiring one for three months because I didn't know where to buy one. It was shambolic.
I probably settled quicker on the football field than Gary – I scored a few goals while he had an injury and was in and out of the team – but Gary's style of play was more suited to the Spanish game. He was all about movement and getting on the end of things whereas my game was physical and the referees didn't like it. I was an aggressive player, but by the time I left Barcelona I wasn't playing as aggressively as I knew I should be, so I was less of a player. I don't regret it; I just think I didn't realise what an opportunity it was.
You scored one in three at Bayern Munich. How did you like Germany?
Ray Martin, Southampton
I certainly had the haircut! I enjoyed it. I'd been out of the Barcelona side for six months. I had an eight-year contract so I was looking at another six years of training and going back to my apartment – that's all I did. But I wanted to play and Bayern was perfect. The comparison between the two clubs was marked. Bayern have football people in charge. Uli Hoeness understood the mentality of players. Straight away your car was sorted, you knew where you lived, what time you had to be in – it was very German in many ways, but because of that I was very comfortable there. The football suited me, it was probably a halfway house between English and Spanish football, and I had a fantastic time. It's a great club.
I seem to recall you playing two games in a day: one for Wales and one for Bayern. Did you? Or am I losing it in my old age?
Alan Pegg, via e-mail
No, you're not losing it. I was due to play in a European Championship qualifier against Czechoslovakia which we needed to win to qualify. The week before, I'd signed for Bayern and I had dinner with Uli Hoeness who asked me what time the Wales match was. I told him it was around midday and he said, 'That's OK then, you can play in the evening as well.' Apparently he'd done it before with Soren Lerby, the Danish international. So we kept quiet about it, Uli went to the Wales game and picked me up and we flew to the Bayern game which was just on the other side of the Czech border.
We actually flew over the ground and missed the first half, but I got there at the start of the second half. We didn't tell anybody – there was a guy in the Bayern team who had a similar haircut to me and when they saw him warming up everybody thought it was me. Then they put my name up and I came on. We were 2-0 down and I'd like to say I turned it round but I didn't because I was hopelessly knackered. But the other guy who came on was Rummenigge's younger brother; he scored two goals and we won.
Your hair: how much of natural curl, how much of a perm?
Nigel Grey, via email.
I had it permed once when I was at school at the height of the Kevin Keegan era. Everyone was having it done, but I soon realised I didn't really need the help of a perm. It got a little bit too tight so after that I just left it natural. Those days are gone unfortunately – the texture of my hair is completely different now.
After becoming a legend in your first spell at Man United, were you worried about going back to Old Trafford – especially for a club record fee?
Danny Coyle, Belfast
It's in the back of your mind that you should never go back, but it was a different club. Alex Ferguson had replaced Ron Atkinson, there had been a tidying up of discipline and everybody knew which way the club wanted to go. If it had been any other club I probably would have stayed in Munich but United swayed me. It was difficult the first couple of years; I did OK personally, I won the Player of the Year, but the team itself wasn't as strong as it was going to be. Then we won the FA Cup, and from then on it was fantastic.
You scored in the 1991 Cup Winners' Cup Final against Barcelona. How tempted were you to give the Barça fans the big one? Is that your finest performance?
Ollie Moore, via email
No, I didn't play particularly well. The first goal I pinched off Steve Bruce, who wasn't too happy. Everybody jumped on him but I looked up at the scoreboard, saw my name in lights and thought, 'Steve can have the lads jump all over him, I'll just have the goal!' The second goal was decent enough but I never had a problem with the Barcelona fans. They gave me a hard time on a few occasions, but I didn't play particularly well over there. I had a fantastic opportunity to be a success and I didn't take it. That wasn't the fault of the Barcelona fans, it was my own.
You were always a great big-game player. Why?
Luke Smith, Liverpool
I enjoyed the big games, the bigger the better. Some players have difficulty with that, which I find strange. If you're in this sport then surely when you get an opportunity to play in a game of huge significance you should enjoy the experience. I just soaked everything up: the game itself, the fans, I loved it, so more often than not I had an impact.
How much of a regret was it to never reach a major tournament with Wales? Was that part of your motivation for managing the national side?
Dan O'Hara, Brighton
Yes it was. That was the one thing missing from my career. I played in Europe, I won trophies and international caps, but I never played in a major international tournament. We'd miss out one year and think, 'In two years' time, the European Championships qualifiers will come around – maybe we'll have a better chance then.' Then that chance would disappear. In the end we ran out of chances, and it was a big regret. So when I got the opportunity to manage the national team that was the Holy Grail: to get us close to qualifying for a major championship. We did that but we fell at the last hurdle.
What was the most severe hairdryer treatment you received from Sir Alex?
Donald Raynes, Birmingham
I had a few! In one instance, I nearly got taken off after 15 minutes. I wasn't aware at the time, but we were playing Leeds in a cup game, and I had a couple of throw-ins thrown to me and I knocked them straight out of play. Apparently Sir Alex came running down the stairs to get me off because he thought I was a bit sloppy. Brian Kidd had to calm him down and say, 'He'll be alright, he'll get into the game in a minute'. I ended up scoring a goal and we won the game so I got away with it, but I was definitely coming off after 15 minutes.
What was your relationship like with Eric Cantona?
Rob Harris, Leicester.
Eric was a fantastic player, a strange guy, his own man. I had a decent enough relationship with him. He rented my house for two years so my wife got friendly with his wife, but we never really socialised together. On the field, it was a really great partnership, I thought. I'm still convinced that if I'd been playing against Crystal Palace what happened wouldn't have occurred. It's only my theory but I used to know when Eric had completely lost it. I'd see his eyes go a little bit blacker than usual, and I'd know that for the next five minutes I'd better keep an eye on him. If there was any sorting out to do, I'd say, 'Leave it to me Eric, I'll boot him for you. Calm down and we'll be alright.' But I'd been injured against Newcastle and I was out for four or five games so I was listening to it on the radio and I remember thinking, 'You've really gone and done it this time'.
You seem like an intelligent, articulate sort of bloke, but as a player you weren't averse to the red mist. Can you explain what goes through a player's head in those situations?
Frank Carr, Leeds
I can understand it, but I can't explain it. If you're trying to play in a certain way and people try to physically stop you, then on occasions you will react. When I was playing, people were out to stop you affecting the game. The United team of '93-94 had to be physically and mentally strong because we knew that for the first 20 minutes teams would try to intimidate us. That option is taken away now: people will try to make you believe that Blackburn intimidate teams, but it's an impossibility. The game today is completely different to when I played. FIFA are doing their best to make it a non-contact sport – which will make it less of spectacle.
Who's the best player you ever played with? There's some competition...
Ryan Green, Durham
Well, Eric is definitely up there. Gianfranco Zola was a great player, a great guy as well. I really enjoyed my time at Chelsea. I went there at the right time, just as they were starting to take off, and I really enjoyed playing alongside Zola, Gianluca Vialli and Ruud Gullit. A lot of those players would be high on the list. 10, 15 years ago British players weren't particularly professional, so when the top foreign players came over it really struck us. Their attitude to their everyday work, the way they prepared for each game – you'd watch them work, prepare and train correctly and that had a huge impact.
Who was the real guv'nor among the players you played with: Ince, Robson, Keane, Vinnie or yourself?
Gary Fleet, Amsterdam
For me, it was always Robbo because he was my captain. Everything that happened at the club went through Robbo and he was also one of the few players that could change the momentum of the game just by his presence. My experience with Roy Keane was different because I was a senior player when Roy came and in the first year or so he kept himself to himself. It was only when the senior players left that he became the Roy Keane we know now. Incey just thought he was the guv'nor and that will never change in his own mind! One of the great shames of our time together is that, because of the circumstances of his leaving, people forget what a great player he was for United. He was a major player and a major reason why we won league titles.
In 1995, when Alex Ferguson filled the team with kids, what did you and the other senior players who had been discarded think? Surely you agreed with Alan Hansen?
Garry Hayes, via email
I didn't agree with him. He didn't know what I knew because I'd seen them for two years prior to them breaking through. When you're a senior player and there's a group of talented young players coming through, you have to take notice because at some point they'll take your place – and that's what happened with myself, Paul Ince and Andrei Kanchelskis. The surprise was that we were allowed to go at the same time. I don't think anyone expected them to win the double that first year, but all the senior players at the club knew there was a young group coming through who were exceptional.
Were you surprised when Fergie sold you to Chelsea?
Jamie Barakat, Sydney
I wasn't surprised because I'd already been replaced when the club bought Andy Cole. When Eric jumped into the crowd, I thought there was a chance I'd be able to stay a bit longer, but once he'd made the decision to stay, I knew I wouldn't play and if I wasn't playing I wasn't particularly nice to be around. I'd had a long time being first-choice striker and a big part of my life had been spent at United. I went there when I was 14 and left when I was 31 so I can't complain. I knew it was right for me to leave and it was right for the club.
Is it true that Ruud Gullit heard a Liverpool player say, "We'll be OK as long as they don't bring Hughes on" when you were losing 2-0 to them at half-time?
George Robins, Telford
I'm not sure about that comment, but I wasn't happy because I was on the bench and I always liked playing Liverpool. We were 2-0 down, not looking like we were going to have an effect on the game, struggling to be perfectly honest. I came on at half-time and I think Mark Wright didn't particularly enjoy playing against me. I got a goal quite quickly, the crowd jumped on it and we rode the wave. I scored, then Luca [Vialli] scored a couple, Franco [Zola] scored and it was a great turnaround. We blew them away in the second half and it was a great game. A game of significance. I enjoyed it.
What's the best goal you ever scored?
Ben Levy, London.
The best goals are the ones people remember. Most people remember either the goal against Oldham in the FA Cup semi-final or the Cup Winners' Cup goal against Barcelona. Over the years I've probably scored better goals technically, but because so many people remember those goals and the Wales goal against Spain maybe, those are the ones that stand out.
Unusually, you managed your country first. How did you find the transition from country to club management?
Marcus Raymond, Lancashire
People say I did it the wrong way round, but it was ideal for me. I actually thought Roy Keane would have been perfect for the Irish job because I know how much it helped me to understand what management is all about. You could play a game, have all the pressures leading up to it, then the game would finish and you'd have this time before the next one when you could reflect on what happened, how you approached it, what you could improve.
That space between games really helped. You weren't in the full glare week in, week out so you have time to build your own philosophy of how games should be played and how to deal with players. So from my point of view it was a great education. When I made the decision to go into club management, I knew I was ready. You see so many examples of top players being given great opportunities but they're not prepared and they sink rather than swim. Wales was perfect for me.
Were you tempted to give Cesc Fabregas a clip round the ear when he got lippy recently? Kids of today, eh?
Michael Connolly, via email
At the time, yes, I did. I was waiting for my players to come off and he walked past so I stuck my hand out to shake his and he just said, 'Didn't you used to play for Barcelona?' I could tell there was a bit of disdain in his voice, so I took exception and said 'Have you got a problem with that?' He said something about your team doesn't play like Barcelona.
Obviously I haven't got a £100m budget to get players who will play like Barcelona each week, so I tried to make that point. I'll give him the benefit of the doubt – I may as well do – I don't think anyone told him to apologise, and I appreciated that. He could easily have made a token gesture and said, ìCan you tell Mark when he comes back from the press that I'm sorry?î but he wanted to tell me personally, so he waited around for 25 minutes. It was said with sincerity, so I accepted it.
Portraits by Jon Shard. From the May 2007 issue of FourFourTwo.
Quizzes, features and footballing fun
Get the best features, fun and footballing frolics straight to your inbox every week.
Thank you for signing up to Four Four Two. You will receive a verification email shortly.
There was a problem. Please refresh the page and try again.