McClaren trying to pretend Benitez isn't stood directly behind him
Former England manager is living in the shadow of Rafa Benitez, Back of the Net reports...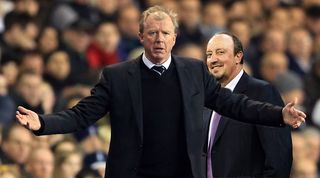 Sources at Newcastle United have reported that embattled manager Steve McClaren is gamely trying to go about work as normal despite the fact that Rafa Benitez is stood less than a foot behind him.
The pressure has been mounting on McClaren with the Magpies languishing in the relegation mire, and speculation over his future has intensified since ex-Real Madrid boss Benitez has started haunting his every move.
"A few weeks ago Steve [McClaren] said that he thought he'd spotted Rafa Benitez in Tesco, but just like that he was gone and he thought nothing more of it," a source at St James' Park told FFT.
"I mean, how many of us haven't mistaken the jovial, rotund owner of our local tapas bar for Rafa at some stage?
"But as the results have declined, Steve's been seeing Rafa more and more. Sometimes it's a glimpse of his face in a car window, sometimes he runs a bath and sees Rafa's face reflected in it."
Literally there
However, over the last few days the situation has changed as bystanders have confirmed that rather than being a figment of McClaren's imagination, Benitez is indeed following him and at all times standing a matter of inches away.
"To be fair to the gaffer [Steve McClaren] he's carried on our session as if nothing's out of the ordinary, but it must be tough for him given that the gaffer elect [Rafa Benitez] is close enough behind him for the gaffer [Steve McClaren] to feel his breath on his neck and smell his musk," midfielder Jonjo Shelvey told FFT.
"There seemed to be a degree of awkwardness when Rafa climbed into the passenger seat of the gaffer's car for the journey home but again he pretended there was nobody there."
Reports suggest that McClaren has begun laying a place at the dinner table for Benitez, and preparing generous portions of his adequate home cooking for the Spaniard. Some sources have even suggested that McClaren has been seen placing an order of Jamon Iberico at his local deli.
"I'm still the manager of this football club until I'm told otherwise or I turn around," McClaren told FFT.
Quizzes, features and footballing fun
Get the best features, fun and footballing frolics straight to your inbox every week.
Thank you for signing up to Four Four Two. You will receive a verification email shortly.
There was a problem. Please refresh the page and try again.