The midfielder Man United need to steady the ship against Spurs
Alex Keble says Michael Carrick is a man Louis van Gaal can depend on at Old Trafford on Sunday...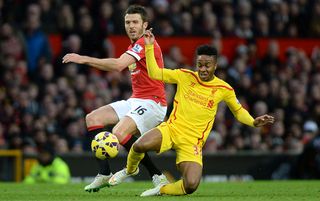 Although Louis van Gaal's possession-centric philosophy remains unpopular among Manchester United supporters, a begrudging acceptance of the tactic's proficiency must surely be on the horizon if this run of form continues. Admittedly the endless variations of his style suggest a tactical confusion as yet unresolved, but at its core the Van Gaal system has a consistent mantra: a slow, ball-hogging approach keeps you in control of the ball in a well-structured shape, and eventually tires out the opposition.
Considering the blood-and-thunder high-pressing approach used by this weekend's opponents, Tottenham Hotspur, the Dutchman's philosophy will be sternly tested.
Mauricio Pochettino expects his team to win the ball high up the pitch, pressurising defenders into mistakes and breaking into the final third in large numbers. It is a similar approach to the one popularised by Jurgen Klopp's Borussia Dortmund, and has been very successful thus far in north London.
Spurs are the best tacklers in the league (22.4 per match), make the fifth-most interceptions (17.4 per match), and commit more fouls (12.5 per match) than any other team bar Crystal Palace.
Note how frequently Tottenham make tackles high up the pitch.
The proficiency of Tottenham's pressing system could be the fulcrum upon which this match rests; either Manchester United's controlled possession will tire Spurs into submission, or their harassing tactics will cause Van Gaal's nervous and error-prone defenders to crumble at Old Trafford.
United's makeshift defence is clearly struggling with their manager's desire to play short-passing football, and at an average of 26 defensive errors per match, they are the second-most careless team in the league (behind Everton). With Spurs' high pressing set to put them under even more pressure than usual, another mistake – such as the one that led to Danny Welbeck's goal on Monday night – is possible.
However, the reintroduction of Michael Carrick into the side should help organise Van Gaal's defence, while adding a possessional composure that could outmanoeuvre Tottenham's attempts at closing down.
It is no coincidence that United have averaged 2.08 points per match with Carrick in the side, and 1.77 without him; the central midfielder's ability to calmly distribute the ball under pressure (89.6% passing accuracy) and recycle possession after the tackle makes him an invaluable asset.
Against Southampton, a similarly high-pressing team (who first implemented their style while managed by Pochettino), Carrick's distribution was immaculate. United will need this composure against a Spurs side that – as the video below indicates – will try to hold a very high overall position on the pitch.
With Carrick in the team, Spurs' hounding and hassling may simply tire them out against the division's most successful passers of the ball (60.2% possession average and 85% pass accuracy).
Tottenham matches are often decided in the closing stages. Will United make another silly error, or can they force Spurs to run themselves into the ground?
Man United vs Tottenham LIVE ANALYSIS with Stats Zone DOWNLOAD NOW iOS • Android
Quizzes, features and footballing fun
Get the best features, fun and footballing frolics straight to your inbox every week.
Thank you for signing up to Four Four Two. You will receive a verification email shortly.
There was a problem. Please refresh the page and try again.