Mohamed Elyounoussi: The pizza-loving forward Leicester are eyeing as Mahrez's replacement
The Molde man looks set to leave Norway this summer, with the Foxes battling for his signature. Kristan Heneage provides the lowdown on the player who's been coached by two ex-Premier League strikers...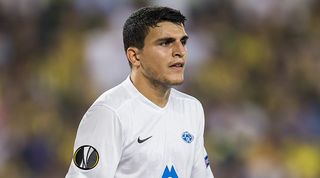 The 60-second story
A product of the Sarpsborg 08 academy, Mohamed Elyounoussi made his debut for the club's senior team in 2011. Their relegation that season was ultimately beneficial for the young talent; granted a full season of action in the second tier, he found the back of the net nine times in 26 appearances as the club were promoted back to the Tippeligaen.
Working under former Sheffield United striker Brian Deane, Elyounoussi helped Sarpsborg survive in the top flight with some exceptional performances. The 21-year-old finished the campaign as the club's top scorer, catching the attention of rival Norwegian outfits in the process.
A move to Molde ahead of the 2014 season saw the expectation around Elyounoussi increase, but the forward took to his new surroundings effortlessly, winning a league title and getting his name on the scoresheet on a regular basis. Molde may have finished mid-table last year, but Elyounoussi again stood out on an individual level, scoring on 13 occasions in the league.
Why you need to know him
Elyounoussi is now a full Norwegian international, and FourFourTwo has learned that Leicester City have been keeping tabs on the youngster for some time. Part of an exciting generation of young Norwegian talent that includes Martin Ødegaard, Mats Dæhli and Iver Fossum, Elyounoussi is expected to leave his homeland in search of a greater challenge in the coming months.
"His goals are all of a high quality," Molde manager Ole Gunnar Solskjaer said in 2015. "They're not just tap-ins, they're very varied. He's a technically gifted goalscorer and the type of player I really love working with. I look forward to working more with him."
Unwilling to let Elyounoussi rest on his laurels, however, Solskjaer is eager to see more from the player. "Moi can be really frustrating sometimes and today he was out of the match completely," he once told Dagbladet. "He didn't do much, but he has that X factor so many strikers lack in that he's always dangerous and can score at any time."
Elyounoussi scores a free-kick
Elyounoussi is clearly working with a tough task master in Solskjaer. His coach's experience is supplemented by his own strong work ethic, with the 21-year-old often staying behind after training to do extra work.
Strengths
Not blessed with blistering speed, Elyounoussi still has enough in his armoury to trouble defenders. Able to skip past opponents with ease, he thrives in one-on-one situations and is comfortable in tight spaces, while his composure makes him a clinical finisher in front of goal.
Elyounoussi is versatile too, capable of playing out wide or up front. His favoured starting position is out on the left, from where he can drive inside and move into central areas; he's also been working on his left foot, though, and has been likened to Leicester's Riyad Mahrez for his ability to go past his marker on both sides.
Away from the field, former Sarpsborg coach Deane describes Elyounoussi as a "top lad". A polite and humble young man, his eagerness to improve is noticeable to everyone he works with.
Weaknesses
If Elyounoussi is to mirror Mahrez moving forward, he'll need to up his assists return, while he also has some maturing to do. Prone to a bout of frustration when things aren't going to plan, his obsession with self-improvement can also be a downfall, as Deane explains. "There was an instance at Sarpsborg where I told him to come in after training, to avoid aggravating an injury," he says. "Moi didn't listen, and unfortunately he ended up straining something, which was quite frustrating."
They said…
"He's a top lad, totally football made," Deane tells FFT. "He comes from a really nice family. His dad is a really nice bloke. Moi is quite a dedicated young lad, and wherever he ends up going when he leaves Molde, I think he'll do well. He's a good professional and he's got a good attitude."
His former assistant coach at Sarpsborg, Ian Burchnall, also sung his praises to FFT. "He's really good in a variety of situations. I think he's quite a well-rounded player, and since he's gone to Molde he's developed his defensive side quite well. He tracks back, he works hard, and he presses quite well.
"If you look at Mahrez, he's taken time to settle and flourish. I think when Moi takes the next step he'll take a little bit of time to settle and adjust. Given that time, he'll come good."
Did you know?
If Elyounoussi does decide to relocate to Leicester, he's likely be able to strike up an instant bond with boss Claudio Ranieri. Their common ground? Pizza.
Elyounoussi's father owns a pizza shop in Norway, with young Mohamed occasionally mucking in and serving customers behind the counter. "He does actually help out," Deane says with a laugh. "I'm sure his dad used to name the pizzas after Moi and other people like that as well. I never got to try one, but I've heard they're quite good pizzas."
What happens next?
A transfer this summer seems inevitable, with Elyounoussi courted by Leicester, Porto and Roma among others. He won't move without careful consideration, however, particularly after cousin Tarik - who now plays for Hoffenheim in the Bundesliga - left Norway for the Eredivisie too early in his career.
Elyounoussi's turned down foreign interest in the past and is not someone who's motivated by money, which is likely to help his development. There's been strong talk of a move to Celtic in recent weeks; the two teams met in the Europa League this season, with the 21-year-old finding the net both home and away against Ronny Deila's side. A familiar face to the Norwegian coach, the Glaswegians will have to be quick if they want to land the Molde man.
On the international stage, Elyounoussi will be hoping to play a key role in the 2018 World Cup qualifying campaign, having been part of the squad that lost to Hungary in a European Championship play-off last year. Regardless of where he ends up, the future looks bright for Elyounoussi.
Thank you for reading 5 articles this month* Join now for unlimited access
Enjoy your first month for just £1 / $1 / €1
*Read 5 free articles per month without a subscription
Join now for unlimited access
Try first month for just £1 / $1 / €1