When Ossie's dream began – how Ardiles, Villa and England's first foreigners changed football forever
On this day in 1978, World Cup stars Ossie Ardiles and Ricky Villa were treated to a ticker-tape welcome for their Tottenham debuts. The British game's first major influx of overseas stars turned gloom into glamour – and started a revolution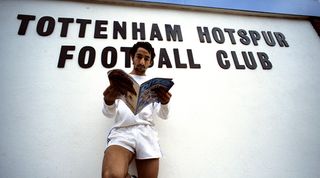 As they shuffled up garden paths on the morning of July 11, 1978, the nation's paperboys could scarcely believe the story on the back page of one particular newspaper. 'SPURS SCOOP THE WORLD' yelled the headline of the Daily Express, as it exclusively revealed the biggest transfer coup in English football for years.
Barely a fortnight after the ticker tape-strewn World Cup final in Buenos Aires, two members of the winning Argentina squad – bearded wideman Ricky Villa and, more notably, pivotal playmaker Osvaldo Ardiles – had put pen to paper and were now to ply their trade in a certain corner of north London. It was nothing short of sensational. As the Guardian's David Lacey wrote: "It was as if the janitor had gone to buy a tin of paint and returned with a Velazquez."
Over 40 years on, and with 100 different nationalities now having been represented in English football's top flight, it's difficult to explain just how revolutionary this double signing was.
A ban on foreign players had been in place for almost half a century, following Arsenal manager Herbert Chapman's attempted signing of Austrian goalkeeper Rudy Hiden in 1930. Chapman's intentions had been met by a volley of opposition; one senior Football League official described the approach as "repulsive", "offensive" and "a terrible confession of weakness in the management of a club".
With the backing of the Ministry of Labour, the FA brought in a rule the following year that declared players who weren't British-born subjects could only play for English teams if they'd been living here for at least two years, a qualification that allowed foreign players such as Chilean striker George Robledo and German goalkeeper Bert Trautmann to subsequently make their names in the league (Trautmann qualified through time spent in a prisoner-of-war camp in Lancashire).
But in February 1978, the European Community ruled that the football associations of its member states could no longer deny access to players based on nationality. That summer, the Football League lifted the 47-year-old ban at its AGM.
When Ardiles and Villa were unveiled to the press, among all the excitement were plenty of words of caution and opposition, many voiced by the executives of the PFA. "It could spread like wildfire," complained secretary Cliff Lloyd. "Every foreign player of standing in our league represents a denial to a UK player of a place in the team." Newly-installed PFA chairman Gordon Taylor agreed: "There could already be two players out of a job at Tottenham."
Nearly four decades on, Taylor defends the rhetoric. "It was about making sure that players weren't coming in who were no better than what was available here. We've always kept an eye on that."
With questions being asked over the matter in the House of Commons – and the story migrating from the sports pages to the leader columns – it would have been understandable for the diminutive shoulders of Ardiles to have buckled under the weight of expectation when he stepped out to make his debut against Nottingham Forest on the opening day of the 1978/79 season. "There was so much hullabaloo and speculation," he recalls, "so I was very happy once I crossed the touchline and got onto the pitch."
England wasn't the most obvious destination for Ardiles after the World Cup. He was eyeing a move to Europe, but clubs from Spain, Italy and France were further up his wishlist. Then Spurs boss Keith Burkinshaw arrived in the Argentine capital. "I was in my home city of Cordoba and the president of my club Huracan telephoned me to tell me about this guy from England," Ardiles tells FFT. "So I went to Buenos Aires, we met in a hotel and the deal was done very, very quickly. There were no agents involved. It was just him.
"He asked me if I could recommend anyone else. They wanted someone I had a good relationship with and Ricky was my room-mate during the World Cup. He arrived the next day and again a deal was done very, very quickly."
While Villa made the most immediate impact, scoring on that debut against Forest, it was Ardiles who settled quickest in north London. "I had a big advantage over him as I had been studying English in Argentina. Ricky took a long, long time to acclimatise. The first two years were very difficult for him and this was reflected in the way he played football. After the goal [Villa's legendary winner in the 1981 FA Cup Final], he was another player – then he loved it here and was full of confidence."
Both players had to adapt to the ways of Division One. "At the time, English football was very insular," says Ardiles. "There was one way to play and it was not particularly our style. But we found a happy medium. Glenn Hoddle helped a lot with that because he played like us anyway."
Although he missed the 1982 FA Cup Final due to the Falklands War, Ossie's 10 years with Spurs yielded both FA Cup and UEFA Cup winner's medals – and, of course, a part in the film Escape To Victory alongside Pele. Of the dozen or so foreign players who arrived in English football during the 1978/79 season, he is the only one to still live here. "I thought I would be here for three years and then go back to Argentina. Then it was three years more. Then another three years. Then the children were growing up and moving would have been difficult. I was happy here, so why move?"
Another of Argentina's World Cup winners signed for an English club at the start of that season, but stayed for a rather shorter time. Alberto Tarantini was a long-haired full-back who played just 23 games for Birmingham and who is best remembered for contretemps with opposition players and fans alike.
His manager at St Andrew's, Jim Smith, believes he wasn't the difficult player everyone remembers. "In Argentina, he would probably be a handful to manage but, being in a strange land and at a strange club, he relied on me quite a bit – sorting out houses, getting people to pick him up… We had quite a close relationship."
Tarantini left England's second city after just one season. "Nothing seemed to go right for him. It took forever to get a work permit and then we got relegated. I wanted to keep him, but the board said he was too expensive. We went down but were promoted the following season. I bumped into Alberto when he was over with Argentina to play England at Wembley in 1980. He gave me a telling-off for having a good team that got promoted after having a crap team that got relegated!"
Despite their union's complaints, players were warmly welcoming these foreign imports into the dressing rooms. Gary Hamson was a young Sheffield United midfielder when Blades manager Harry Haslam signed his own Argentine, Alex Sabella (having decided that the £400,000 being asked for the teenage Diego Maradona was too expensive). Hamson recalls the effect the new player had on his team-mates.
"When a player of that ability comes into the side, it gives the whole team a lift. It was a bit like sprinkling gold dust on your team, that extra bit of glamour. But when he first came, I realised he was left-footed like me. I thought, 'Is he going to be playing in my position? Is Harry Haslam going to sell me?'"
As it was, Sabella lined up alongside Hamson and was an instant hit in Division Two, praising the English way of "playing more honestly and with fewer bad intentions". With the support of United's Uruguayan coach Danny Bergara, Sabella was a new breed of modern footballer. "We used to have steak around midday before a match," remembers Hamson, who also played with the Argentine later at Leeds. "Alex turned up and had cornflakes with peaches. 'What's going on? Have you only just got up? That's breakfast, that is.'"
An elegant and classy midfielder, Sabella's subsequent spell in Division One with Leeds might not have equalled the impact made by Ardiles at Spurs, but that didn't hold him back professionally. Sabella, now known as Alejandro, took the Argentina national team to the World Cup final in 2014.
It wasn't all about the South Americans. This pioneering foreign legion were also recruited from closer to home, most notably Ipswich's pair of flying Dutchmen. Arnold Muhren was first to sign in August 1978, with his compatriot Frans Thijssen's signature captured the following February. Like Ardiles had been with Burkinshaw, Muhren was impressed by his future manager's hands-on approach when Bobby Robson turned up unannounced at his house in Volendam.
"He was selling Ipswich, he was selling the club. But he was also in a hurry to sign me so that I would be eligible to play in Europe. It was very difficult for me and my missus to say we were definitely coming. Mr Robson said: 'Well, the door is always open. If you want to play for Ipswich, you are always welcome.' I said to my wife, 'I just want to play for Mr. Robson. He's such a gentleman.'"
Muhren received a swift lesson in the ways of his new workplace. On his debut against Liverpool, the Dutchman's delicate skills were bypassed, with the ball continually hoofed upfield towards striker Paul Mariner. "I was just running up and down the pitch without the ball. After the game, Terry McDermott asked if I enjoyed it. I said, 'No, not really. I only touched the ball three times.' He replied, 'Welcome to English football, son!'"
Nonetheless, Muhren's delicate skills soon became absorbed into Ipswich's style of play; that season, he scored 10 goals from left midfield, missing just a single league game. When his old Twente colleague Thijssen arrived at Portman Road, they dovetailed beautifully, dictating the pace and rhythm of Ipswich's play and masterminding the club's UEFA Cup triumph in 1981.
A year later, Muhren – somewhat surprisingly – left Suffolk for Old Trafford. "I thought it was my last chance to play for such a big club," he confesses. "But I didn't know that I'd play for Ajax again for another three years after that." While at Manchester United, Muhren fulfilled a career-long ambition by playing in the 1983 FA Cup Final, scoring in the replay against Brighton. "I played in the final of the European Championship in 1988 [when, of course, his looping cross set up Marco van Basten's extraordinary volley] but I genuinely think that the FA Cup final was a bigger game than when we beat Russia."
The pleasure that seven seasons in English football brought Muhren remains undimmed decades on. "Everybody was so kind to me. I felt so at home from day one, right up until I left Manchester to go back to Holland. Not for one minute did I ever have a single regret."
If Muhren and Thijssen had to impose their way of playing, another overseas signing fitted straight into the cut and thrust of the Football League in 1978. Ivan Golac was a combative right-back for Partizan Belgrade whose love of English football was well-established by the time Lawrie McMenemy and Southampton came calling. He recalls watching Yugoslavia play England on TV in 1960 as a nine-year-old, the sight of the Wembley playing surface and a six-figure capacity crowd leaving a deep impression. "I said right then: 'That's the only other country I'll be playing in.'" Six years later, being selected as a ball boy for the European Cup semi-final between Partizan and star-studded Manchester United only crystallised these intentions.
However, Golac had to put those dreams on ice, as Yugoslavian players couldn't leave the domestic game for foreign football until they reached the age of 28. "On the 15th of June 1978," he says, "I turned 28. On the 29th of July, I joined Southampton."
Not that it was as simple as that. With the British government slapping a temporary ban on the signing of non-EC players, Golac had to join as an amateur to sidestep the red tape. And his status as a mature student back in Belgrade allowed him to play while still waiting for his work permit to be approved.
From the off, McMenemy's "little £50,000-er" proved a hit with the Southampton fans, his marauding, no-nonsense style instantly suited to the pace of football at The Dell ("The game was very physical in my country, so it was no problem to settle in"). With McMenemy, Alan Ball, Phil Boyer and Chris Nicholl among his neighbours in Chandlers Ford, Golac's popularity among his team-mates was helped by the enormous record collection he brought from Belgrade. "My music helped me so much with language," he reveals, before reeling off a list of favourite bands, including The Who, The Kinks, The Dave Clark Five and The Troggs, "from just down the road in Andover, 10 miles from our home!"
Golac became the first of that season's foreign influx to play at Wembley for their new team, appearing in the League Cup Final defeat by Nottingham Forest that March. Two years later, his spectacular goal against West Brom won the Goal of the Month award on Match of the Day. "Ron Atkinson came out of his dugout to applaud it," he smiles.
Golac wasn't the only signing from Eastern Europe that season. In early 1979, two other Yugoslavs – striker Bozo Jankovic and goalkeeper Petar Borota – signed for Middlesbrough and Chelsea respectively. Of the two, the colourful Borota was the more successful, captaining the side and keeping 16 clean sheets during the 1980/81 season – a feat that earned him the club's player of the year award.
The captain of Poland, Kazimerz Deyna, joined the revolution too. Signed by Manchester City manager Tony Book from Legia Warsaw, the transfer fee was unusual. As Legia were the official team of the Polish Army, Deyna's signature was secured in return for photocopying equipment and other hardware difficult to get hold of in Poland. His time in England, though, was troubled by homesickness, although he'll always be remembered by fans for six goals in the final six games of that first season, which ensured City's top-flight survival.
If Deyna's English experience was disappointing for a man of his undeniable abilities, that original brigade were, in the main, both extremely successful and symbolic. Certainly Gordon Taylor's stance towards those pioneering players seems to have softened since 1978: "Lads like Ossie and Ricky and Muhren and Thijssen helped English football through its bad decade of the 1980s. Suddenly football became the game to be seen at – politicians were queuing up to say they were fans. It was a remarkable turnaround and a lot of that was due to foreign players."
Had the class of 1978/79 flopped, though, Ardiles believes that the level of foreign players in today's game wouldn't be any less. "Even if we had been very, very bad, it was still the future. It might have taken a little more time, but it was going to happen sooner or later. We just happened to be the first."
While you're here, why not take advantage of our brilliant subscribers' offer? Get 5 issues of the world's greatest football magazine for £5 (opens in new tab) – the game's greatest stories and finest journalism direct to your door for less than a pint in London. Cheers!
NOW READ
QUIZ! Can you name the current Premier League players who've made 25+ Champions League appearances?
RANKED The 15 best underrated goals from unfashionable Premier League players
LIST 9 players who came to the Premier League too late in their careers
Thank you for reading 5 articles this month* Join now for unlimited access
Enjoy your first month for just £1 / $1 / €1
*Read 5 free articles per month without a subscription
Join now for unlimited access
Try first month for just £1 / $1 / €1