Out-of-sorts Alexis Sanchez gamely battling to put shin pads on correctly
By Back of the Net published
Ole Gunnar Solskjaer believes Chilean will get there in the end, Back of the Net reports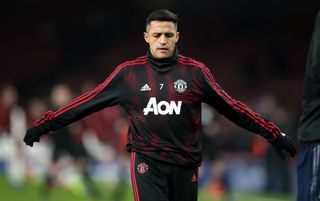 Beleaguered Alexis Sanchez is still some way from successfully putting on his shin pads and is increasingly cutting a forlorn figure, team-mates have admitted.
The ex-Arsenal man has visibly lost confidence over the last few months and appears to now doubt his ability to do things he once took for granted.
During an insipid performance against Paris Saint-Germain, Sanchez looked off the pace and ill at ease in possession, even seeming to forget the word for 'ball' when calling tentatively for team-mates to pass him the 'kicking sphere' on several occasions.
From pad to worse
But things have gone from bad to worse this week, with the 30-year-old spending more than an hour before training attempting unsuccessfully to put on his shin pads.
"It's sad to see a player of Alexis's quality jogging listlessly, one shin pad flapping around his ankle, the other pulled tight across his forearm," Ole Gunnar Solskjaer told FourFourTwo.
"Nobody at the club doubts his effort level. He's the first in training in the morning, attaching small pieces of Sellotape to his shins, and the last to leave in the evening while forlornly trying to untangle a stray shin pad from his ear.
"If he continues to work as hard as this he will definitely get those shin pads on before the end of the season, and from there it's a small step to being one of the world's most dangerous forwards."
Despite Solskjaer's backing, some team-mates have become concerned about Sanchez's mental state.
The sphere is round
"Alexis asked me in training whether anyone would object if he threw the kicking sphere [ball] instead of kicking it," Paul Pogba admitted to FourFourTwo.
"He insisted it would just be while he built his confidence back up with 'doing the kicking', but that it does seem 'awfully hard work' having to use your feet all the time.
"I tried to respond but he [Alexis] tripped over an errant shin pad and careered into a free-kick mannequin, which in turn knocked over a stack of balls and cones."
Sanchez is expected to start against Chelsea if he can manage to locate his boots, which he was 'absolutely certain' were in his kitbag somewhere.
Please note: Believe it or not, this satirical story is not real.
NOW TRY THIS... Sarri-ball has 'substantially different rules' to football, it emerges
Thank you for reading 5 articles this month* Join now for unlimited access
Enjoy your first month for just £1 / $1 / €1
*Read 5 free articles per month without a subscription
Join now for unlimited access
Try first month for just £1 / $1 / €1
Quizzes, features and footballing fun
Get the best features, fun and footballing frolics straight to your inbox every week.
Thank you for signing up to Four Four Two. You will receive a verification email shortly.
There was a problem. Please refresh the page and try again.