Paul Parker weighs up who will win the Manchester derby
Ahead of Sunday's derby clash between Manchester City and Manchester United, ex-Red Devil Paul Parker compares the key elements of both clubs and comes up with a winner...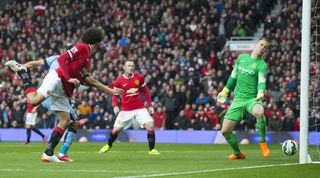 The managers
I must admit my view has changed a bit on Louis van Gaal, just with the way Manchester United have played. He is very old school.
It's all about following his guidelines, there is no variation, and he seems to be trying to do the right things at the moment. He does keep using the word philosophy, which irks me and to me doesn't really relate to the world of football. To me that is more appropriate at a school or university.
I was a fan of Manuel Pellegrini when he was at Malaga. I also liked how he managed at Villarreal, where he had a really, really good team. If I look at what he's had to endure at Man City, his job basically seems to be under threat every time he loses a game, but he just gets on with it. He hasn't griped, he hasn't moaned, he's just accepted it and done his job.
Van Gaal tends to operate more in a dictatorship, in my opinion. So if you look at the two managers, one of them allows his players to express themselves and the other wants to control everything his players are doing. When what he is demanding doesn't materialise, he's quick to let everyone know.
There is certainly a different kind of management between the two. At this point, I'd have to go with Pellegrini, just because of the football he likes to play and the manner in which he conducts himself.
The goalkeepers
I have to go with David de Gea on this one. He's a good shotstopper, but he's a good goalkeeper as well in the sense that when called upon, you can definitely rely on him. In the Champions League against CSKA Moscow this week he made a great save from Roman Eremenko's penalty. It was just unfortunate that the ball hit his leg and fell straight into the lap of Seydou Doubmia, who scored from the rebound.
I like Joe Hart, he's definitely the best England goalkeeper, but I just think he's more likely to make a mistake than De Gea at this moment in time. He's not as good a shotstopper as De Gea and that's why I'd lean towards the Spaniard.
The back four
You'd have to suggest Manchester City's defence is better than Manchester United's right now. The teams have conceded the same amount of goals in the league, but if you look at the chances that Man City give away compared to Manchester United, it's a big, big difference. City's full-backs are stronger and there is more reliability in those players.
Their back four doesn't really change that much. Personnel might change slightly, but you don't end up with wingers playing left-back, or centre-halves playing in full-back areas. At this moment in time I have to say that if you're looking for something more organised and able to get you moving in attack, you have to say Man City have the better back four.
The midfield battle
This is a very, very difficult area to judge. But again, the City midfield looks stronger. They're more attacking, they've got more energy, they're quicker, they're sharper and they play productively. They also have more midfield players that can score goals. They haven't really had an off-day yet as a team, whereas United have had a few. City to me are clearly looking stronger and better in midfield than Manchester United.
In my opinion Manchester United's best midfield player doesn't play enough football and that's Ander Herrera. If you're talking about attacking midfielders, Herrera leads the way and he doesn't get enough playing time. He's just about their most creative player. It's the same with Juan Mata. You're talking about their most creative players and they're still battling to make an impression. Fans love those kinds of players, Manchester United traditionally have loved those types of players, but Van Gaal seems to prefer people without pace and without that creativity – namely Wayne Rooney.
He'd rather sacrifice creativity and play Wayne Rooney in a role he's not good at. He's not high-energy, he's not going to win the ball back, he's not creative and he doesn't really contribute enough in the game. It's only when he scores that everyone wants to talk about his goal drought being over. There are a number of teams in the Premier League with more flexible midfields boasting more pace than Manchester United, including Manchester City.
Goalscoring ability
Look at Man City – you've got Sergio Aguero when he's fit. You've got Wilfried Bony who can come in. You've got Raheem Sterling who can sit in and around there. Now let's look at Man United – they've basically got Anthony Martial. So attack-wise, City have more options. They've also got Jesus Navas who will stick on the touchline and run full-backs all the time.
Sterling can come in from the touchline and run inside and make runs in between centre-halves using his pace. United have only got one forward with pace in Martial and he's been a threat since they signed for him, but they haven't got anyone else. They've only got the one player and at the moment they're playing him out of position to accommodate Wayne Rooney.
Martial is playing out on the left and has to come in to score, while you're playing someone in the middle who can't run behind anybody. At the moment Manchester United are a bit of kick-it-and-see side. So again, you have to give the nod to Manchester City.
Prediction
So considering all of that, it's pretty clear there is only one direction I believe the game can go in and that is a Manchester City victory. If you look at it on paper you have to go down that path.
I'm trying my best to think of a way Manchester United can win this game and the only way I can see that happening is if they really get in the face of Manchester City. They are going to have to be so aggressive and really stop the game.
They can't afford for the game to flow. If that game flows, Manchester United are in serious trouble because they haven't got the legs to stop City. City have got too many good athletes and too many good footballers.
Look at Kevin De Bruyne. Who is going to have the legs to get close to him? You've got Morgan Schneiderlin, who can probably do it, but who's going to go with Yaya Toure?
There are too many players there with too much energy and quality and I just don't see how United can win it, unless they can find a way to slow down a high-energy team.
Score
Manchester United 1-2 Manchester City.
Paul Parker is Technical Director for JSSL Arsenal, Singapore's No.1 Youth Soccer Club – www.jssl-singapore.com
Quizzes, features and footballing fun
Get the best features, fun and footballing frolics straight to your inbox every week.
Thank you for signing up to Four Four Two. You will receive a verification email shortly.
There was a problem. Please refresh the page and try again.