Quiz! Can you name the 23 England internationals with at least 50 caps and 10+ goals?
A full squad of players have reached the magic 50-cap mark and also struck double figures for the Three Lions. Not sure who'd play in goal, mind you…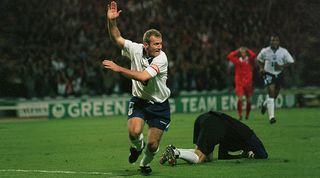 A half-century of caps is often seen as the benchmark for a fine international career. It's the number that generally gets you into the hall of fame and probably some kind of nice pre-match ceremony where you're given your 50th cap by Prince Andrew or the Hamburglar or something.
These lads have all reached the 50-appearance mark for England - and managed to snaffle at least 10 goals at the same time.
It's no easy task – and while we don't want to spoil the quiz by giving away wrong answers, we have to doff our caps (no pun intended) to Geoff Hurst, absent here because he only made it to 49 England games (see also: Ron Flowers, who was also one cap away). Too cruel! We just hope Sir Geoff's World Cup-winning hat-trick is some form of tiny consolation.
Among the current crop, Jordan Henderson is one measly cap away from his 50... but, er, 10 goals shy. Dat guy Welbz (currently on 42 caps, 16 goals and counting) may not add to his overall haul any time soon, so it's on Raheem Sterling – needing two caps and three goals – as the next most likely man to add his name to this list.
Anyway, we've given you each player's goal tally, cap total and year of last England appearance. Seven minutes are on the clock, so crack on and let us know your score @FourFourTwo (we'll retweet the best if you don't give answers away). Why not challenge some pals while you're at it?
SEE ALSO...
QUIZ! Can you name the 30 youngest players to win England caps since 1980?
OPINION Why don't neutrals want Liverpool to win the Premier League?
---
More great football quizzes on FourFourTwo.com
Quizzes, features and footballing fun
Get the best features, fun and footballing frolics straight to your inbox every week.
Thank you for signing up to Four Four Two. You will receive a verification email shortly.
There was a problem. Please refresh the page and try again.