Why don't neutrals want Liverpool to win the Premier League?
By Matt Ladson published
What gives? This Is Anfield's Matt Ladson on the schadenfreude sweeping a nation that's waiting for the fall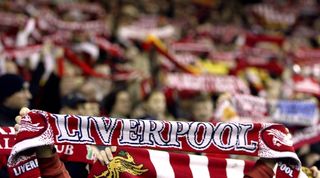 It's been five years since Liverpool almost won the league under Brendan Rodgers in 2013/14 – not that you'd realise it's been that long, given how often fans of the other 19 Premier League clubs sing about that slip.
Liverpool fans at Anfield play Gerrard song bingo for how long the visiting support will mention it, and quite often it's within the first 10 minutes – or in the case of Manchester United this season, less than a minute. Credit to Crystal Palace fans, who didn't bring out the peak banter song but instead had the novel idea of supporting their own team. Imagine!
Of course, some people might find it odd that Manchester United supporters are so eager to sing about a moment that ultimately handed their city rivals a league title, but then they did also spend plenty of time singing anti-Scouse songs while their captain and record goalscorer was one.
With Liverpool now in the midst of another title challenge for the first time since that unexpected campaign under Rodgers, there's a feeling of Reds vs the rest of the Premier League.
Who are the neutrals?
So why is it perceived that 'neutral' fans don't want Liverpool to win the league?
First of all, the truth is that there really aren't neutrals in football, such is the tribal element of being a supporter. That doesn't mean that all non-Liverpool fans don't want them to win the league, and we at This Is Anfield have had plenty of nice words from fans around the country 'hoping' the title heads to Anfield.
Those fans, however, are the less vocal ones – as is usually the case in the 'banter' era and Twittersphere where nothing is allowed to pass quietly.
Quotes from Wayne Rooney demonstrate a changed landscape: the former Everton and Manchester United player has said he "couldn't bear to see them [Liverpool] win it... it would be a nightmare for any Evertonian" – in stark contrast to a time when red and blue would line the streets of 1980s Merseyside in co-dominant harmony.
Rooney added that "in 2005 they won the Champions League and they're still talking about it now, so it would be another 10 or 15 years of that if they win the title." Ironic, really, given how United fans are so eager to gloat about Liverpool's title failure five years ago.
Banter!
Perhaps a sad reality is that some people take greater enjoyment from others' failures than their own team's success.
Take Manchester City, for example, whose fans can be found more often singing about Liverpool's Champions League final defeat than their own team's record Premier League title win last season. For some, others' pain is their joy – and that's not just in football, but in society today. Football is, after all, merely a reflection of that.
Liverpool fans are, as urged by Jurgen Klopp, enjoying the ride in terms of their team's record form – let's not forget, the Reds are on course for their record ever points total – and the entertaining football on show.
After years in Europe's wilderness, being back among the elite, back as an attractive destination for players rather than a stepping stone, Liverpool and their fans are enjoying themselves again. They feel as though their club is back where they feel they belong.
Others can look on and laugh at supporters enjoying themselves when the Reds haven't actually won a trophy since 2012, but that's to overlook the huge progress that Liverpool supporters can see under Klopp. A new generation of fans are now able to live out the stories that their parents and grandparents had told them about; travelling to foreign lands with friends and watching the Reds win in places like Munich.
You think Liverpool fans are bothered by what a Manchester City fan has put as a meme online while they're partying their way around Europe en route to what could be a second Champions League final in a row?
Liverpool vs England
Another reason, perhaps, for the narrative of neutrals not wanting Liverpool to win the league is the divide between Merseyside and the rest of the country politically and socially. 'Scouse Not English' is a phrase and banner that can be seen on the Kop occasionally, and has some of its roots in the Conservative government's (mis)management of the Merseyside area during the 1980s.
Liverpool as a city has been transformed by money from the European Union after being named 'City of Culture' in 2008, finally recovering after Margaret Thatcher's government put the city into a "managed decline".
No wonder, then, that Liverpudlians feel disconnected from the rest of the country, and a divide has grown over the past two decades. And yet the contradiction is that those same visiting supporters who arrive at Anfield en masse to sing about food poverty and job unemployment are likely the ones who then say to "keep politics out of football".
People in society want a laugh, not to look deeper at the sensibilities or actualities – and football is a microcosm of issues that affect wider society. Take Brexit as an example: some could argue it was the laughable buffoon Boris Johnson who appealed to the masses, rather than the experts and lecturers who quoted facts and used logic.
There's also the divide caused by almost three decades of having to endure false claims from around the country regarding the Hillsborough disaster. Some fans still reference it in their 'always the victims' chants, despite the truth finally being told about the events of 1989.
The template
But back to the football. In January, an article from respected Times journalist Henry Winter titled 'Every supporter should celebrate if Liverpool triumph' caused a stir online.
Skip past the sensationalist headline, though, and Winter was making a salient point – Liverpool have developed as a club sensibly, sustainably and with a clear plan. They are fully aligned with management off the pitch, recruitment, coaching staff and playing staff; there is no political in-fighting that plagues many top clubs these days (see Manchester United, Chelsea, Real Madrid and plenty of others in recent years).
Liverpool have not overspent beyond their means, they have purchased young, exciting players and yes, they've invested heavily, but that has been due to proficient outgoing business in the transfer market and increased revenue off the pitch.
Whether rival fans want to acknowledge it or not, Liverpool can provide them with a template for how to compete with Manchester City's unprecedented form and endless resources.
Manchester United, as much as their fans may not like to admit it, are more likely to get back to competing with their city rivals by following Liverpool's lead of the last three years. And they're not the only ones.
FFT'S VVD COVERAGE...
What it's like to meet Virgil van Dijk for the cover of FourFourTwo magazine
The making of Virgil van Dijk: how Liverpool's rock became the world's best defender
Subscribe to FourFourTwo! 6 issues for £19
New features you'd love on FourFourTwo.com
Thank you for reading 5 articles this month* Join now for unlimited access
Enjoy your first month for just £1 / $1 / €1
*Read 5 free articles per month without a subscription
Join now for unlimited access
Try first month for just £1 / $1 / €1
Matt Ladson is the co-founder and editor of This Is Anfield, the independent Liverpool news and comment website, and covers all areas of the Reds for FourFourTwo – including transfer analysis, interviews, title wins and European trophies. As well as writing about Liverpool for FourFourTwo he also contributes to other titles including Yahoo and Bleacher Report. He is a lifelong fan of the Reds.
Quizzes, features and footballing fun
Get the best features, fun and footballing frolics straight to your inbox every week.
Thank you for signing up to Four Four Two. You will receive a verification email shortly.
There was a problem. Please refresh the page and try again.