Quiz! Can you name all 79 countries to have appeared at a World Cup finals?
By Alex Reid published
After a North American nation became the latest debutants, it's time to name every World Cup participant – from 1930 onwards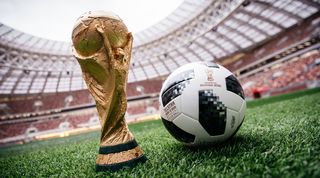 We don't know about you, but the World Cup has taught us more about Earth's nations, flags and anthems than many years sat at the back of Mr Ashmore's geography class ever did. And they said we were wasted our summer in front of the TV…
Well, it's time to sock it to the man (we mean you, Ashmore) and show off your football geography skills by naming every nation to feature in a World Cup, from the first in 1930 right up to 2018.
Admittedly, it's hard. Anything above 60 is impressive, but we're sending you to the back of the class if you can't get the nation who've appeared at 21/21 World Cups. Top of the class!
Now, 12 minutes are on the clock. Get cracking and don't forget to let us know how you do @FourFourTwo (opens in new tab). Why not share this quiz by challenging some amigos too? Ta!
(Note: Adblockers can stop you seeing our quizzes – please turn them off. Thanks)
More time-killing quizzes on FourFourTwo.com
Thank you for reading 5 articles this month* Join now for unlimited access
Enjoy your first month for just £1 / $1 / €1
*Read 5 free articles per month without a subscription
Join now for unlimited access
Try first month for just £1 / $1 / €1
Alex Reid is a freelance journalist and the former digital features editor at FourFourTwo. He has also written for the Guardian, talkSPORT, Boxing News and Sport magazine. Like most Londoners, he is a lifelong supporter of Aberdeen FC. He is deceptively bad in the air for a big man. He has never been a cage fighter.
Quizzes, features and footballing fun
Get the best features, fun and footballing frolics straight to your inbox every week.
Thank you for signing up to Four Four Two. You will receive a verification email shortly.
There was a problem. Please refresh the page and try again.