Roberto Carlos: One-on-One
"Ronaldo's parties? I'll invite you to one of mine and then you'll see what a real party is"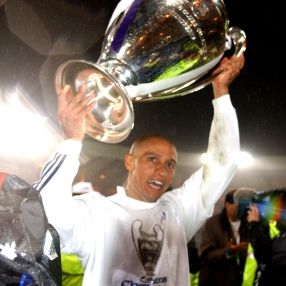 I can't remember any full-back ever playing in the same way as you. Did you model your game on anyone? Were you always a defender?
Tim Garraway, Hereford
Yes, Junior from the World Cup team of 1982. He was the business and I always watched him very closely. He was right-footed, but he played like I do now. He was a full-back but he was very, very attacking. I was originally a winger but when I first went to Italy I learnt to defend a bit more, to mark people, to pressure the opposition. I became a proper full-back. And I was much, much happier there. But I always wanted to do more than just defend – I wanted to play like Junior.
How come Brazilians are so good at football when they learn to play on a beach? It's bloody impossible to kick the ball, run etc. Is Brazilian sand different?
Iain Frame, via e-mail
What a fabulous stereotype! We all play on the beach, yeah right. Nah. It's nothing to do with sand. It's more about talent and personality. There are great players all over Brazil, it doesn't matter which part of the country you go to, how far you are from the coast or any sand, there are kids of 18 or 19 who are just … wow! People play everywhere. We could put 10 Brazilian national teams out and they would have great ability, that's the advantage we have over the rest of the world. It's about ability and personality. I wouldn't say that Brazilians are irresponsible but we do enjoy ourselves playing football, we play for fun. That, allied to the innate technical quality we have, makes us different. Brazilians are allowed to play with the ball – even defenders.

Who – football or non-football – did you most look up to when you were a kid and why?
Anthony Christoforou, USA
[Immediately]. Maradona. He was spectacular, he was football the way it's supposed to be, so much fun to watch. Everyone talks about Pele but I've never seen him play. For us Brazilians, Pele is the King of football but as I haven't seen him play Maradona is my No.1. A phenomenon. Who cares if he's Argentinian?
Have you ever had hair? If you had it now, what style would you choose?
Luke Knowles, via e-mail
Yes, I've had hair, but it's always been really curly. I shaved it off once as a birthday present for my son – and also because it looked so ugly! I couldn't grow a big Afro, it'd look bloody awful. I think I'll leave it off, thanks.
Who's the toughest winger you've ever come up against?
Joe Corry-Roake, via e-mail
Luis Figo, definitely. He was hard when he played for Barcelona and [rolling his eyes] he's even harder now in training.
What went wrong at Inter? Did you not like the Italian style of football?
Jimmy Lyons, Huntingdon
My problem at Inter was Hodgson, Roy Hodgson. He wanted me to play as a forward when I'm a defender – I prefer to have space ahead of me to run into rather than be a winger already up there; for me it's better to have 80 metres to play in than 20. I didn't like the system or where Hodgson wanted me to play in it. He wanted me further up the pitch, sure, but stopped, still, rigid. The Copa America was coming up and I was playing at left-back for Brazil, so I wanted to play there for Inter too. I had to leave because I didn't want to jeopardise my chances with the national team. If I couldn't play the way I do I wouldn't be able to play for Brazil. I spoke to Massimo Morratti [the Inter president] to see if he could sort things out and it soon became clear that the only solution was to leave.
That free-kick (Le Tournoi vs. France). Scientists say it was impossible to bend it so much with the outside of the boot? Did you think you'd totally sliced it when you first hit it?
Ben Marshall, via e-mail
[Shaking his head] How did I do it? I don't know. I hit the ball and, well… there are free-kicks like the ones you see Beckham hit that move and fool the goalkeeper, but mine was different because the ball went outside-in rather than the other way round. There's no explanation, no explanation… the ball was too light, one of those ones that floats all over the place like a kid's ball, and I hit it really hard – really, really well – with the outside of my foot, but I don't know… it surprised me when it went in: I thought it was going wide and when it swung so far back and went in off the post I couldn't believe it. It was an impossible goal – you'll never seen one like that again. Remember it, because it won't happen again, ha ha!
Come on, I won't tell: what really happened to Ronaldo before the 1998 World Cup final?
Mark Goldfinch, via e-mail
Won't tell? Sure. The day of the final, Ronaldo wasn't well enough to play, he was worried, nervous and he had a bad time of it. That's all. Nothing else.
Brazil's President Lula has just launched a national fitness campaign. Apparently one in four Brazilians are overweight. Why are so many of your compatriots bloaters? And is Ronaldo the fattest guy you know?
Jackie West, via e-mail
Yes, that's true, Brazilians are in poor shape. People don't look after their health in Brazil, mainly because there are lots of people who are in the streets all day and don't have anything else to do but eat. People eat too much. There are also a lot of people who don't have much food at all, of course, and when they do get some they over-eat or don't eat the right sorts of things. When they can eat, they go too far. As for Ronaldo, when people have nothing better to do and nothing to say they start inventing stories about famous people. We don't make fun of him because he's NOT fat.
Do you ever stand in front of the mirror to take in the full splendour of your thighs? How big exactly are they? Do you have to get your trousers specially made?
Malindi Liddle, Shropshire
Er, no. Not in front of the mirror, no. But I do know what size they are. The left one is 58cm and the right one is 60cm – and they're totally natural, they run in the family. I don't work at these. I have to buy very, very big trousers but, no, I don't have to order them specially. They might be big, these jeans, but they are normal.
How much power do the galacticos actually wield at Real? Do you really decide on when to train and what's for dinner?
Mike Glendenning, Burnley
No, no, no. The whole galacticos thing is an invention from the press. The galacticos tag really annoys the players, including the ones who get called galacticos. Above any galactico there is a club, a history, a badge. We shouldn't get things mixed up or confuse the issue: if there are players who get known as galacticos it's because we have won lots of trophies, World Cups, important finals, European Cups, not because we control things. We don't have any power beyond the norm. The person who carries the most weight and responsibility is our captain, Raul, and things like training and meals are down to the coach and the captain to decide together. And, no, there aren't any untouchables.
When David Beckham signed, were you upset at no longer being the best-looking guy at the club?
Sarah Hamilton, Sheffield
Yes, very upset. That really annoyed me. Boy, did it annoy me! [Cooing] David is guapííííííííííííííííííííííísimo [unbelievably good-looking]. He's very good-looking, very, very, very handsome, it's amazing, incredible! I'm delighted that Victoria's been lucky enough to meet a guy like David, that they have such a nice family and that people admire him and respect him so much all over the world.
Steve McManaman once said you wore very bad shirts. Has your taste improved since fashion icon David Beckham arrived at Real Madrid?
Louise Crampton, Liverpool
[Grinning] No, David wears much worse shirts than me – all ripped and full of holes and everything. Maybe it's because he's so good-looking that people don't take the piss out of him for it, when they do with me. [Laughing] Anyway, Macca is a bloody liar because all the shirts I wore when he was here were new, maybe a bit odd but always new and always nice, stylish shirts. He'd come here with his smart suit and everything and no one even looked at him. He dressed well because he's ugly, so that he'd look more handsome. I'm the opposite: I could dress down because I'm a good-looking bloke. Steve was trying to divert attention from his face!
Which of the galacticos would you pay to watch?
Rich Sidney, Stockton
All of them. But not just them. There are so many great players I'd pay to watch.
Do you have any unusual hobbies we don't know about?
Ollie Banks, Glasgow
Not unusual, no. I love cars. I've got some nice ones in Brazil, a Formula 1 car here, and a share in Clarence Seedorf's motorbike GP team. I go as often as I can; I really love cars and love being on the circuit. At home, I play on the PlayStation, of course, like most footballers. Football or basketball games, nothing else. I'm not a fan of Grand Theft Auto.
Pick the best Brazilian five-a-side team ever. No subs.
Dave Johnson, Derby
Of all time? Falcao. Ronaldo. Romario. Cafu and, er… Junior. [FFT: Not you?] You said five.

Is the problem of racism in Spain as serious as we're led to believe in England? Have you ever been the victim of racism at Real, and what do you make of the club's neo-Nazi following?
Felix Jones, Exeter
Racism is a serious problem all over the world, not just in Spain. Wherever you go to play there are people who go to matches with really bad intentions, bad people who have no respect whatsoever for other human beings. And this business of England talking about Spain being a racist country has to stop and has to stop now. I can't understand why there's this kind of rivalry when it comes to racism, why there's this thing about who's worse – Italy, England, Spain, Brazil, who? I don't think Spain is an especially racist country. It has a problem, but I'm not convinced it's worse than anywhere else and, besides, it's not about that: this isn't a you're-more-racist-than-us competition between countries. I've had some difficult moments here in Spain but nothing that has actually hurt me. You should always be able to look people in the eye and tell the truth and, yes, I've been subjected to racist chants, just like Ronaldinho has, Eto'o, Pele when he goes to stadiums, even now… Ronaldo, Musampa, Perea, Henry, Vieira… so, so, so many players. It's sad that there are so many stupid people in the world. [And the Ultra Sur?] What happens with them happens at other clubs too. People shouldn't be allowed into stadiums to abuse footballers. We don't really notice their banners and chants when we're on the pitch at the Bernabeu, to be honest.
Have you ever met a guy called Jonathan Woodgate or did he make it up about joining Real Madrid?
Damien Mass, Wakefield
Yes, I've met him. I eat with him most days. [Waving down the corridor] He's here right now, in fact, doing physiotherapy to get over an injury. And when I saw him play for Leeds and Newcastle, I thought he was a great player. If he's come to Madrid it's because he's one of the best players in England.
English fans like to count the number of times David Beckham says 'Er' or 'You know' during a two-minute interview. Do the Madrid players do the same? And can you beat 38?
Gaz Ward, via e-mail
We all do it, you know, not just David. With us it's entoncés [so/then]. Entoncés, entoncés, entoncés… I'm as guilty as the rest. We don't take the piss out of David. David is very sharp, a bright bloke, smart. And he's improving all the time in Spanish. He understands everything. He doesn't yet express himself all that well but he knows how to speak Spanish.
What did Luis Felipe Scolari do to help Brazil win the World Cup that [your new Madrid coach] Vanderlei Luxemburgo wasn't doing when you nearly didn't even qualify?
Sean Thompson, Shrewsbury
Luxemburgo's problems were personal ones, that's why he left. If he had stayed he might have been world champion as well. All Scolari did was bring the team together, tell us we were going to be champions, and get rid of some players that the press and the fans wanted. He brought together five or six important players – like me, Cafu, Juniour, Rivaldo, and Emerson – explained to us what he was going to do and got on with it. There were off-field problems more than footballing problems for Luxemburgo and, by extension, for us. So it was more a psychological and environmental change than anything else. Scolari said he would sort out some of the troubles off the pitch but it was up to us to get things right on the pitch. Luxemburgo went because of a little problem he had [a 'little problem' like, er, an investigation into tax fraud, sexual harassment and accepting bungs] but if he had been in charge of that team he would have been world champion as well.
Tell us who the next Brazilian football superstar will be. Bet it's not a left-back…
Paul Downes, via e-mail
Nah! There's no way it'll be a full-back. I think Robinho could be the best player in the world, like Ronaldinho is at the moment. [Is he coming to Madrid?] [Smiling] I don't know. I spoke to him the other day and he said he still doesn't know anything.
If Real Madrid played Chelsea 10 times, what would be the outcome?
Ed Phelps, via e-mail
Madrid have won 29 leagues, nine European Cups and have an incredible history; Chelsea still haven't won anything very much. Ten games? I think Madrid would win – for their experience and history rather than for their form, though.
If you could choose anyone in the world, past or present, who would you have playing left midfield in front of you?
Iain Frame
[Straightaway] Di Stefano. No doubt.
You're not paid as much as the other galacticos. Why not?
Iain McLeod, Falkirk
[Grinning] I never tell people what I earn. [Yeah, but it's not as much as the others is it?] [Grinning even more] Everyone earns what they're worth.
Who's your favourite English team-mate: Macca, Becks, Woody or Owen?
Simon Jones, Salisbury
I still don't know Michael that well, I don't talk to him as often as I would like because he's very quiet, he doesn't say much. I got on very well with Steve when he was here, I spend as much time with David as I can and I eat with Woody whenever possible. I get on really well with all four of them and although he's quiet Michael is a great person. Of the four, Woodgate already speaks the best Spanish, better than Steve, and he was here four years. It's incredible how quickly he has picked it up.
What makes Ronaldo's parties so legendary?
Freddie Hopkins, Southampton
Ronaldo's parties? I'll invite you to one of mine and then you'll see what a real party is, ha ha ha!
When Real Madrid destroyed Man United at the Bernabeu a few seasons ago, you all seemed to press and press until United passed to Gary Neville, then just retreat and wait for him to punt it back to you. Was this a deliberate tactic or did you only realise how rubbish he was once the game started?
Neil Moore, Manchester
Er, well, it wasn't a tactic. Look, I don't think Gary Neville's such a bad player, but every time they played Real Madrid, Manchester United seemed to get nervous. It was our match to win, theirs to lose, it seemed. The whole of Manchester appeared to be worried about us – so much so that David didn't start the 4-3 at Old Trafford. We were really surprised that he wasn't playing – it was a real relief for us that they weren't playing their best player. We were really pleased that they were going to leave their best player on the bench. [Did you really think he was their best player?] He scored two goals when he came on didn't he? Well, then. And he'd scored in the 3-2.
Over the years you've been linked with every club in the world. Have you ever been genuinely close to leaving Real Madrid?
Mickey Walsh, Blackburn
[Without hesitation] Yes. Yes. In the past there have been big offers from great clubs but, then, this is my home. I wouldn't swap Madrid for anywhere. In the summer there was a serious possibility of me going to Chelsea but in the end, as Madrid made a better offer, I decided that I wanted to stay here.
Will Real Madrid be your last club or do you fancy a move to the Premiership before your career is over?
Stephen Boulder, Oxfordshire
I love English football but, as I said when I first got here, I'd like to retire at Real Madrid.
Why do you think a lot of South Americans have struggled in the Premiership?
Ray Watt, Sale
Mentality. English football is different. There are loads of tackles flying in, lots of contact, and in Brazil we're not used to that. That will change, though, with time.
What do you plan to do when you retire?
Neil Stevenson, via e-mail
I'm going to go back to Brazil, take a year off and then I'll come back as a coach. In Brazil.
Interview originally appeared in the May 2005 issue of FourFourTwo.
Thank you for reading 5 articles this month* Join now for unlimited access
Enjoy your first month for just £1 / $1 / €1
*Read 5 free articles per month without a subscription
Join now for unlimited access
Try first month for just £1 / $1 / €1
Quizzes, features and footballing fun
Get daily World Cup 2022 news, updates and other football frolics to your inbox
Gary Parkinson is a freelance writer, editor, trainer, muso, singer, actor and coach. He spent 14 years at FourFourTwo as the Global Digital Editor and continues to regularly contribute to the magazine and website, including major features on Euro 96, Subbuteo, Robert Maxwell and the inside story of Liverpool's 1990 title win. He is also a Bolton Wanderers fan.
Quizzes, features and footballing fun
Get daily World Cup 2022 news, updates and other football frolics to your inbox
Thank you for signing up to Four Four Two. You will receive a verification email shortly.
There was a problem. Please refresh the page and try again.