Sarri enters third hour of relentlessly flicking Morata's ears
The Chelsea boss is hoping for a reaction – and Back of the Net has the story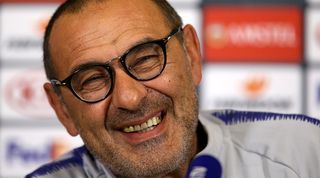 Chelsea manager Maurizio Sarri has been attempting to elicit anger from Alvaro Morata by flicking his ears repeatedly and asking him what he intends to do about it, but so far has had no success in finding a spark.
After lamenting a lack of fight from his players, the Italian tactician spent much of today's training session directly insulting them and whistling an annoying, meandering tune which promises to deliver a satisfying chorus but never quite gets there.
While Sarri received a solid kick to the scrotum from Eden Hazard and a cup of scolding tea poured over him by Jorginho, Morata would only resort to increasing provocation with a wailing noise and a weak insistence that his manager should 'quit it'.
"The gaffer's been working Alvaro's ears for the best part of the day, but he's getting nothing," Ross Barkley told FourFourTwo.
"After around an hour, when his right ear was shiny and red, Alvaro barked something about that being enough of that and balled his fists, but he waited and waited for the perfect opportunity [to punch Sarri] and it just never came.
"So instead he sat down on the floor, head in his hands and moaned feebly about how he really wished his ears weren't being pummelled."
Act II
With finger cramps impeding Sarri's usually impeccable flicking rhythm, onlookers have speculated that the manager may soon up the ante with a noogie, or even a dreaded wedgie.
"Maurizio's been blowing cigarette smoke in Alvaro's face while he flicks his ears, and between cigarettes he's loudly humming a kind of discordant jazz refrain that keeps you unsettled and yet desperate for more," Barkley continued.
"As I speak, the technical staff are setting up one of the classrooms with a PowerPoint of the various methods that Sarri might deploy to kidnap Alvaro's dog.
"I believe the gaffer will present a commentary in both Italian and Spanish of how he imagines those scenarios would play out while Marco [Ianni] mimes along directly in front of Alvaro's face."
Reports suggest that Sarri has already taken the precaution of breaking into Morata's car and filling it with live eels, and has refused to rule out running up a series of debts in Morata's name or signing Gonzalo Higuain.
SEE ALSO The curious case of Alvaro Morata: a struggling striker yet to find his level
Quizzes, features and footballing fun
Get the best features, fun and footballing frolics straight to your inbox every week.
Thank you for signing up to Four Four Two. You will receive a verification email shortly.
There was a problem. Please refresh the page and try again.