Teddy Sheringham, At The End Of The Day: "I probably played my best football at Tottenham"
From work-shy teen to Bentley-driving card shark, he's seen plenty of drama along the way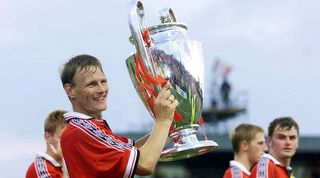 I knew I'd made it as a player when... I was walking out with Darren Anderton at a packed Wembley before the opening game of Euro 96. He was a good mate and we had a lovely understanding. I remember hearing the national anthem, turning to him and saying, "This is what it's all about: playing for England at Wembley in a major tournament. We've arrived." I was 31 then.
I was happiest... Throughout my whole football career, really. I had a great time wherever I played. The experiences were so different, starting at Millwall, then Forest, then coming back to London withTottenham, where I probably played my best football, then moving up toMan United. Each club seemed like a stepping stone to something bigger until I reached the top, but even on the way back down I enjoyed being a footballer.
Football broke my heart... After getting relegated with Millwall and losing the Euro 96 semi-final to Germany. That was my worst moment. We thought we'd be together to win the tournament. Suddenly it was over and we had to say goodbye. It all seemed so abrupt.
I've never told anyone this before but... I used to be a roofer. My mates laugh as they don't think I've done a day's work in my life. I have – one day! I was 16 at Millwall and wanted to earn money over the summer. I helped a mate who was a builder in east London near where I lived. I didn't like getting up early but I liked the morning fry-up. I ripped my hands to bits and didn't enjoy it. He rang me the next day to ask where I was. I told him I didn't have another day in me.
To me, football means... A passion in life. It's all I ever wanted to do as a kid. I loved getting better as I got older and then playing with some of the best players in the world. It doesn't mean as much to me now, and I try to stay out of football. I like watching my son [Charlie], though. I try to help him. I'm glad to say that's he's doing well – he plays like me!
My proudest personal moment was... Winning the PFA and Football Writers' Player of the Year awards in the same year. People had doubted me through my career, even from saying I wasn't quick enough for Millwall's youth team!
If I could change one thing about football it would be... That referees don't get pushed and shoved, as I've seen recently. We've all had a go at the ref, but they get too much abuse. There needs to be a clampdown because there's a lack of respect from players.
Three words that sum me up are... Competitive, content, and I'm sure most Gooners can think of another word beginning with 'c' for me!
One thing I couldn't live without is... Competition. I got it from football for years, but I've needed to replace that, with either golf or poker. I need real competition in my life, where skill is needed: that's why I play poker seriously. I learned how to play as a footballer, on coaches to matches or sitting in hotels. The only way you learn how to play is by losing money, and believe me, I've played at some real dodgy dens and lost money.
If I'd had one wish it would have been... To be a bit quicker. I didn't do too badly, but, you know...
The item I cherish most... Is my car. I do a lot of travelling, and I enjoy driving a nice car. I've got a Bentley Speed and it's about the fourth or fifth one I've had. It drives beautifully. I did try a Ferrari, but I wasn't convinced.
This interview originally appeared in the April 2012 issue of FourFourTwo. Subscribe!
Thank you for reading 5 articles this month* Join now for unlimited access
Enjoy your first month for just £1 / $1 / €1
*Read 5 free articles per month without a subscription
Join now for unlimited access
Try first month for just £1 / $1 / €1